Putin tops latest Russian approval ratings with 83% support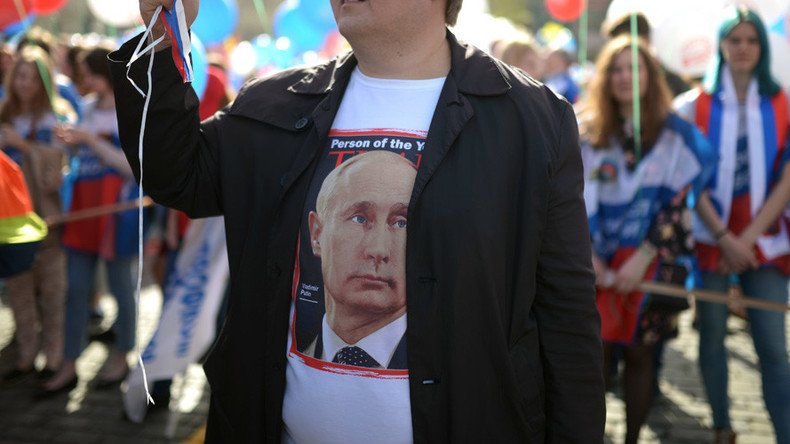 Over 83 percent of Russians approve of Vladimir Putin's work as president, while the electoral rating of pro-Putin party United Russia stands at over 50 percent, according to state-run pollster VTSIOM.
According to a study released on Thursday, Putin's approval rating as Russian president stood at 83.5 percent at the end of July, slightly down on 84.1 percent reported in the middle of the month, but still far ahead of other prominent Russian political figures.
The share of Russians who said they approved of the work of Prime Minister Dmitry Medvedev was at 52.4 percent, while the government as a whole received an approval rating of 57.5 percent.
The elections rating of the parliamentary majority party United Russia increased from 47.9 percent in early July to 50.3 percent at the end of the month.
Other parliamentary parties demonstrated much lower support. Just over 11 percent of respondents said they were ready to vote for the Liberal-Democratic Party of Russia, 9.1 percent said they would back the Communists, and just 5 percent opted the Fair Russia party.
In the same poll, VTSIOM specialists asked the Russian public which state officials and politicians they trusted the most. Putin topped the rating, with 50.4 percent of respondents confirming their trust in the Russian leader. Other leaders included Defense Minister Sergey Shoigu with 15.7 percent and the head of the Liberal Democratic Party of Russia, Vladimir Zhirinovsky.
VTSIOM registered Putin's highest approval rating in late 2015 – at 89.9 percent. Researchers put the surge down to popular support for the anti-terrorist operation in Syria. Independent Russian pollster the Levada Center also reported that according to its data the share of Russians who are happy with Putin's work as president was about 89 percent.
Another peak in Putin's popularity was registered in mid-2014 soon after the Crimean Republic reunited with Russia.
You can share this story on social media: