Putin backs Kadyrov to stay on as Chechen leader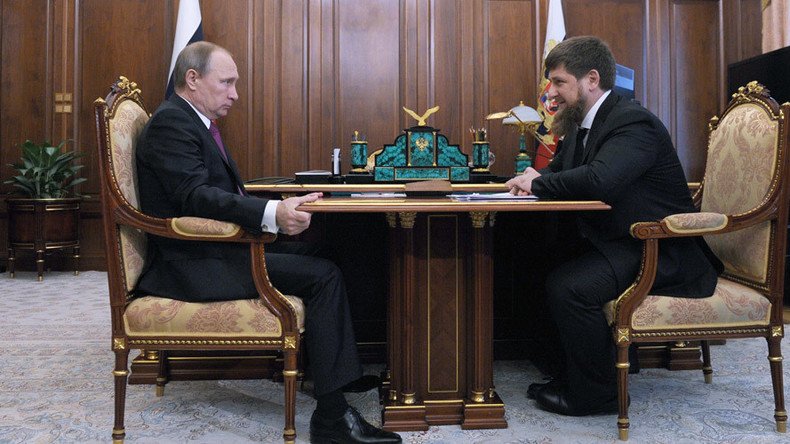 Vladimir Putin has appointed Ramzan Kadyrov acting head of the Chechen Republic and said that he personally hoped that voters would do justice to their incumbent leader at the September elections.
Speaking with Kadyrov during a meeting in Moscow on Friday, the Russian president said: "As you have just said, your powers will expire on the 5th [of April]. Because of what you have done for Chechens, for the residents of the republic and for Russia as a whole, today I signed the order appointing you acting head of the Chechen Republic with subsequent participation in the elections, I hope."
"I count that the residents of Chechnya, the Chechen people, would value all that you have done for the republic during these elections. But I would like to reiterate one thing – we cannot be content with what has been done, we must always look into the future. We know that we can and we must do more for our people," Putin said.
READ MORE: More than 700,000 rally in Grozny in support of Chechen leader Kadyrov
Ramzan Kadyrov first became the head of the Chechen Republic on March 2, 2007. He was reappointed to the post four years later, and his tenure was due to expire on April 5 this year. With this latest appointment, he will remain at the helm until he is re-elected or replaced by the winner of new polls that are scheduled for September 18.
So far Kadyrov has repeatedly refused to discuss his possible participation in the September polls. In early February he wrote on his Instagram account that these questions only served to distract him from everyday issues, adding that the right candidate for the post of the head of the Chechen Republic should be chosen by the president of Russia and receive support from the people.
READ MORE: 'My time is past': Chechen strongman leader Kadyrov announces he's stepping down

Kadyrov is extremely popular in Chechnya – up to 1 million people took part in two separate rallies in his support that were held over the past few months.
At the same time, Kadyrov is a very popular target for Russian opposition, especially its so-called non-system wing – those who do not have sufficient public support to ensure parliamentary representation. They have repeatedly accused the Chechen leader of allegedly totalitarian methods and violations of human rights. In reply, Kadyrov has dismissed all accusations as "empty-worded blather" and accused opposition leaders of serving foreign interests and sympathizing with extremists.
READ MORE: 'Traitors': Kadyrov blasts non-system opposition for servicing foreign interests

The standoff reached a peak in January this year after Kadyrov called his opponents a threat to Russia's security, leading them to reply with similar charges. This caused presidential press secretary Dmitry Peskov to intervene and explain that the opposition targeted by the Chechen leader were "people who are not observing the law and are ready to violate it, including the cases when they want to harm our country."
Also, Kadyrov has repeatedly announced his readiness to leave his post as head of the Chechen Republic if Putin orders it. However, his announcements have always ended with vows to continue to lead the republic if a request for him to resign is not issued.
You can share this story on social media: