More than 700,000 rally in Grozny in support of Chechen leader Kadyrov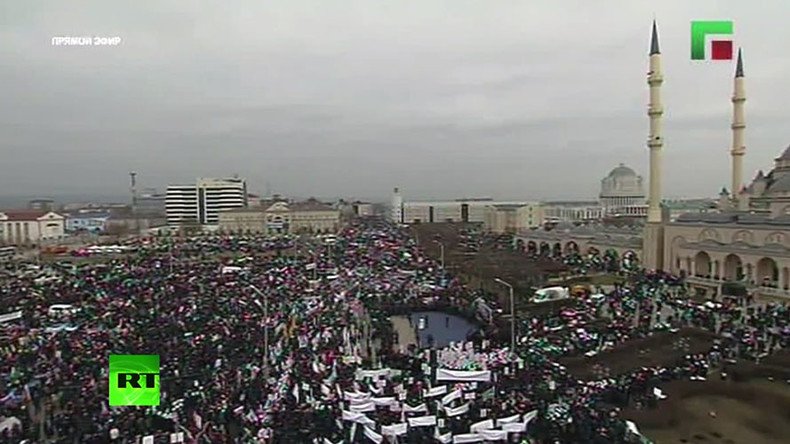 Thousands of people have gathered in Grozny to show their support for Ramzan Kadyrov, the head of the Chechen republic, whose statements about the 'non-system' Russian opposition have recently drawn significant criticism from political liberals.
The rally started on Friday morning on the central square of Grozny in front of the 'Heart of Chechnya' mosque. Footage from the event was broadcast live by Chechen channel Grozny TV. The official name of the event, which was organized by local youth organizations, was "Our Power is in Unity."
The number of participants was reported as over 700,000 – about half of Chechnya's 1.38 million population.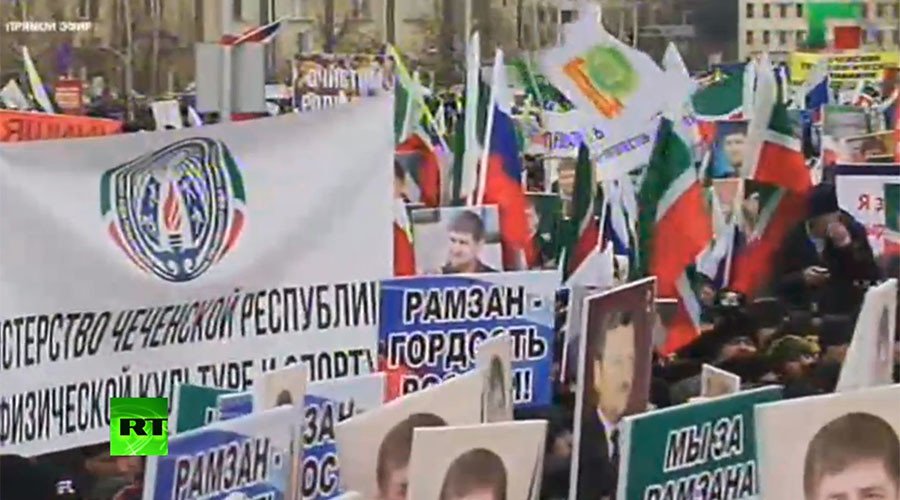 Many of the demonstrators held posters with Ramzan Kadyrov's portrait and slogans showing support for him and Russian President Vladimir Putin. Many were also carrying Russian flags. Some slogans blasted Kadyrov's critics as "traitors" and "fifth column," and accused them of serving foreign interests, in particular those of the United States.
The event is the result of a standoff between Kadyrov and a number of Russian politicians and activists, which started on January 13 after the Chechen leader told reporters that some figures representing the so-called 'non-system opposition' were "playing the game invented by Western special services." He added that they should be put on trial for "subversive activities."
Kadyrov also described the non-system opposition (those who oppose President Vladimir Putin and the current Russian government, but fail to attract enough public support to be elected, or sometimes even to launch a political party) as "persons who have never been heard of and who oppose President Putin only in order to boost their own popularity."
READ MORE: 'Traitors': Kadyrov blasts non-system opposition for servicing foreign interests
This immediately drew criticism from several politicians and human rights activists, who said Kadyrov's words could be taken as a threat. The Intelligentsia Congress group released a letter calling for Kadyrov's immediate resignation as head of the Chechen Republic. About 10,000 people signed the letter when it was published online, and members of the Presidential Human Rights Council promised to raise the issue with the Kremlin.
Many of the slogans at Friday rally blasted Russian opposition politician Ilya Yashin, and called for his exile from the country. Yashin, who is the deputy chairman of the People's Freedom Party, has promised to present a major report portraying Kadyrov as a threat to Russia. He told reporters that the paper would concentrate on the Chechen leader's unaccountability before federal authorities, as well as alleged corruption and nepotism in the republic. The politician promised the report will be released in late February.
However, Chechen officials, like the republic's plenipotentiary for human rights, Nurdi Nukhazhiyev, said that Kadyrov's comments only applied to those who have targeted Russia's national security, and not to all political opposition.
President Putin's press secretary, Dmitry Peskov, also suggested that the mass media should stop "pumping up the tension" because the opposition targeted by the Chechen leader were "people who are not observing the law and are ready to violate it, including the cases when they want to harm our country."
The last mass rally in Grozny took place in January 2015, after Ramzan Kadyrov condemned the French satirical magazine Charlie Hebdo for releasing cartoons portraying Prophet Muhammad, and called on Chechens and other Muslims to show their support for Islam. According to the Chechen Interior Ministry, about 1 million people took part in that rally.
READ MORE: ''Love to Prophet Mohammed': Crowds protest Charlie Hebdo cartoons in Chechnya

On Friday afternoon Kadyrov thanked all the participants of the support rally with an Instagram post (often the leader's preferred medium for posting public addresses and other publicity materials).
"I want to express my sincere gratitude to everyone who took part in the mass rally. It showed that we are united in our struggle for peace and political unity in Russia," he wrote.
"Because of Russia's enemies we have had to go through a bloody tragedy, but we found strength to defeat the countless gangs of Western special services and restore peace. Hundreds of thousands of people from various regions of Russia offered a resolute rebuff to renegades who have sold out to the West and who have but a single goal – to immerse Russia into chaos and subject it to the will of the United States and its allies," the Chechen leader wrote. "But this will never happen!" he concluded.
You can share this story on social media: