Putin to head to US for major UN event – report
Published time: 31 Mar, 2015 10:47
Edited time: 31 Mar, 2015 11:17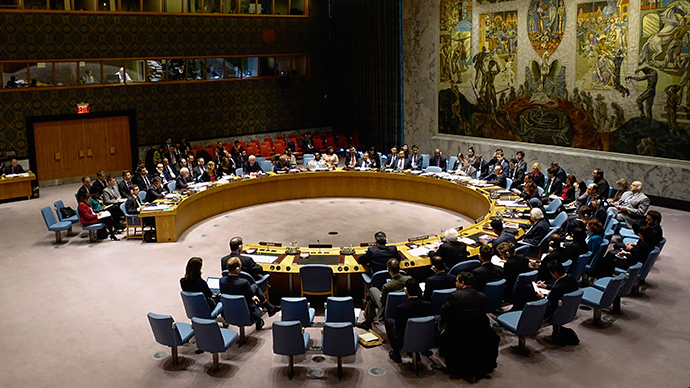 President Vladimir Putin may travel to New York City to deliver a speech at the opening of the UN General Assembly in September, a Russian newspaper reported, quoting several sources close to the Kremlin.
Kommersant Daily quoted sources "close to the presidential administration" as saying that Putin's trip to the United States was already in the preparatory stage. The newspaper also claimed that a source in the United Nations' secretariat confirmed this.
However, all the sources noted that Putin's plans would become clear only in early August. They also emphasized that "everything depends on the international situation."
Putin's press secretary Dmitry Peskov also said that no final decision has been made on the trip.
"Attending the General Assembly Session is one of the options that are being considered and in this sense it is not very important that it will be the anniversary one."
In September the United Nations will hold its 70th General Assembly session, with many world leaders expected to participate.
Putin last spoke before the UN General Assembly 10 years ago. Prior to that he had attended in 2003 and 2000. In 2008, the speech at the UN General Assembly session was delivered by then-Russian President Dmitry Medvedev and over the past years Foreign Minister Sergey Lavrov has represented Russia at major UN events.
Senior Russian officials, including Putin have always prioritized the UN's role in resolving major international crises and repeatedly accused the US of attempts to "hijack" the UN powers and violate the basic principles of international law.
READ MORE: Use of force in bypass of UN will cause chaos, Putin warns
"Any attempts to replace the universal principles of the United Nations' Charter by unilateral actions or some bloc agreements, or, worse even, the attempts to use force to bypass the UN Charter, never lead to anything good," Vladimir Putin said in his 2012 speech before foreign diplomats.
Russia is currently facing fierce opposition from Western countries over the situation in Ukraine, where the pro-Western regime in Kiev is waging a civil war against the southeastern regions of Donetsk and Lugansk. The greater area known as Donbass has a pro-Russian population, many of whom are ethnic Russians.
The EU, the US and some of their allies have imposed sanctions against top Russian politicians and major companies. Moscow reciprocated with similar steps and has repeatedly vowed that the outside pressure would never make it change its course.
"No sanctions would force Russia to make changes to the persistent line it follows in international affairs," Peskov said in early March. He also called the sanctions "a double-edged weapon" that, while causing certain discomfort to the Russian economy, was also hurting businesses in the countries that introduced them, not to mention the world economy as a whole.