Use of force in bypass of UN will cause chaos, Putin warns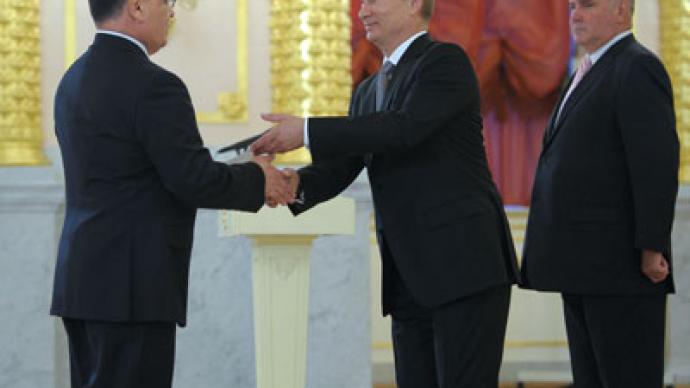 The Russian President has told foreign diplomats that UN decisions must remain a priority in international relations and actions, as any attempt by a nation to act unilaterally will not lead to anything good.
In a speech made in Moscow during the handing of credentials to foreign ambassadors Vladimir Putin said that it was impossible to make foreign policy in the modern world without the backing of international law. "Any attempts to replace the universal principles of the United Nations' Charter by unilateral actions or some bloc agreements, or, worse even, the attempts to use force to bypass the UN Charter, never lead to anything good," the Russian leader stressed. Putin added that such actions can lead to destabilization and chaos. The Russian President went on to say that the current situation was proof that this was the correct approach, and called upon the audience to draw the lessons from recent events. He added that the ongoing session of the UN General Assembly was a good excuse to remind the international community of the importance of the UN Charter and its principles of sovereignty and equality for all nations. Putin said that these principles suggested that all problems must be solved by talks and without any foreign interference. He added that the strict observation of these principles meant that the rule of law was still a priority in international affairs as well as in internal national ones. He told the diplomats that the current processes in the world's hotpots, first of all in the Middle East, are a proof that such approach was right. "Instigating the continuation of violence in any form can only lead to a dead end. Violence causes violence," Putin said.The Russian President stressed that the solution was in the coordinated effort of the international community aimed at a peaceful settlement of all conflicts through diplomacy and political agreements as well as the stimulus to the fighting sides to end the armed standoff."The value of human life is of primary importance and it must not be used as a currency in a geopolitical game," Putin concluded.