Russian citizens lose taste for public protest – poll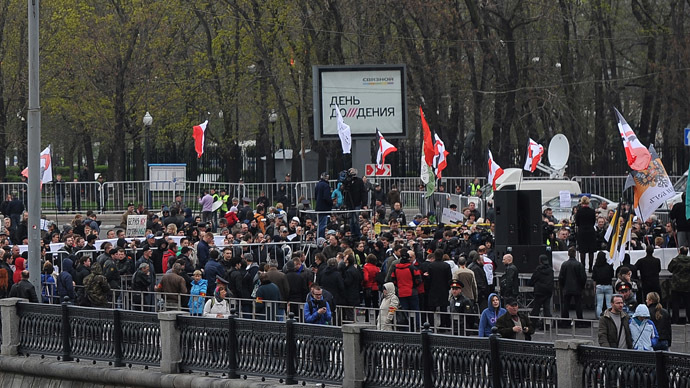 Readiness to take part in protest actions has plunged to all-time low in Russia. Those who see themselves at street rallies say they would do so for an improvement of living standards rather than to change the political reality.
According to research conducted by established independent pollster Levada-Center in late August, only 12 percent of Russians consider mass political protests possible and the share of those who are ready to personally take part in them is even lower, at 7 percent. Levada specialists say this is the lowest result in their company's history, which dates back to 2003. Similar research conducted by the same agency in February this year gave the results of 23 and 10 percent respectively.
The share of Russians who allow the possibility of protests over the economic and social situation in the country was slightly higher at 17 percent, but only 8 percent of citizens claimed they could personally take part in such rallies. In February this year, the number of those who expected economic protests was at 28 percent, while 10 percent said they could take part in them.
The most recent surge in street rallies and pickets took place before and after the presidential and parliamentary elections of 2011 and 2012. Before it about 35 percent of Russians said they expected political and economic protests and 15 percent said they could participate in them.
Researchers noted that the results are especially interesting given that the record of political passiveness is registered as the country readies to the national elections day scheduled for September 14. On this day a third of Russian regions will hold gubernatorial polls and even more, including the country's capital will have elections and by-elections for their regional legislatures. The center's experts have suggested that the passiveness could be caused by the people's disappointment in politics and lack of believe in changes.
Levada-Center's General Director Lev Gudkov said in an interview with the Novaya Gazeta newspaper that the results could be explained by the Ukrainian crisis, which had completely occupied the mass media and distracted the Russian public from domestic problems. Other possible reasons nominated by Gudkov were the weakness of opposition parties and the fact that the protests in 2011 and 2012 allegedly failed to bring any tangible results.
However, the leading pollster noted that the situation might change in the nearest future.
"Economic expectations started to fall in August. After President Putin has introduced reciprocal sanctions, the internal inflation went up and people started to feel it. The peak of discontent with the economic situation can fall in November. Most likely it will not be connected with the reciprocal sanctions, but would reflect the general irritation of the public," Gudkov told the newspaper.
It should be noted that along with the drop in protest moods sociologists register a sharp surge in support of Vladimir Putin and his allies. Levada's research conducted in mid-August showed that 52 percent of citizens were ready to vote for Putin at a presidential election, compared to just 29 percent in January this year. Another influential sociological think tank, the Public Opinion Foundation, conducted similar research a week earlier and found that 68 percent of all potential voters were ready to support Putin at presidential elections, compared to 58 percent in March and 46 percent in January.