Most Russians want their country to dominate the globe - poll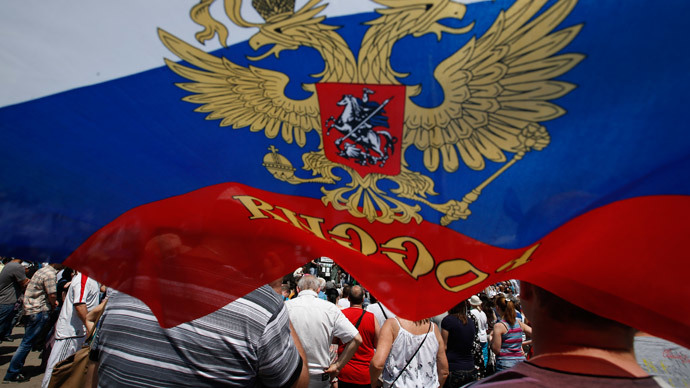 The majority of Russians think their country should return to superpower status or at least become a regional leader, a new public opinion poll has shown.
According to research conducted by VTSIOM, the All-Russian Center for Public Opinion, 42 percent of the population want Russia to become "a great power, like the USSR was once." Another 41 percent said that the country must become one of the 10 or 15 most developed and influential countries in the world. 10 percent wanted Russia to become the leader of post-Soviet nations and only 4 percent answered that Russia should not pursue goals of global or regional leadership.
The poll was conducted in mid-April 2014.
The number of those wanting superpower status for Russia was the highest among all the categories for the first time since VTSIOM began polling on this subject in 2003. Last year most people (44 percent) favored Russia "entering the club of developed and influential nations" and 37 percent supported the pursuit of superpower status. 7 percent of last year's respondents lacked any ambitions whatsoever.
Answering the question what factors are influencing the nation's status, 52 percent of Russians named the modern developed economy, and 42 percent strong military forces.
As many as 82 percent of Russians consider their country to have a large or very large influence on international affairs, the VTSIOM research shows.
The head of VTSIOM's political research directorate, Stepan Lvov told the business daily Kommersant that the change of preferences was most likely caused by the recent political events demonstrating the growth of Russia's influence on the international arena – mainly the accession of the Crimean Republic to the Russian Federation.
A professor of the renowned Russian diplomatic university MGIMO, Valery Solovey, agreed with this, adding that the current events in Ukraine also give Russian citizens "a vague feeling of strength." The political scientist said that this might be caused by the efforts of the Russian mass media that provide a "Russo-centric" picture of the world, as for most Russians personal experience of international relations was still scarce.
The accession of Crimea and Russia's attempts to mediate the Ukrainian crisis in order to avoid casualties and ensure the protection of civilians were also named as primary reasons of the recent boost of President Vladimir Putin's popularity rating.
According to the Levada polling center, Putin's approval rating hit an all-time high this May reaching 83 percent, compared to 72 percent in early March and about 65 percent in the beginning of the year.
You can share this story on social media: