Liberal opposition is small, but important part of society - Putin
Published time: 17 Apr, 2014 13:54
Edited time: 17 Apr, 2014 14:00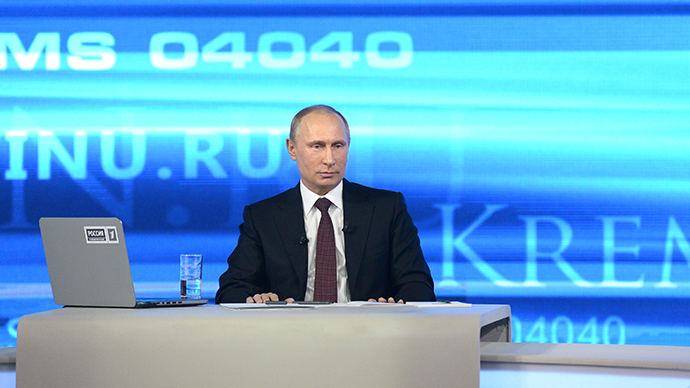 Opposition is an important part of a democratic society and the authorities should consider minority opinions in both domestic and international policy, President Vladimir Putin said during his annual Q&A hotline session on Thursday.
As one of the presenters asked Putin if the events in Crimea might do critical damage to the liberal opposition in Russian politics, the president answered that in his opinion these positions had never been strong, but opposition still was an important part of society.
Mid-March opinion polls have shown that over 90 percent of Russians approve of Crimea becoming a part of the Russian Federation.
The president said that the liberal opposition might seem powerful at some point, but this was never the case.
Liberal opposition is a loose term in Russia and politicians who fall under this definition range from advocates of democracy in general to hardcore defenders of free market capitalism and globalism.
"We should heed to the majority's judgment, make decisions and build our domestic and foreign policy on the basis of this opinion, but we should never forget about opinions of the people who form a minority, and have their own opinion on the situation in the country and in the international arena. We should bear this in mind and listen to them," Putin answered. "I cannot say that the state is making some deliberate cuts in this area," the Russian leader added.
Putin went on to describe his own decision making process, saying that he preferred to discuss various issues with people with alternative viewpoints.
"I always listen to my colleagues' opinions. Of course we must listen to every point of view, even if it is represented by a minority. Even if I do not agree with them I always give them an opportunity to speak and always think that there must be something in their arguments. Before I make a decision I always try to return to discussion, paying attention to the opinion of a colleague whose position differs from the majority," the president explained.
Putin concluded that alternative views would always be in need as they contributed to the democratic process.