Vast majority of Russians welcome Crimea decision, poll shows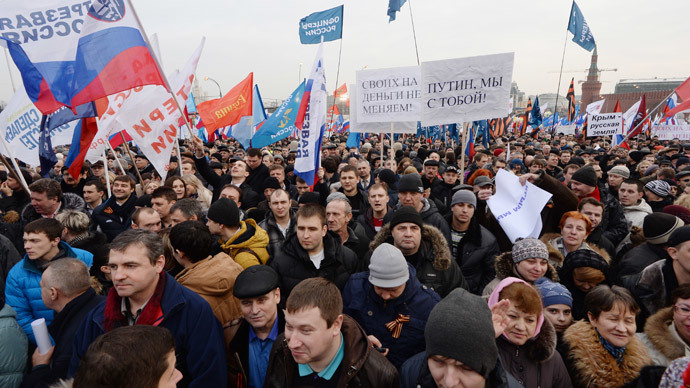 Over 90 percent of Russians approve of Crimea becoming a part of the Russian Federation, a poll has revealed as Crimeans voted for integration in Sunday's referendum.
Only 5 percent of Russians oppose the Autonomous Republic of Crimea joining Russia, while 91.4 percent of respondents said they welcome the idea, according to a joint poll by Russian Public Opinion Research Center (VCIOM) and Public Opinion Fund (FOM). Both in Moscow and in the northern capital – St Petersburg – the idea is favored by 89 percent of citizens.
Meanwhile, 86 percent of respondents already consider Crimea - home to an ethnic Russian majority - a part of Russia.
Some 94 % of those questioned are confident that their country should protect the interests of Russians and other nationals living on the territory of the peninsula on the Black Sea.
The research published on March 17 was carried out between March 14 and March 16 in 83 Russian regions among 48,590 respondents. It is the first time when such a poll was conducted jointly by two pollsters.
Additionally, 83 percent believe that Russia should still do so even if that could worsen its relations with other states and only 7 % think otherwise.
According to FOM head, Aleksandr Oslon, sociologists have never seen such unanimity before. However, that was predictable, given the interest in the events in Crimea in recent weeks and empathy it sparked among society in Russia, he told a media conference, as cited by RIA Novosti,
Oslon particularly drew attention to answers given by Muscovites, which has a large number of opposition supporters.
"Still, the opinion that the incorporation and reunion between Crimea and Russia is right and necessary, absolutely prevails [in the capital]," he said.
On Sunday, Crimeans voted in a referendum to decide whether they want the republic to remain part of Ukraine, or join Russia. According to official results over 83 percent took part in the vote and over 96 percent of them said 'yes' to integration into Russia.
You can share this story on social media: