Migrants face deportation from Russia for any premeditated crime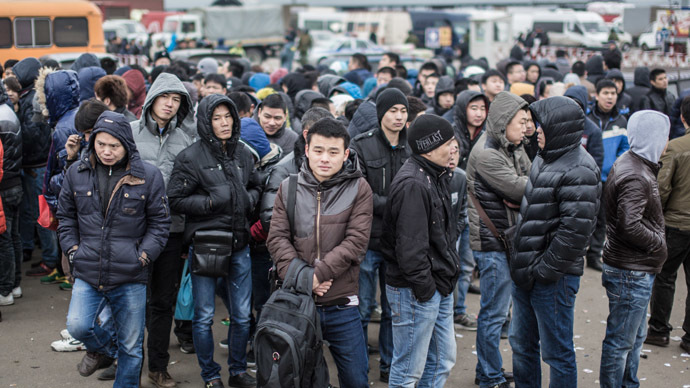 A group of Russian lawmakers seek to amend the current laws on migration in order to deport any foreigner convicted of a premeditated crime, with a subsequent ban on entering Russian territory.
The two sets of amendments have been prepared separately by MP Roman Khudyakov of the nationalist party LDPR and by the legislature of the central Russia Republic of Bashkortostan, together with MP Raphael Mardanshin of the centrist conservative party United Russia.
Khudyakov's bill suggests levying an additional 50,000-ruble (about US$1400) fine on all immigrants convicted of a premeditated crime. Repeated premeditated crime is punishable by deportation and a 15-year ban on entering Russia, Nezavisimaya Gazeta daily reports. The deputy told the press he would submit the draft to the State Duma before the end of June.
The Bashkortostan-Mardanshin bill, which is already being studied by State Duma experts, also suggests deporting all foreigners convicted of a premeditated crime, but specifies that this should be done after they serve their sentences in Russia.
Earlier this week, the head of the Federal Migration Service, Konstantin Romodanovsky, said his agency had already issued three-year entry bans on 802,000 foreigners over their criminal activities, and also for exceeding their maximum terms of stay.
The official specified that most of these people were citizens of the former Soviet republics who enjoy visa-free entry to Russia because their countries remain in the CIS political bloc. Last week the head of the Moscow city anti-corruption department told the press that in the first four months of 2014 law enforcers deported 40,000 foreigners from Russia and barred 45,000 foreigners from entering the country.
Russia ranks second among nations by the number of migrants that reside on its territory, according to the UN study released in September 2013. The total number of migrants in Russia is estimated at about 2 million.
Many Russian politicians address the issue, both due to emerging problems and for purely populist purposes. The most popular initiative is to restrict entry for people with criminal connections, like a bill drafted last October, in which MP Igor Igoshin of the United Russia party proposed a halt on the issue of work permits to foreigners with a criminal record of any kind.
You can share this story on social media: