Only migrant workers need new mosques – Moscow mayor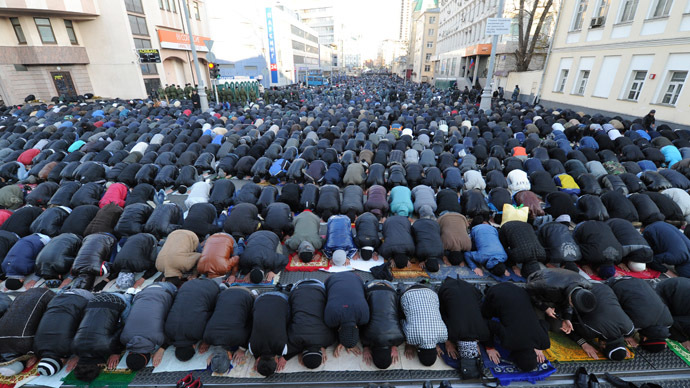 Moscow Mayor Sergey Sobyanin says he has no plans to sanction the construction of new mosques. The majority of worshipers there are not permanent residents of the city, but migrants who should go home once their working contracts expire, he stated.
There are already enough mosques in Moscow, Sobyanin said in an interview with Komsomolskaya Pravda daily. There are presently three within the city limits.
"The Muslim religious holidays are mostly attended by worshipers who arrive from the Moscow Region and other regions of the country. From 60 to 70 percent of them are outsiders. We cannot provide for all those who need something," he noted.
Sobyanin told the newspaper that he has not issued any permits for building new mosques and the current construction around the largest councilor mosque is just restoration.
In March this year the mayor told Echo of Moscow radio that no new mosques would be built in Moscow and added that the excessive number of migrants was "a harmful thing."
"Muscovites now get irritated by people who speak a different language, have different manners, with aggressive behavior. This is not purely ethnic, but this is connected with some ethnic traits," Sobyanin said.
In the recent interview Sobyanin revealed that, according to various estimations there are about 2 million migrants in Moscow and most of these people come to the city in search of work. He said that currently neither the capital nor Russia as a nation can survive without a foreign labor force, but urged strict regulation in the sphere.
According to the mayor, employers must bear the same expense if they hire a migrant as they would when they hire a Russian citizen.
"Migrants must add to our budget and the businessmen must take care of the migrants' social rights," Sobyanin emphasized. "And in case the migrants' objectives contradict the Russian law, we should put a barrier for such people in a harsh way. Fingerprint them, make databases with clear photos and with papers on hand. The border guards must be effective – if a guest has allowed himself to commit misdemeanors, he or she should never appear in our country again," he added.
Sobyanin also said that the situation has already improved under his rule – the amount of income tax collected from landlords who rent out their flats increased fivefold in 2013 if compared to 2011. Police have extradited over 13,000 illegal migrants from the country and barred over 42,000 foreigners from entry for violating Russian laws, the mayor reported.
"This is a lot more than last year's figures," he noted.

You can share this story on social media: