Russian school bans 5 Muslim girls from classes for wearing hijab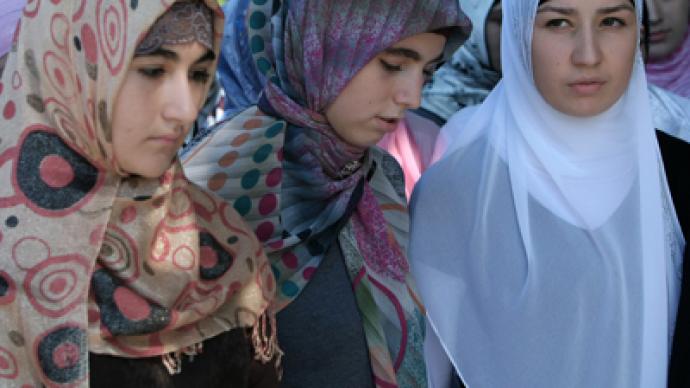 A head teacher of a school in Russia's North Caucasus region banned five Muslim girls from attending classes while wearing a hijab. Indignant parents filed suits at a local prosecutor's office over the issue.
The scandal erupted a week ago at a school in the village of Kara-Tyube in Russia's Stavropol region. Several Muslim girls of different ages were told they would not be allowed to enter the school unless they took off their hijabs."But that is unacceptable in our religion," Ravil Kaibaliyev, the father of one of the children told Izvestia daily newspaper.The children's parents filed complaints at the district prosecutor's office, claiming that the school had violated their constitutional rights to education and freedom of religion. The prosecutor promised to issue a legal assessment of the incident within 30 days, and to take appropriate measures if the school's headmaster was found to have broken the law.School principal Marina Savchenko said that wearing a hijab violates school policy, which requires students to attend classes in secular clothes. "We didn't insist that the girls shouldn't wear hijab at all, but suggested they replace it with a headscarf while during the school classes," she told Izvestia. Russia's Education Ministry backed the school's administration, saying that schools are allowed to adopt their own regulations regarding uniform and rules of conduct.However, Russian children's rights ombudsman Pavel Astakhov said that the school in Kara-Tyube "is clearly overreacting." "There are no common rules regarding pupils' appearance. And a hijab in this case is not some indecent item," Astakhov said, adding that in Western countries, similar conflicts are usually resolved in favor of tolerance.Russian Islamic clergy condemned the ban, saying that there are no laws in the country regulating a person's appearing. Wearing the hijab is also an integral part of the lifestyle of certain Islamic faiths, a senior official from the Council of Muftis told Izvestia.
You can share this story on social media: