Russia considers work visa ban for ex-cons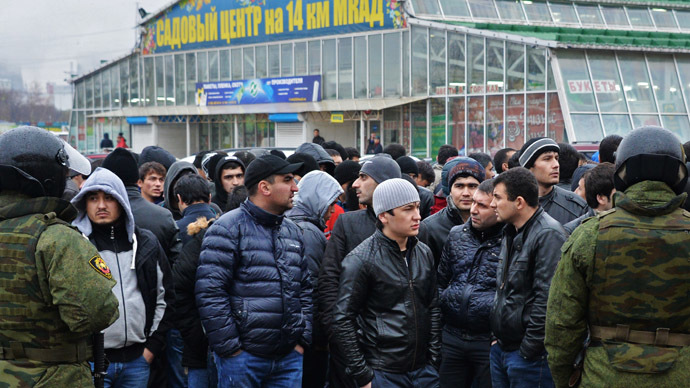 A group of MPs from the majority United Russia party are suggesting a halt to issuing work permits to foreigners with a criminal record of any kind.
Already Russian legislation does not allow work visas for any foreign citizens who has been convicted of a serious crime (and any issued permits are annulled if convictions are uncovered), but the parliamentarians suggest to extend the ban on all ex-convicts.
One of the sponsors of the bill, Lower House MP Igor Igoshin told reporters that the existing rules de-facto licensed the presence in Russia of foreigners who clearly were not law-abiding. The politician added that the latest statistics released by the Federal Migration Service show that of 10,000 foreign citizens who are currently serving a sentence in Russian prisons only 10 had received deportation orders.
"This often leads to sad consequences", Igoshin said and that the recent ethnic riots in the Moscow district of Biryulyovo were sparked by a very similar situation – the alleged Azerbaijani murderer of a Russian man who had already been sentenced in Russia for another crime.
To prevent such incidents in the future the parliamentarians suggest stop issuing work permits to foreign citizens with a criminal record and to annul the existing ones.
Igoshin also noted that the new bill was prepared together with another recent initiative – the suggestion not to allow Russian citizens convicted of serious crimes to serve sentences in places of their permanent registration (this rule often allowed them to get out quickly using corruption and nepotism). The MP blasted the practice saying that it caused many people to believe that it was impossible to punish the criminals and undermined the public trust in justice.
"It is quite obvious that many problems that people consider caused by migration are actually tied with felonies committed by only a small number of immigrants. We have the right to set our policy so that the foreigners with a criminal past would not be allowed into our country," Igoshin noted.
"Such a move will be in the interest of both the Russian citizens and those who come here on lawful grounds," the parliamentarian concluded.