Stem ethnic extremism by criminalizing internet provocations – minister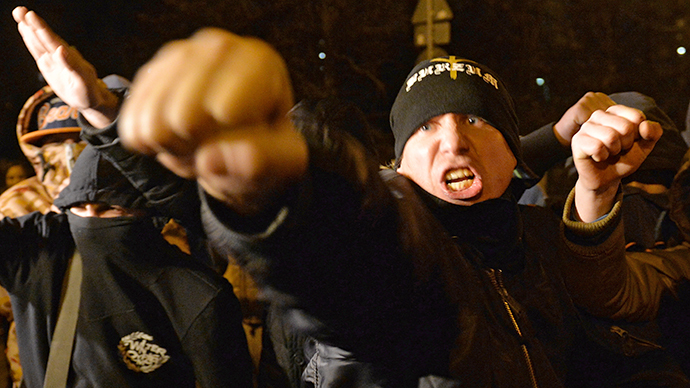 Russia's Interior Minister has labeled fighting extremism and provocations on the internet a priority task. He stated that federal law should be changed to cover crimes committed via cyberspace.
Speaking at the Wednesday session of the Russian upper house, Vladimir Kolokoltsev said that the most worrying thing about extremism was the modern tendency to involve young people in such movements. The police are aware of this trend and have repeatedly thwarted radicals' attempts to infiltrate communities of football fans and to instigate various illegal actions.
"Bearing in mind that the majority of young kids are actively using the internet for communication, fighting the activities of extremist groups in this network has become one of our main tasks," the minister added.
Kolokoltsev has proposed a draft law that introduces criminal responsibility for extremist crimes with use of the internet.
He said that recent events in the Moscow district of Biryulyovo, where local residents started street protests and riots after the fatal stabbing of an ethnic Russian by an Azerbaijani migrant worker, were a vivid example of such situation, as certain people tried to use the outrage and mourning of the people as pretexts to commit hooliganism.
According to law enforcers, it was the use of the internet and especially social networks that allowed the Biryulyovo rioters to gather about a thousand protesters in a matter of hours.
In the same speech the minister also asked the senators to suggest and pass a bill that would introduce criminal responsibility for sponsoring extremists, as undermining the financial basis of the criminals would be a real help for law enforcers.
It should be noted that Russian law already allows for the prosecution of people who instigate hatred or who slander other persons using the internet, but law enforcers often encounter problems in establishing links between the internet postings and real life persons.
Recently the mass media has reported of a bill that gives the Federal Security Service (FSB) more powers in countering internet threats, including the obligation for major providers to keep 12-hour records of traffic and present them to security agents on demand, without a court warrant.
The bill is in the discussion phase and its fate is not clear as web entrepreneurs voiced protest over the substantial cost of the project and the fact that the state was not offering any means of compensating for it.
You can share this story on social media: