Gender gestapo celebrate win as tin-eared UK judges overturn ban on puberty blockers for under-16s who need help, not hormones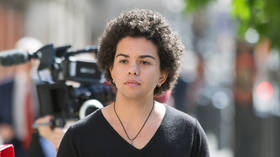 A UK Court of Appeal decision to allow young teenagers to decide on the first stage of gender transitioning is a blow for common sense, a gross misreading of the public mood and an insult to every parent.
A 13-year-old child is only just old enough to open their own account on Twitter, Instagram or TikTok, but now the Court of Appeal in the UK has decided they're also of an age to decide on taking powerful puberty blockers as they make up their mind whether they want to face the future as a man or woman.
So let's get this straight. In their first year of becoming a teenager, they can't drink, drive, vote, or have sex, but they can make the decision to take growth-inhibiting hormones that will delay the onset of puberty, with all the physical and mental impact that means, while their school pals and peers embark on a prescription-free path into a regular adulthood.
Also on rt.com
A new book, 'The Transgender Issue', is a tale of rampant victimhood that views straight white people as reactionary oddities
For reasons hard to fathom, the Court of Appeal has overturned a ruling made in the High Court just last December that determined children under the age of 13 considering gender reassignment were "highly unlikely" to be mature enough to themselves give informed consent to be prescribed puberty-blocking drugs, which it called an 'experimental' treatment that even those aged 14 or 15 would have difficulty understanding. They even suggested that the doctors of teenagers under 18 may need to consult the courts for authorisation for medical intervention.
As a result of that decision Tavistock suspended new referrals for puberty blockers and cross-sex hormones for under-16s. But now that's all changed, in less than a year.
The court decision announced today follows the launch of an appeal by Tavistock and Portman NHS foundation trust, which, as NHS England's only gender identity development service for children, has the most skin in the game. They disputed the outcome of the case brought against them by 24-year-old Keira Bell, who began taking puberty blockers at 16 but later de-transitioned.
She believes 16 is too young an age to make such a life-changing decision, let alone ages 15, 14 or 13. Keira's case was backed by the unnamed mother of a teenage autistic girl on the waiting list for treatment. In some circles, autistic teens are considered more prone to gender dysphoria than neurotypical kids. But it's just a theory, that's all.
Gender dypsphoria – described by the NHS as "a sense of unease that a person may have because of a mismatch between their biological sex and their gender identity" – is at the centre of all this. While any responsible parent or qualified medical specialist would probably want to explore the whys and wherefores of a child's desire to transition their sex, it seems that judges are happy for children to self-diagnose, and leave the medical experts to inject the GnRH analogues based on their young patient's say-so.
Also on rt.com
Trans activists will HATE Helen Joyce's shocking new book as it dismantles their false ideology piece by piece
Last December, the High Court ruling stopping this was declared a victory for common sense. A strike against a highly irresponsible medical culture that, unlike that existing in any other field of medicine or psychiatry, allowed a patient's self-diagnosis – and a minor's, no less – to determine how they were treated. If a teenage girl told doctors she really felt like a boy then that was it. She was a he. End of.
Sometime in the early 2000s, this backwards protocol, propagated by the shamefully indulgent, politically-driven gender gestapo of West Coast USA academia, landed in the UK without anyone really taking that much notice. But, and this is somewhat contentious, once it became 'a thing,' suddenly gender dysphoria seemed everywhere.
Like the 1518 dancing plague of Strasbourg, the idea just took hold and that was it. The gender identity development service saw a surge in referrals beyond anything it had experienced in the past.
In 2010-11, there were 134 referrals in England. By 2020-21, that figure had soared to 2,242. Clearly, something is out of whack here. Like multiple personality disorders, like anorexia, it's hard to deny that, once these conditions became more talked about, particularly among adolescent girls, more cases began to appear. Is there a clue there?
Looking at Transgender trend figures from 2018-19, there were even referrals of girls aged as young as three to the Tavistock Clinic. At that age, they are just as likely to say they want to be a puppy or a unicorn as they are to declare they'd rather be a boy. Why not take them to the vet?
Also on rt.com
Is Royal Academy's failed bid to cancel 'transphobic' artist a welcome turning point in gender debate?
If December's ruling was a victory for common sense, this one is a victory for imbecility. These crusading, tin-eared appeal-court judges have desperately misread the public mood on this issue, which pits that age-old concern of any loving parent simply wanting the best for their offspring against progressive gender radicals pushing an ideology that undermines those efforts.This decision is a retrograde step and the judges should be ashamed.
If you like this story, share it with a friend!
The statements, views and opinions expressed in this column are solely those of the author and do not necessarily represent those of RT.
You can share this story on social media: