Trans activists will HATE Helen Joyce's shocking new book as it dismantles their false ideology piece by piece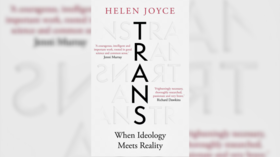 'Trans: When Ideology Meets Reality' rips to shreds the illogical argument that insists gender is separate from sex, to be swapped at whim despite biological evidence to the contrary and growing concern at its impact.
As a young tennis fan working with player liaison at the Australian Open in 1981, I was introduced to Renee Richards, who at the time was coaching Martina Navratilova, the then-highest ranked female tennis player in the world. Richards was a former professional player herself, but there was a lot more to her story than tennis.
Even to the clueless younger me, it was clear that the 46-year-old, 6ft 1in blonde-haired woman I was introduced to as Dr. Richards was transgender. She was a handsome, striking figure, no doubt, but she also had an Adam's apple, large hands, a broad-shouldered physique and way of carrying herself that signposted masculinity.
Certainly, when born and raised as Richard Raskind in an affluent Manhattan family, that masculinity came very much to the fore as a wide receiver on his private school's football team, a pitcher for the baseball team and a member of the swim and tennis teams. He later captained the tennis team at Yale, served as a lieutenant in the United States Navy, became a successful ophthalmologist, married a model and fathered a son.
Also on rt.com
J.K. Rowling doubles down in trans toilet use debate as troll hopes she receives pipe bomb in the mail
As his long-time friend, former doubles partner and women's tennis icon Billie Jean King told a magazine profiler in 2019, "You talk about it, Dick Raskind had it."
Then he transitioned to a woman in 1975, as Helen Joyce recounts in her new book, 'Trans: When Ideology Meets Reality'. While the sex-reassignment surgery that Richards went through was revolutionary for its time, her insistence on being allowed to pursue a tennis career on the women's circuit created the real controversy, particularly when a judge ruling on her case against the US Tennis Association declared "this person is now female."
Richards had retired from the circuit when she took charge of Navratilova, but the tennis superstar has always been uncompromising in her view about her former coach's behaviour, despite losing sponsorship and backing for expressing herself.
The 18-time Grand Slam winner said, "Renee was in her forties, not training particularly hard. I was number one in the world and I had my hands full to beat her. I think that says everything you need to know."
Even Richards has since changed her view about playing against women, telling Slate magazine in 2012, "Having lived for the past 30 years, I know if I'd had surgery at the age of 22, and then at 24 went on the tour, no genetic woman in the world would have been able to come close to me. And so I've reconsidered my opinion."
Richards' pioneering story is a book in itself, not least for what it says about one of the many contradictions of gender ideology, where people born as men want to be viewed as women, but then allowed to compete against them at sport so they can beat them like men. How can that be fair?
Also on rt.com
​​As a parent, the speed that Western society and culture is descending into hysterical self-hatred makes me worry for my children
Particularly when it seems only women are affected. After all, no trans men are queuing up to contest Usain Bolt's 100m crown or Michael Phelps' records in the swimming pool against testosterone loaded fields. But the International Olympic Committee is happy to wave through trans woman Laurel Hubbard to compete against females in the +87kg division in weightlifting.
Disproving the biologically nonsensical claim – and a central tenet of gender identity – that 'trans women are women' is what many of Joyce's compelling arguments in 'Trans: When Ideology Meets Reality' are all about.
The author is a journalist at the Economist and writes with a hack's rigour and ballsiness on a topic that scares witless most academics in the field, lest they fall foul of their left-leaning colleagues or are mullered on social media. It's a very real concern that has lost people their jobs, their friends and their reputations.
Of course she will be accused of transphobia, but as she points out, this particular phobia is not about denying transgender people their rights to live safe, happy lives free from discrimination or persecution. It's about one thing only: the ability to detach the sex you were born with from the gender you view yourself. The theory goes that gender is only a social construct, so there's no such thing as men or women anyway.
The Jenga-style tower of ideology that has built up piece by piece to support trans activism has become a daunting edifice for many, so often those with most at stake choose to keep convincing arguments to themselves, rather than attempt to bring the whole thing down and attract the wrong kind of attention.
That silence is exploited by the gender mob, who disingenuously choose to take it as agreement. And so we end up with women in sport who feel cheated, concerned parents of teenage girls asking for puberty blockers, terrified female prisoners fearing for their safety from trans women inmates and schoolgirls not wishing to share their toilets with boys. None of these is being heard. Consequently, the gender gestapo push their agenda further, threatening, trolling and cancelling at will, until they meet resistance when they pause to regroup before the next surge.
Just like Jenga, however, this tower can also be dismantled block by block to a point where so many pieces have been removed that the entire building becomes unstable and crashes down.
Also on rt.com
World Emoji Day has given us a pregnant man, but don't worry... I still very much doubt dudes can birth
Joyce takes this on. Removing those blocks one by one with patient, coherent arguments, pointing out the inherent contradictions in gender ideology; how wildly unsuccessful trans women are at passing; how dangerous it is to put men identifying as women into the same prisons, hospitals, changing rooms and toilets as females without asking for anything more than a piece of paper; how America's slavery past informs its gender debate; how cluelessly liberal Canada is; how naive the Irish have been and how the fightback has begun in Britain.
In the past 12 months there has been a string of books looking at gender ideology with Joyce's being the latest. Earlier there was Abigail Shrier (Irreversible Damage) and Kathleen Stock (Material Girls) pulling back the curtain on trans rights to expose an ideology that was growing unchecked because questioning it brought instant condemnation to those who dared.
That has certainly changed. And if you needed any proof, it was there in the headline of the Times' review of 'Trans', published at the weekend. It read, "Women exist! The facts of biology trump trans ideology."
Two years ago, that headline would have been a sackable offence for a sub-editor on a middle-class mainstream British newspaper. Maybe the tide is turning.
Think your friends would be interested? Share this story!
The statements, views and opinions expressed in this column are solely those of the author and do not necessarily represent those of RT.
You can share this story on social media: