Poland's insistence it will never accept a United States of Europe puts it firmly on a collision course with the EU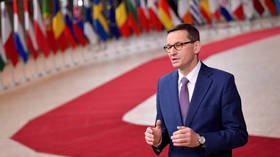 More trouble lies ahead for Brussels, with the Polish PM Mateusz Morawiecki voicing his opposition to a European superstate. Don't be surprised if Poland is forced to decide on its EU future within the next decade.
In a recent interview with Newsweek, Morawiecki revealed that he is not a fan of the direction the European Union is heading in. During the interview, he made his views on integration perfectly clear, stating that "we should not expect that there will be one 'United States of Europe' because it will never be." Statements like this will not go down well in Brussels, where the desire for a United States of Europe is, and always has been, the raison d'etre of the project.
Morawiecki is one of a number of Eastern European leaders increasingly concerned about Brussels' ambitions for full integration. Indeed, mountains of EU legislation, which call for harmonisation, have been laying the groundwork for a United States of Europe for many years now. Morawiecki is clearly not impressed with such aspirations and asserted that the EU "cannot be one superpower, because if that is the case, there will be frictions and tensions that are going to grow even bigger if those from Brussels, Berlin or Paris would try to push all the others towards such a state."
Also on rt.com
The European Parliament has called for regime change in Russia, but no one in Europe cares because it is a pointless talking shop
The intervention by the Polish PM only serves to highlight the fissure that has developed between the European capitals. On one hand, there are the Western European politicians, like French President Emmanuel Macron, who want to see more integration, and on the other there are those in Eastern Europe who prefer looser ties. The situation is untenable and will, in all likelihood, come to a head in the not-too-distant future.
At the moment, the EU is clearly a fractured organisation. There is a political battle afoot that will dictate the kind of EU we see in the future. Of course, Brussels would prefer a Europe where the nation states are subservient to the EU. The Eurocrats dream of a day when the continent is a harmonised bloc with a European identity. Indeed, 'ever closer union' has been in the DNA of the EU since its inception.
In contrast, Morawiecki would prefer to see a Europe that preserves national culture and national identity. He stated in the interview that "there are 27 countries, and several more closely aligned that are not belonging to the European Union, but all of which have strong identities, cultural heritages, languages and traditions."
Also on rt.com
Calling Euroskeptics Morawiecki, Orban & Salvini 'pro-Putin bloc' is a lazy diversion. They are the next real EU force
Such opinions are anathema to the Eurocrats, who view national differences as a barrier to their ultimate aim of a United States of Europe. To achieve their final goal of superstate status, the Eurocrats require national identity to play a subordinate role to a predominant European culture. Morawiecki correctly objects to this idea, stating that "for Europe to be strong, it has to be a Europe of homelands."
He also claimed that Europe could have a place at the top table in global affairs "without this meaning a one-size-fits-all type of philosophy that some Eurocrats from Brussels seem to believe in."
On the face of it, however, the EU's ambition of a United States of Europe looks increasingly like a pipedream at the moment. Polling just released by the European Council on Foreign Relations (ECFR) reveals that trust in the EU has reached an all-time low.
The bungling of the Covid vaccine programme, augmented by a series of economic and border crises, has resulted in over 60% of French believing that the EU is 'broken'. Figures from Germany are equally negative, with 55% having no confidence in the EU, and in Italy 57% of the public gave the bloc a firm thumbs down.
Also on rt.com
After countless failures, the EU is drinking at the last-chance saloon and risks being a casualty of Covid itself
Although these figures make grim reading for the Eurocrats, they will not make them change course. Their usual response to these kinds of negative polls is to claim that all the continent needs is 'more EU' – a delusion that the European public just have to witness more of the EU's achievements, and then they will learn to love it. Thus, they will continue to forge ahead towards their ultimate objective of full integration, even if some member states, like Poland, are opposed. Moreover, with Britain now out of the equation, the brakes towards a European superstate are well and truly off.
If Morawiecki's words can be taken as a reflection of his country's views, then the day is coming when Poland will have to make a decision about its membership of the EU. Indeed, I suspect that before the decade is out, Poland will have to choose whether to remain on the EU train, whose ultimate destination is a United States of Europe, or follow the British lead and hop off before it is too late. There is one thing for sure, however: Brussels will not compromise.
If you like this story, share it with a friend!
The statements, views and opinions expressed in this column are solely those of the author and do not necessarily represent those of RT.
You can share this story on social media: