Calling Euroskeptics Morawiecki, Orban & Salvini 'pro-Putin bloc' is a lazy diversion. They are the next real EU force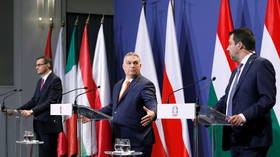 Just as three nationalist European politicians were gathering in Budapest to hash out an alliance for more national sovereignty in the EU, Donald Tusk derided them as Russian lackeys.
Tusk, the former Polish prime minister and head of the European Council, tweeted that the April 1 meeting of Hungarian Prime Minister Viktor Orban, Polish Prime Minister Mateusz Morawiecki and Italian right-wing Lega leader Matteo Salvini was for the intent of "organizing a pro-Putin political bloc." It's an oft-repeated but ineffective tactic employed by EU elites whenever other leaders dare to question their supranational bureaucracy's shortcomings.
Rosja mobilizuje siły wokół Ukrainy. USA ogłaszają stan zagrożenia w Europie. Morawiecki w Budapeszcie organizuje z Orbanem i Salvinim proputinowski blok polityczny. To nie jest prima aprilis.

— Donald Tusk (@donaldtusk) April 1, 2021
Morawiecki, who actually takes a cautiously neutral stance towards Russia, is nonetheless portrayed as an anti-European Russian proxy by Brussels elitists for merely questioning the EU's path and arguing that "its roots should not be neglected."
Branded heretics
Other Europhile politicians have joined the chorus of heretic-bashing that is so in vogue in Brussels whenever honest criticism of its lack of democracy surfaces. Typically, this elitist ploy involves cloaking oneself in nationalism to disguise one's disregard for national differences. In Warsaw, Civic Platform (PO) politicians Andrzej Halicki and Tomasz Siemoniak said publicly that Prime Minister Morawiecki's alliance was "against Poland's national interests," while Peppe Provenzano, a former minister of the Italian Democratic Party (PD) that is in coalition with Lega to shore up pro-EU Prime Minister Mario Draghi's government, said of Salvini's meeting with the heads of the Polish and Hungarian governments, "those two countries are enemies of the national interest."
Orban's post-conference pledge, encapsulating his alliance's ethos, is "to launch a new platform, an organization, a process which will give those citizens who believe in a traditional Europe the representation that they deserve." It is a type of representation that his party Fidesz deserved but definitely did not receive in the transnational European People's Party's (EPP), which is led by Tusk himself and includes in its ranks the Christian Democratic Union (CDU) of German Chancellor Angela Merkel, a frequent opponent of Orban on migration.
For voicing a tough line on migration policies, taking Hungary's claims to the European Court of Justice about Berlin-mandated migrant quotas that were never democratically approved, and clashing with EU officials on state-ownership rules, EPP parliamentary leader Manfred Weber came back with a diktat that would have booted Fidesz out of the group had Orban not taken his MEPs out unilaterally in March.
At that time, too, Tusk spitefully rebuked Orban's exit from an intolerant EPP by praising Weber's actions for protecting the group "against destruction and sabotage which came from Fidesz" and called the Hungarian government a "degenerate democracy."
I congratulate @ManfredWeber & the EPP Group on their latest decision, formally about procedures but practically about fundamental values. I would also like to thank all the parties who consistently defended the EPP against destruction & sabotage which came from Fidesz.

— Donald Tusk (@donaldtuskEPP) March 25, 2021
The real Christian democrats
It is unsurprising that Orban and his Polish and Italian allies view the situation differently. They claim with ample evidence that the genuine "Christian democrats" are lacking "real representation in Europe today," when those politicians nominally under the Christian-democratic banner like Tusk, Weber, Merkel, and European Commission President Ursula von der Leyen behave in ways that are neither Christian nor democratic.
Had the EU's leaders not been so busy pointing fingers and instead engaged with dissenters like Orban – who are seeking to reform EU policies inside the bloc and not dissolve it – solutions to pan-European problems such as Covid-19 vaccine procurement might have been addressed earlier and more effectively. Thierry Breton, head of the EU's vaccine task force, scoffed at Orban's decision to bypass Brussels regulators and order Russia's Sputnik V vaccine by saying, "We have absolutely no need of Sputnik V." But two weeks after those comments came out, Merkel and French President Emmanuel Macron entered talks with President Vladimir Putin over potential use of the Sputnik vaccine, as Italians continue to book appointments in Serbia for Sputnik V and China's Sinopharm vaccines that have arrived in the millions, with EU vaccine rollout woefully insufficient in Italy and elsewhere in the union.
On the highly contentious area of migration too, the policies of Tusk and his former EPP colleague Orban have aligned more than Tusk would care to admit through the cloud of his seething rhetoric. Back in 2016, as Europe's migrant crisis was in full swing, Tusk – then president of the European Council – essentially endorsed Orban-esque restrictions on illegal economic migrants entering the EU, when he made an announcement addressed to such would-be asylum claimants: "Do not come to Europe. Do not believe the smugglers. Do not risk your lives and your money. It is all for nothing."

Yet Orban and his rightwing partners have more consistently advocated controls on immigration as part of holistically securing national autonomy against a high-handed EU. For Orban's trio, the nationalist movement is about providing "a home to all European citizens who do not want migrants, who protect Christian traditions, respect national sovereignty."
Also on rt.com
EU Commission takes Poland to Europe's top court in bid to 'protect independence' of country's judges
Hardly Putin's lackeys
By rejecting out of hand what was actually discussed during the Budapest meeting – and what has been discussed and proposed to Brussels for quite some time by those European leaders who disagree with the direction of EU integration – Tusk is continuing the EU elite's stereotyping of nationalist leaders as anti-immigrant, pro-Russian subversives unworthy of inclusion in the European project.
In the most basic sense, the coalescing right-wing group is highly nuanced in its attitude toward Russia. Orban, who like Salvini generally is open to dialogue with Moscow, has called for an end to EU sanctions against Russia that stifle creative opportunities for economic cooperation, yet he has also called for a European army to counter Russia militarily, claiming, "We should be very, very tough on the military side in relation to Russia and we should be very cooperative on the trade side."
The Hungarian prime minister has stated that "It is important for us to get Russian oil and gas to Hungary" including via the Nord Stream 2 subsea pipeline extension if necessary, but Morawiecki has claimed the project "increases EU dependency [and] undermines economy & safety."

These are hardly individuals forming a "pro-Putin" cabal to take down the EU from the inside – rather, politicians enacting a useful blueprint for the EU in strategically cooperating with Russia in certain areas while taking a more nationalist stance in others.
The Orban-Morawiecki-Salvini trio can be a real counterpoise to the EU's current path of trampling on national autonomy – and the alliance's formation has, if anything, accelerated due to the arrogant behavior of EU officials themselves.
Also on rt.com
Hungarian foreign minister becomes first EU politician to take Russia's Sputnik V, gets vaccine live on camera
More democracy, less blackmail
Hungary, though embattled with the EU leadership over migration since the crisis began in 2014-15, first tried using EU institutional measures at its disposal to seek solutions. Budapest launched a joint lawsuit with Slovakia at the European Court of Justice in 2017 to challenge the constitutionality of Merkel's decree-like institution of migrant quotas which, in the view of Hungary's justice minister, Laszlo Trocsanyi, infringed on "an issue of sovereignty." When the motion was subsequently rejected, Hungarian Foreign Minister Peter Szijjarto said that "Politics has raped European law and European values."
According to Jacek Saryusz-Wolski, an MEP in Morawiecki's Law and Justice (PiS) Party, their faction became more determined than ever to rally nationalist right-wing MEPs under one banner because of the European Commission's callous interference in Warsaw's judicial overhaul. That is a regulatory area that Polish government spokesman Piotr Muller has firmly stated, "belongs to the purely national domain, which results directly from the Polish constitution and the EU treaties." The dispute has been so contentious that, as Saryusz-Wolski has said, "We were bashed so much that we will do whatever it takes to be big and to resist."

In this context, Salvini's post-summit vision for an EU that "does few things together, but well, and [a] Europe that doesn't use the weapon of blackmail" makes practical sense as a way to save the EU from its own droning conceit. Dissent deserves a democratic voice, and that is exactly what the trio of leaders propose to give their popular brand of Euroskepticism. Because though the EPP is the largest grouping in the European Parliament, it would be meaningfully challenged if a larger grouping of nationalist politicians were to coalesce. Salvini's Lega, which has three ministers in the Italian government, heads the European Parliament's Identity and Democracy (ID) grouping. If, as Salvini has proposed, ID were to join its 74 seats to the European Conservatives and Reformists (ECR's) 62 seats, among which are Morawiecki's PiS MEPs, it would constitute the third-largest bloc in the EU legislature.

Also on rt.com
Populism in Europe is dead, you say? It's not even sick! It's gone mainstream – despite what the liberals would have you believe
For the voters, not the bureaucrats
The disconnect that Orban and his ilk have identified – and which threatens establishment EU politicians like Tusk so much – is the disparity of opinion on ever-closer EU bureaucratization between European voters on one side and EU bureaucrats on the other. Speaking on Hungarian state television shortly before the Budapest meeting, Orban has encapsulated this gulf: "Many Europeans reject immigration and multiculturalism, want to protect their national identity, and consider national authority as superior to European directives." Lega MEP and Chair of the ID Group Marco Zanni, meanwhile, has pointed out that the current version of the EU "ceased working a long time ago" yet "is promoted by the current majority in the European institutions."
In this sense, Orban's declaration after the meeting that the trio is seeking to revive "the EU's founding values" has forced a reexamination of what those values really are. The 1957 Treaty of Rome, considered one of the EU's founding documents, mentions that the signatories have set out to "lay the foundations of an ever closer union among the peoples of Europe." The peoples, not the bureaucratic elites – a critique of the EU on which Orban, Morawiecki, and Salvini resoundingly agree. For Orban, it means respect for differences among national governments: "If one member state does not like something on an important issue the others must respect it." By ignoring this meaningful examination of what "ever closer union" does and does not mean, Tusk, Merkel, van der Leyen, et al. are ruining their chances of effectively reforming the EU from within.
Orban, Morawiecki, and Salvini are united on core tenets of protecting national boundaries and national legislation from arbitrary, undemocratic EU directives. However, as any pragmatic alliance does, they also allow room for disagreements over how to approach relations with Russia, for instance. In their dealings, they resemble a clan rather than a cult, and the latter is what the EU bureaucracy may be morphing into, unless it engages more directly with its dissenters.

Think your friends would be interested? Share this story!
The statements, views and opinions expressed in this column are solely those of the author and do not necessarily represent those of RT.
You can share this story on social media: