Populism in Europe is dead, you say? It's not even sick! It's gone mainstream – despite what the liberals would have you believe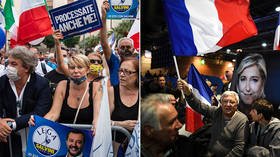 While immigration may not be the primary issue gripping the continent at present, thanks to Covid-19, populist attitudes are now embedded in the national conversation, though those of a liberal persuasion may be loath to admit it.
The liberals are rubbing their hands with glee. They told us it wouldn't last, that it would never take a hold and that, in the end, everyone would see things their way. But the idea that right-wing populism is dead is both misguided and premature. Because the bugbear of Europe's political elite is actually stronger than ever.
Sure, the faces we associate with populism, such as Italy's Matteo Salvini and the UK's Nigel Farage, may not be plastered all over our newspapers or television screens like they were just a year or two ago, but the reason for that is the ideas they represented and trumpeted across the European political stage have taken root.
One issue at the heart of right-wing populism has been immigration and, while the pandemic has hijacked the national conversation and political debate in most quarters, the policies, the language and the rhetoric surrounding that very much on-the-menu issue right now are pure populism.
Twelve months ago, no British Conservative politician who valued their job, however radical, would have dreamt of airing ideas about processing immigrants on disused ferries in the middle of the English Channel, or sending refugees to windswept outposts in the Atlantic until we could figure out what to do with them.
But these off-the-wall ideas, talk of a points-based visa system, swamping dinghies packed with illegal immigrants with wave machines and calling in the Royal Navy to stop the flow of asylum seekers onto Britain's southern beaches, would not have looked out of place at a Farage-led UKIP conference five years ago.
Back then, this sort of talk was condemned by everyone in the establishment as vile racism from swivel-eyed loons and fruitcakes. Nowadays, these go-to solutions from Priti Patel – the hardline Home Secretary and the daughter of immigrants herself – are deemed blue-sky thinking.
Meanwhile, in France, no one ever talks of Marine Le Pen's Rassemblement National as some right-wing, fly-by-night populist set-up, despite her tendency to change policies as often as her smartly tailored suits, depending on the public mood.
Also on rt.com
Eastern Europe beats West in Covid-19 fight, but West can't acknowledge it because of Cold War SUPERIORITY complex
For those looking for an alternative to President Macron and his En Marche party, Le Pen is the only game in town, and while the electoral system does her no favours in failing to aid her attempts at reaching the Élysée Palace, were she to get there, she carries a guaranteed swag of right-wing votes, which would gift her a central role in deciding who takes the top job.
The Italians have their own populist bad-ass in Matteo Salvini. Although he and his Lega Nord party were all over the media last year, the catastrophic effect that coronavirus has had on Italy, particularly in his heartland to the north, has impacted that.
After Italians witnessed, on the television news, military trucks carting piles of corpses away from mortuaries, it was always going to be difficult for the charismatic leader to maintain his impetus and keep his key issue, migration, in the spotlight.
But it's not just Covid-19 that has made life difficult for Salvini – there's a new kid on the block. The genuinely far-right Brothers of Italy are now competing for the same hearts and minds that once belonged to the Lega Nord, and they're toying with the same issues and successfully providing an alternative.
As Professor Kai Arzheimer, a political scientist at Mainz University, in Germany, points out, debunking the entire Financial Times piece dedicated to the purported collapse of populism in which he's quoted: "The overall support among voters for the right wing has not diminished. It is just being spread among a larger number of actors. To talk about the end of populism might be somewhat premature." And those healthy populist movements in Spain, Hungary, Poland, and elsewhere are proof of that.
The liberal idea that populism thrives only in times when things are going well, and that people look to the establishment parties when things are tough is an over-simplification. You could argue that demanding times call for more creative thinking and a recognition that doing things the old way no longer works, and that exploring fresh ideas is the best way forward.
One thing Covid-19 has shown us is that relying on old orthodoxies in dealing with a global health crisis does not work. The universal mishandling of the pandemic by those we have put in power to help us through nightmares such as this has destroyed public trust in the usual way of doing things. And that's precisely why populism thrives and is unlikely to disappear anytime soon – despite the wishes of liberals in denial.
Think your friends would be interested? Share this story!
The statements, views and opinions expressed in this column are solely those of the author and do not necessarily represent those of RT.
You can share this story on social media: