George Galloway: When Alex Salmond speaks up, many will 'tremble in the midst of their glee'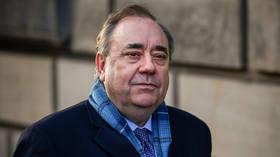 Alex Salmond is not from Dundee, nor is he 'bonnie' (pretty, attractive), but the skirl of the Jacobite refrain "up wi' the bonnets o' Bonnie Dundee" might well be his anthem.
I am from Dundee and am the artist formerly known as 'Gorgeous George', and I stand firmly against Salmond's central tenet, the break-up of a small English speaking island into two states. But boy, has he got balls.
Consistency is my middle name. In my OWN lifetime I have opposed the break-up, the partition of Ireland, Belgium, Italy, Germany, Spain, Yugoslavia, Czechoslovakia, the USSR, China, Cyprus, Israel-Palestine, Libya, Iraq, Syria, Vietnam, Korea, Indonesia, Congo, South Africa, Zimbabwe, and many others.
Also on rt.com
Could the Alex Salmond messaging scandal currently rocking Holyrood spell the beginning of the end for Nicola Sturgeon?
When Salmond – the same age as me – joined the Scottish separatist cause as a student in the 1970s, I was already making a name as a socialist internationalist. I didn't understand then – or now – how in the age of revolutions any young man could choose, as it were, a narrow nationalism, which seemed to me the antithesis of that. Unless Alex had in mind Scotland as a cold-water Cuba.
But having sat in the British parliament with him for over a quarter of a century, I came to admire his energy, guile, and fidelity to his cause. And his boundless ability as a jack-in-the-box. I've seen him pop up in the most daring places, places dangerous to him. Like being a man seeking the break-up of the British state AND trenchant opposition to the war on Iraq, for example. Neither endearing to the state security, and a combination of both being distinctly perilous.
I came to know him – and them – well. Well enough to know instinctively that, when he ran into serious trouble which could have seen him die in prison, not only was he not guilty, but that someone, somewhere had set him up. Thus, as regular readers know, I was the least surprised man in Scotland when a jury (majority women) acquitted him of all charges.
He promised outside the court on a dreich day in March that the truth of what had happened to him would come out – as truth usually does. We are now near to that day. Resisting all (considerable) provocation to go off half-cocked and prematurely, Salmond has nursed his wrath privately, but he has kept it warm.
Also on rt.com
Alex Salmond's retrial by TV in a desperate documentary only showed the BBC isn't as impartial as it claims to be
The former leader of the SNP, and former first minister of Scotland, has said he will only speak up in front of the Committee of the Scottish Parliament tasked with untangling the web of who did what in the Alex Salmond Affair. His colleagues who betrayed him have moved to Defcon 1. Salmond's pistol is cocked. It will be a terrible affair. The lion is awake. He is moving steadily towards Holyrood. There will be a reckoning.
As the Jacobite put it: "And tremble, false Whigs, in the midst of your glee, You have not seen the last of my bonnet and me."
Like this story? Share it with a friend!
The statements, views and opinions expressed in this column are solely those of the author and do not necessarily represent those of RT.
You can share this story on social media: