Biden's supply chain 'master plan' is little more than a political tantrum that reheats Trump's America First strategy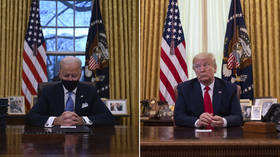 Joe Biden wants America to dominate nations that have cheaper, more effective workforces. But his latest policy review reveals that he is simply regurgitating Donald Trump's protectionist mantra in trying to do so.
On Tuesday, the Biden administration announced the findings of its comprehensive supply chain task force, a 100-day review dedicated to finding critical vulnerabilities in American imports and overseas dependencies.
The document predictably made a new series of recommendations geared towards the reestablishment of US competitiveness and primacy, the reshoring of various manufacturing and industrial capabilities, a focus on producing leading technologies and, of course, combating 'unfair trade practices' with a view to securing American jobs.
At first glance, it might seem the review is pinned solely on America's emerging competition with China. And there is some truth in that, especially given that it identifies four sectors which it deems relevant to that particular geopolitical struggle, including semiconductors, electric batteries and rare earths.
Also on rt.com
As Biden embraces Trump's America-first protectionism, foreign investors give up on the US and bet big on China. Power has shifted
But it goes beyond Beijing and pledges to confront a number of other countries, both named and unnamed, for seemingly 'capturing parts of the supply chain' and undermining American interests. It also vows the creation of a 'trade strike force' which promises "unilateral and multilateral enforcement actions against unfair foreign trade practices that have eroded critical supply chains".
Does this sound familiar to you? It should. Biden's new trade vision is little more than a comprehensive rebranding of Donald Trump's 'America First' policy, baked in the politicized assumptions that US competitiveness has been undermined by rival countries and that strident trade action is required to restore America's rightful primacy and bring back jobs, namely through protectionist policies.
Reading the document, the word "jobs" is mentioned at least 12 times, along with the phrases "American jobs", "American workers", "buy American", "A new American economy", and "American supply chains". The difference between Biden's vision and Trump's is hardly pronounced.
It's a sign, of course, that the US increasingly sees itself in a post-globalization world. Some of that – the area of medicine, for example – is a product of the pandemic. Yet taken as a whole, it also represents the line of thinking that the US has diminished in status, and is no longer interested in a globalized system which it does not dominate completely, leading it to turn inwards and pursue a foreign policy based on zero-sum games.
And herein lines its contradiction. Biden inevitably places his staple line "working with allies and partners" in the review, but how do you that if you are marketing the gains from these policies exclusively for yourself at the expense of others?
For example, despite the US having extensively partnered with India as part of its Indo-Pacific strategy, the document in fact takes aim at New Delhi and accuses it, alongside China, of controlling "substantial parts of the supply chain" and further adds that "the drive toward lower costs as well as unfair trade practices have led to a hollowing out of domestic production". This places it in direct conflict with Modi's own 'Make in India' policies. How, then, can India be 'worked with' as a partner if it is presented as a competitor? Does India willingly accept the undermining of its pharmaceutical industry to suit American preferences?
Another example of this contradiction is that it also calls out US dependency upon Taiwan for semiconductors, stating it "introduces new vulnerabilities into the critical semiconductor supply chain" and threatens "our long-term economic competitiveness". So the goal is to protect Taiwan, but undermine its industries for US benefits at home? Is it just a tool to spite Beijing with and little more?
Additionally, although Europe is not specifically named, it is obvious that the US will raise trade issues with it again too in some capacity, as Trump did, despite paying lip service to the rhetoric of trans-Atlanticism.
It's clear, then, that despite American talk of values and multilateralism, the same self-interest-driven approach to trade demonstrated by the previous administration dominates US policy. Essentially, it might be described as 'both having your cake and eating it'.
The big question, though, is will this work? Will Biden succeed in rebuilding US industry so readily? Even for the four key sectors identified in the document, it's largely all talk. The Democrats at large are pioneering a bipartisan economic strategy, which involves gargantuan spending not seen since World War II, but the key point is that the world is now a different place.
Biden is attempting to build a localized economy in a neoliberal world – which ironically American policies and uncontrolled capitalism itself has created – and aiming to compete with nations that have cheaper, larger and more effective labour forces and supply chain capabilities.
To call the "trade practices" of other countries "unfair" effectively comes across as a tantrum; the US is no longer able to win and so wants to move the goalposts. China, for one, is regularly blamed for all the country's economic woes and industrial decline, which ignores the reality that it is more the preferences of US businesses, rather than a 'state subsidized economy' that created this scenario in the first place.
Also on rt.com
America is back? Soaring inflation rate shows Biden's honeymoon is over… and Republicans are eyeing their prey
With this document – and all the ambitious spending bills running through Congress emphasising similar forms of investment – Biden ultimately wants the US to be able to 'mimic' Beijing in some capacity and 'play it at its own game', but without comprehensively changing the system.
One wonders how the US can somehow succeed in partitioning the global supply and technology chain, establish it all locally and create affordable products. America has, as a whole, come to truly resent the neoliberal world it created because it no longer fits its strategic vision of how it ought to be. Only time will tell what the end result will be, but don't be surprised if Biden's 'Trump lite' approach ends in disappointment and disunity too.
Think your friends would be interested? Share this story!
The statements, views and opinions expressed in this column are solely those of the author and do not necessarily represent those of RT.
You can share this story on social media: