America is back? Soaring inflation rate shows Biden's honeymoon is over… and Republicans are eyeing their prey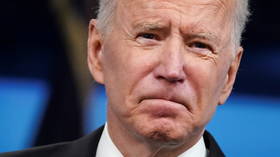 He's had a comfortable start to his presidency, but Joe Biden is feeling some pressure thanks to an overheated economy. After licking its wounds following Trump's demise, it's time for the GOP to make life difficult for him.
On Wednesday, the markets were spooked as the Consumer Price Index saw US inflation hit a 13-year high at 4.2%, significantly exceeding expectations. This is an obvious product of astronomical stimulus money being poured into the US economy in a bid to offset the impact of Covid-19, inflating incomes and sending spending skyrocketing.
The shock has clouded what was an optimistic picture for the US economy, provoking a debate among economists as to how long it will last and whether it will require a rise in interest rates. Officials have sought to play down the spike as temporary, while other economists have been more pessimistic.
Not surprisingly, the development has prompted criticism from fiscally conservative Republicans of the Biden presidency's stimulus spending, with more mega investment bills in infrastructure lined up.
The Hill berated Biden's spending as a "hidden tax on working Americans," while leading GOP senators such as Marco Rubio and Rick Scott dubbed it as a "serious threat" and accused Biden of a "lack of leadership." A series of critical op-eds also appeared in Bloomberg, the Washington Post and the New York Post.
Whatever happens, one thing remains clear: Biden's political honeymoon is over and he now faces his first bump in the road. When the new president came to office in January, he was met with a wave of euphoria from the mainstream media and overly optimistic "America is back" rhetoric after the disruption and division of the Trump administration.
As the US economy reopened and the vaccine drive picked up pace, many assumed the good times were here and that things might just become normal again with Biden as a safe, trusted pair of hands who would swiftly restore US leadership abroad and stability at home.
This has allowed Biden to have a comfortable first few months and, with a Democratic majority in Congress, set the agenda and tone for his presidency. For most of this time, the Republicans have remained bruised and sidelined after Trump's explosive demise.
But what we have seen so far doesn't tell us much about how his presidency might evolve, and what it will mean for America. It is only once the novelty wears off and the 'business as usual' norm sets in that things can properly be assessed.
Now is the starting point. With Biden's economic agenda premised on a return to 'New Deal' style Keynesianism, pledging huge investments and intervention, the above-average inflation rate creates an angle of attack for Republicans to begin rallying opposition to his presidency.
Trump quickly took advantage of the rising fuel prices and compared him to Jimmy Carter. If the situation does not improve, there will likely be scores of attacks against 'big government', with rampant criticism of deficit spending and any tax rises, and come 2022, momentum towards Republican candidates in Congress who will try to draw out a repeat of the Obama years and attempt to block Biden's agenda.
This means the next few months will be key to defining the pathway of his presidency. But of course, the battle between the Democrat and Republican narratives doesn't tell us everything about the challenges the US economy might otherwise face.
Also on rt.com
Tara Reade: Sexual assault allegations are a career death sentence for anyone... except an establishment Democrat
The alternative angle is that the inflation problems may be a run-on effect of Trump's policies, especially when it comes to China. Despite a wide range of tariffs, US-China trade has not dampened; in fact, Chinese exports to America are booming on the back of surging demand. Outstanding levies have undoubtedly added to inflation. The global shortage of semiconductors, caused by Trump's 'technology war' against Beijing, leading to bulk panic buying by Chinese firms, has also added to the mix.
However, Biden does not have the luxury of changing course on this, given Republicans will similarly berate him for being soft. He is locked into the Trump protectionist, anti-China agenda, yet the partisan battle will play out regardless and may continue to mask these lingering issues. Recent data reveals a host of other potential challenges too. The sudden dip in new payrolls illustrates the massive inequalities at play in the US economy, with many finding it more beneficial to live on boosted welfare than to return to low-paying jobs. That poses questions of sustainability, and suggests US growth cannot continue as it is for long.
And so, the gloves are off and the jury is out. Will Biden's massive economic gambles pay off? Or will they quickly become his undoing?
In English football, it is often the case that the optimism and freshness of a new manager on a team leads to a few positive results initially, with the real challenges and weaknesses only emerging after. Biden has just been through this period, following the disastrous Trump tenure. We've had the refreshing rhetoric, we've had a new vision, and the inflation data is the first 'surprise result' which has people questioning his leadership. Time will tell how things pan out from here.
Think your friends would be interested? Share this story!
The statements, views and opinions expressed in this column are solely those of the author and do not necessarily represent those of RT.
You can share this story on social media: