After countless failures, the EU is drinking at the last-chance saloon and risks being a casualty of Covid itself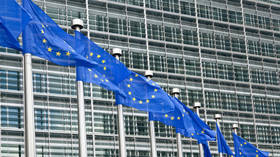 Following the EU's dismal handling of the pandemic, a think tank's bombshell report has found growing disillusionment with the off-the-rails Brussels project is now mainstream. It needs to shape up or its very future is in peril. 
A damning report just released by the European Council on Foreign Affairs think tank has confirmed what many have known for some time – the EU is broken, maybe beyond repair.
As the authors of 'Crisis of Confidence: How Europeans See their Place in the World' point out, "Disappointment with EU institutions has now come out of the periphery and gone mainstream."
Its mishandling of the coronavirus pandemic, from the production and distribution of PPE to a stalled immunisation rollout programme and confusing messaging over the efficacy of vaccines and their procurement, followed by its inability to present "a credible narrative of strong European leadership" after agreeing the €800 billion recovery package, have all raised big questions about the EU's capacity to steer member states through the crisis.
The report concluded that failure meant "the EU itself may risk becoming another casualty of Covid-19."
It found majorities in Austria, Bulgaria, France, Germany, Italy and the Netherlands reported lower confidence, or stable levels of low confidence, in the EU since the start of the pandemic. In Germany, the share of people who believe the EU system is broken is 11 percentage points higher than it was before the pandemic, according to polling by YouGov undertaken for the report.
Also on rt.com
The European Parliament has called for regime change in Russia, but no one in Europe cares because it is a pointless talking shop
It's not only the mishandling of the pandemic that has given Brussels a terrifying glimpse into the abyss. It's just the latest in a string of major upsets in which it has simply failed to adapt and show the sort of leadership and political will necessary to navigate a way through.
There was the debt crisis of 2008, the migration surge in 2015, hugely divisive Brexit in 2016, four years of Donald Trump and a subsequently testy relationship with the US plus, more recently, Covid-19. In none of these has the leadership of Europe looked, at any time, to be in control. It has overreached, promised big and failed to deliver, despite plenty of accompanying rhetoric.
"The EU has used up its second chances now that trust in EU institutions has weakened," says the report.
And the authors warn, "Europe's political leaders need to be clear-eyed about the choice in front of them regarding the European project. The embattled belief in the need for European cooperation will not hold through further failure."
That means the EU must rein in its obsession with becoming a global superpower with a seat among the big players, and concentrate on meeting the needs of its people in those areas where it can guarantee delivery, instead of simply more disappointment.
As the study shows, when asked if the EU should be "one of the world's great powers, capable of defending itself from external threats including through military means when necessary" only 18% of those polled agreed. What should set alarm bells ringing in Brussels is that 12% were in favour of dismantling the bloc entirely, believing EU countries would be better off without it.
However, overwhelmingly, European citizens aspire to more abstract ideals like becoming "a beacon of democracy and human rights" and "prioritising the rule of law and high democratic standards within its own ranks."
Also on rt.com
Hey EU! Lay off Hungary's Viktor Orban simply because he rejects modern liberal ideas in favor of a different democratic route
These are the sort of targets that can be met. They're uncomplicated, uncontroversial and give everyone a warm fuzzy feeling. That's more than can be said than the rhetoric and regional muscle-flexing against nations like Turkey and Russia.
Because not only does that announce a far more aggressive foreign policy stance, but not all member states are on the same page. In polling about the relationship between Europe and a range of other countries, 41% felt that Turkey was a rival with which to compete or an adversary, a country in conflict with the EU. Let's remember that Turkey is still a member of NATO.
What might surprise many in Brussels is that a total of 42% of people see Russia as either an ally, a country that shares European interests and values or a necessary partner with which the EU should cooperate with strategically.
Unless I am totally misreading the current state of affairs, these views are not aligned with the current narratives that drive EU foreign policy. And that makes the point about choosing to weigh in against difficult neighbours.
Because the report authors found that "strikingly, our data suggest that European voters do not see the world through that lens." And that feeling is particularly strong in Germany where only 36% of respondents (compared with 58% in Portugal) felt that "The EU should ensure a more unified response to global threats and challenges."
That could help explain the recent intervention from German Foreign Minister Heiko Maas, where he vented his nation's frustration at the difficulty in winning the unanimity required to implement EU foreign policy initiatives.
It's the intangibles that Europeans love. The idea of defending 'European traditions and values' and of keeping nation states 'strong'. What do these actually mean? Well, it's about making people feel good about themselves, secure about their lifestyles and families and positive about the future.
Also on rt.com
Germany, exasperated by Hungary's Mr No, seeks to end individual nations having a veto over EU foreign policy
The EU can deliver on these. A stable European economy would be ideal. An effective vaccination rollout would help. Realistic and achievable targets set through the green agenda could do it and so could the exercise of soft power in pursuing strategic, cooperative partnerships not only with traditionally strong friends like the US and UK, but with other countries including Russia, China and Turkey.
This is where the future lies for Europe. It means it can shine its 'beacon of democracy' across the continent, keep 400 million people safe and secure and actually deliver on the promises it makes.
That could mean it has a chance of rebuilding the trust it needs if the EU project is to survive. If it continues to pursue its wild ambition to be a global superpower, a belligerent approach to foreign policy, vainly trying to unite conflicting interests among its member states, and insists on picking fights with nations like the UK and Switzerland, then the future is not so clear.
What is obvious from 'Crisis of Confidence' is that a valuable lesson is there for the learning. But whether the EU will want to learn from it is doubtful, and that could well prove to be its own undoing.
If you like this story, share it with a friend!
The statements, views and opinions expressed in this column are solely those of the author and do not necessarily represent those of RT.
You can share this story on social media: