Prisoners on our island: The UK is moving far too slowly with opening up international travel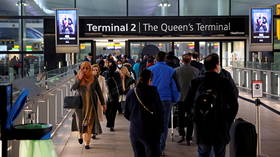 The Covid caution on display in the government is very worrying. It suggests that even with the success of vaccinations, politicians are going to effectively stop us going abroad for some time yet.
When the 'stay at home' lockdown rules were removed in the UK in March, it was made illegal to travel abroad without 'good reason', with travellers facing fines of up to £5,000 if they do so. This ban is due to end on May 17 as the next stage in reopening society begins. But the government's excessive caution means that little will change on that day.
It looks likely that the UK government will impose a traffic-light system for different overseas destinations. We already know about the 'red list' – 40 countries from which travel into the UK is banned because of high case numbers and/or fears of new virus variants of concern. These countries include India, Pakistan, Brazil, Kenya, South Africa, and Bangladesh. The exception is for British citizens and residents, who must quarantine for 10 days, at their own expense, in a government-approved quarantine hotel, upon return.
To travel into the UK from any other country, at the moment, you need to provide proof of a negative test and quarantine in a specific place or a quarantine hotel for 10 days. There has been some criticism of this system. A report by the All-Party Parliamentary Group on Coronavirus, published this week, noted that proof-of-test documents could be forged (over 100 per day are being found), long queues at airports meant passengers from different countries were mixing for long periods, and only a proportion of tests were checked for variants.
Also on rt.com
'Like being in prison': The grim reality of what you can expect from a stay in hotel quarantine
There are also the long-standing problems with making sure that people asked to quarantine where they are staying are actually doing so. Nonetheless, there is no reason to believe that the vast majority of passengers are not sticking to the rules. It is unlikely that international travel is a major source of new infections, compared to domestic transmission, and public-health authorities are swift to jump on any clusters of cases involving new variants.
The government will release two more lists of countries today – the 'green list' and the 'amber list'. The green list will be for countries with low case numbers and relatively high rates of vaccination – and is likely to be very short. Yet despite these countries and territories being low risk, travellers from these areas will still need a negative test within 72 hours of departure back to the UK and a PCR test taken on or before the second day back in the UK.
For amber list countries, the vast majority, the rules will remain much the same as now – a pre-departure negative test and quarantine for 10 days at the address they are staying. Travellers will also need to complete PCR tests on days two and eight after they return, with the option to pay for an extra test on day five to be released from isolation early.
In other words, international travel may be back, but it will be very far from normal. PCR tests have been costing £120 each, which could mean a family of four paying £480 for tests to get back to the UK. (One travel company, TUI, is offering heavy discounts on tests to encourage people to book with them.)
Also on rt.com
Dumping people in quarantine hotels to stop the spread of potential mutant Covid strains shows that paranoia now rules UK policy
No wonder a group of travel-industry bosses have written an impassioned article for the Telegraph asking the government to reconsider the rules. For example, they note that travel within the EU will not be restricted for those who have proof of vaccination, yet there is, as yet, no indication that vaccination will allow travellers to the UK to avoid the need for testing. For the travel industry to get going again, it will need to be much easier for people to travel to the main tourist destinations, the vast majority of which will be on the amber list.
If we were in the middle of an emergency in the UK, as was the case in January and February, that might all make sense. But with cases, hospitalisations, and deaths driven down by social distancing rules and being kept that way by vaccinations, maintaining emergency measures seems inappropriate.
There have been just 81 deaths within 28 days of a positive test reported in the past week. Just one death was reported on Monday, although underreporting on bank holidays is normal. Overall, mortality from all causes for the past seven weeks has been lower than usual. Indeed, for the year to date, mortality is on a par with 2013, 2015, and 2018 – but nobody would have thought to impose emergency measures back then. There are 1,289 people in hospital with Covid, down from over 39,000 at the peak in January. The weekly infection survey by the Office for National Statistics suggests less than one in a thousand people in England (excluding care homes and hospitals) is currently infected.
Could the figures rise again, particularly if virus variants can evade the current vaccines? At present, the data shows that vaccinations are still very effective at providing protection, particularly against more serious illness, and even one dose of vaccine can significantly cut the risk of transmission. With two-thirds of adults having had at least one dose, and over 30% – the most vulnerable – having had two doses, the chances of a huge new wave of illness seems to be diminishing fast. Moreover, restricting overseas travel is no panacea. Perhaps the deadliest variant – B.1.1.7 – was home grown in England, the so-called 'Kent variant'.
Also on rt.com
Britain's Covid apartheid: 10 years in jail for quarantine dodgers from developing countries is draconian and utterly unjust
The UK government has done very well to date with some educated risk-taking. It bet big on buying a range of vaccines earlier than almost any other country. It pushed ahead with approving them quickly. It made the sensible decision to adopt a 'first dose' strategy to ensure as many people as possible got some protection as quickly as possible, even though most vaccinations at the moment are second doses.
What we need now is a bit more risk-taking in other areas. The excessive caution on international travel not only hurts businesses and the wider economy, but it also keeps the rest of us from visiting family and friends overseas and deprives us of the opportunity to have a holiday in the sun – much needed after more than a year of having the dark Covid clouds hanging over us.
Nobody would suggest an immediate return to pre-pandemic normality when it comes to international travel. After three national lockdowns in England, it would be sensible to keep an eye on developments. Testing unvaccinated people seems sensible for now, but should be much cheaper and easier. Demanding tests from fully vaccinated people seems completely over the top.
The caution on display here is very worrying. It suggests that even with the success of the vaccination programme, politicians and health chiefs won't be allowing us real freedom any time soon.
Like this story? Share it with a friend!
The statements, views and opinions expressed in this column are solely those of the author and do not necessarily represent those of RT.
You can share this story on social media: