Britain's Covid apartheid: 10 years in jail for quarantine dodgers from developing countries is draconian and utterly unjust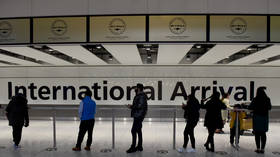 The UK government's ridiculous new authoritarian penalty for arrivals from 'red list' countries who skip the mandatory hotel quarantine exposes a shameful 'them and us' outlook at the heart of public health policy.
Ten years in prison is a tough sentence and usually reserved as punishment for crimes at the serious end of the scale – child grooming, sexual assault, fraud, various firearms offences, and failing to disclose the travel destination you've just returned home from.
Thanks to Health Secretary Matt Hancock's announcement of quarantine restrictions for incoming travellers, anyone who attempts to hide that they are returning from one of 33 countries currently on the UK's 'red list' of banned destinations, with the intention of skirting around the latest authoritarian restrictions, risks not just a £10,000 fine, but a 10-year jail stretch as well.
Of course, we all understand the public health rationale behind the new hotel quarantine rules. But to punish those who infringe them with penalties usually reserved for crimes such as indecent assault, fraud, burglary, threats to kill, rioting, and possession of an unlicensed shotgun seems somewhat heavy-handed.
Also on rt.com
UK government announces hotel quarantine for 'red-list' arrivals in effort to stem spread of Covid variants
Arrivals from anywhere on the red list – which includes plenty of countries in Africa and South America, plus the United Arab Emirates and Portugal – have to spend 10 days in one of 16 government-designated hotels, where they will be charged £1,750 for their stay.
And in case they get any funny ideas about doing a midnight flit, the government has promised there will be "visible security" making sure they follow the rules.
Welcome to the United Kingdom. Now get inside that hotel room and shut the door. Or else!
It's an appalling way to treat people, particularly when populations around the globe have already faced unprecedented and lengthy restrictions on their freedom of movement and personal liberties. Now here, in our own highly evolved Western democracy, we are locking human beings up like animals in quarantine under threat of serious punishment.
Anyone browsing the red list won't help but notice the 'developing world' flavour of the nations that make up the destinations. Not only have these countries also faced their individual struggles with the coronavirus pandemic, many are also facing continuing problems in securing vaccines at anywhere near the volume needed or at the speed of the UK, the USA or – while hard to believe – even the EU.
Also on rt.com
Dumping people in quarantine hotels to stop the spread of potential mutant Covid strains shows that paranoia now rules UK policy
I can't be the only one to think there's a bit a coronavirus apartheid here. If the UK, which has been incredibly slow in tackling the issue of border closures, wants to prevent Covid variants arriving on our shores, then surely the shutters should be pulled down for all arrivals from all overseas destinations, and not just those from a very particular list of 33?
After all, it's that 'no exceptions' strategy which has proven so effective in Australia, New Zealand, Singapore, and Taiwan. If the UK is serious about preventing imported variants, then there is no point taking half measures. They just don't work.
And this half-baked approach, first mooted a fortnight ago, won't even come into effect until next week, so it could well be a case of shutting the stable door three weeks after the Covid-19 horse bolted.
Does that really scream 'Urgent!' to anyone?
Whatever the truth, there is no denying this seems clumsy, over the top and most likely to prove ineffectual. It is hard not to notice that while the vaccine purchase and rollout has unquestionably been handled effectively and with remarkable foresight, this has not been organised by the usual suspects – PM Boris Johnson et al – but by the NHS.
Also on rt.com
'Like being in prison': The grim reality of what you can expect from a stay in hotel quarantine
The threat of 10-year prison sentences for UK arrivals without the financial means or the emotional will to endure 10 days' quarantine in an airport hotel exposes a government reverting to type. It's from the same playbook that gave us the language of the "world-beating" track and trace system, the "moonshot" vaccination programme, and the promise that normal life would resume by Christmas last year.
It's gung-ho boosterism exploiting a shift in the public mood, buoyed by the roll-out of a vaccine programme, to tighten the screws on freedom just a little bit more in the hope that people will show tolerance in light of the belief that an end to this crisis is near.
Meanwhile, those caught in this most recently laid bear trap when it snaps shut next week face the prospect of three hotel meals a day, the monotony of daytime television and a selection of pillows. And if that's too much for them, it's a lumpy mattress, plastic cutlery, and laps around the prison yard. Some choice.
Think your friends would be interested? Share this story!
The statements, views and opinions expressed in this column are solely those of the author and do not necessarily represent those of RT.
You can share this story on social media: