New approach to combat at sea: Russia eyes unleashing swarm of unmanned marine vehicles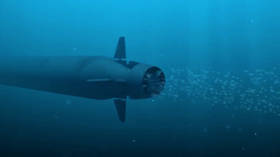 Russia is continuing work on the development of unmanned underwater and surface vehicles. Similar to Unmanned Aerial Vehicles, or UAVs, these devices are expected to be used in swarms.
In terms of future warfare, the displacement of such unmanned vessels (both surface and underwater) is unlikely to exceed 500-1,000 tons. Their tactical function would be to approach a target unnoticed and eliminate it. Thanks to its relatively low price, a marine drone being lost in combat will not have a fatal impact on the outcome of a naval operation – or the overall war effort at sea, as well.
The issue on the agenda today is to test these unmanned marine vehicles in combat not as single units or in small groups, but as a swarm. Military experts believe this approach to be most optimal.
If that is the case, this raises the question of establishing reliable control centers (for managing these underwater swarms) on airborne command posts, on surface ships and directly on carrier vessels – submarines outfitted to carry underwater marine drones.
Also on rt.com
Aircraft carriers may be obsolete but submarines still have huge potential – what the Russian fleet will look like in the future
A notable detail (something that has been proven experimentally not long ago), at greater depths – eight and even 11 kilometers – the transmission of signals and control commands becomes even better, compared to a depth of, say, one kilometer.
On the one hand, this gives the marine drone a serious advantage when approaching a target at a depth of several thousand meters, as there are currently no weapons capable of hitting an object in waters as deep as that. But on the other hand, there is still the challenge of reliably transmitting signals and control commands in changing mediums (air-to-water transmission, etc.). This problem is currently being addressed, and there has already been significant progress.
As for the navigation of the drones themselves, this could be solved through the use of advanced gyroscopes. Over a 1,000-kilometer track, their inaccuracy is significantly less than 100 meters, which will help guide a drone close to the target with great precision.
Next, there is the issue of developing and producing carriers (both surface and underwater) for these unmanned marine vessels.
Sea drones upend the entire concept of surface ship measurements (length, width, keel depth, displacement). Clearly, drones are the future of naval warfare.
Leading shipbuilding economies follow roughly the same path. For example, the United States is working on Sea Hunter, an autonomous unmanned surface vehicle designed for anti-submarine operations. In recent years, the US Navy has been expanding its capabilities: not only will the drone conduct reconnaissance, but it will also be able to use weapons against surface targets and engage in electronic warfare.
Also on rt.com
BIG changes to US Marines: No tanks, fewer people, and MANY more drones
The development of Sea Hunter is part of the larger Anti-Submarine Warfare Continuous Trail Unmanned Vessel (ACTUV) program launched in 2010 and funded by the Defense Advanced Research Projects Agency (DARPA).
According to the Cost Assessment and Program Evaluation (CAPE) office, which provides independent analysis on the Pentagon's programs, the US Navy will soon have dozens of unmanned surface and underwater vehicles, and a smaller proportion of larger ships, such as aircraft carriers.
Because of these developments, the Zumwalt-class stealth destroyers will be repurposed to control autonomous unmanned vessels and UAVs in sea battles. The US Navy plans a comprehensive overhaul and upgrade of its fleet in order to integrate more manned and unmanned marine vehicles.
Speaking of the Zumwalt project, the hard luck of this guided missile destroyer can be explained by the overly high number of new, untested features in its design. And it's no secret that new things are not always reliable, the probability of success being around 50%. To give you an example, the number of new experimental features in Russia's Admiral Gorshkov frigate was 32, which was way beyond the standard of 20-25% adopted by most foreign and Russian shipbuilding companies. It was sheer luck that the frigate turned out the way it was supposed to.
As for the swarms of unmanned surface and underwater vehicles, one thing is for sure – the first country to roll out this technology will, without doubt, get an edge over its opponents in naval warfare and will, quite literally, become the ruler of the oceans.
Think your friends would be interested? Share this story!
The statements, views and opinions expressed in this column are solely those of the author and do not necessarily represent those of RT.
You can share this story on social media: