Tell the truth, America… the G7 meeting is all about trying to contain the rise of China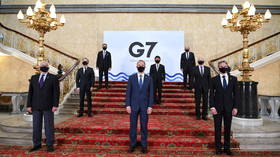 The supposed theme of this week's G7 summit in London is a focus on establishing a rules-based international order, says Antony Blinken. What that means is the US trying to persuade other countries to get tough on China.
The meeting of the ministers of the G7 group of advanced economies – or self-styled "leading democracies" – promises to be a fascinating affair. In attendance are the United Kingdom, which is chairing the meeting, as well as the United States, Canada, France, Germany, Italy and Japan, alongside honorary invitees South Korea, India and Australia.
High on the agenda are Russia, China and the situation in Myanmar, with British Foreign Secretary Dominic Raab giving an idea of the general theme by referring to those in attendance as "like-minded countries agile enough to work together."
US Secretary of State Antony Blinken, meanwhile, arrived in London stating that it was not America's aim to "contain China" or to "keep China down." Instead, he spoke of enforcing the "international rules-based order" which Beijing ought to comply with.
Also on rt.com
The threat of China is all that unifies US, but Biden's repackaged MAGA vision is unlikely to heal a divided nation
But what is this order he is referring to? And how can China be made to follow these rules if, according to Washington, it is acting more aggressively abroad and more repressively at home? In this case, actions speak louder than words, and it remains to be seen how there could be any policy other than containment and attempting to affirm hegemony over Beijing.
What is understood to be the "international rules-based order" appears, on the surface, to be black and white. But in practice, it is ambiguous and selective for all states. In reality, it is more of a state of anarchy – there is no true global 'government'; what is considered acceptable and what isn't is determined by the wills and preferences of the states who make up the community, and the differences in power between them.
What we understand as 'international law' and 'rules' are subsequently meted out on these terms, meaning their application is uneven.
For example, consider the international norm that wars of aggression are illegal, something that the world has agreed on since World War II. That hasn't stopped the US from starting more conflicts than any other country. Despite this, America preaches the notion of a "rules-based order" to China and accuses Beijing of violating it, in areas such as democracy, trade and human rights.
Also on rt.com
America is deluding itself if it thinks Vietnam will provide it with missile bases, or help it at all, in any conflict with China
Yet Beijing has a different interpretation of the rules, and places a different emphasis on what's important. It would point to conventions respecting international sovereignty and territorial integrity, and argue America violates these, while advocating that human rights constitute a right to national development too.
In which case, the "international rules-based order" is an ambiguous, relative and ill-defined concept which states adapt according to their own national interests. In its place, all we have are differing dimensions of state power where some dictate the supposed given rules to others.
This helps elaborate what has been termed the geopolitical competition between the US and China, two states which have very different comprehensions of national interest – and so international order. This is subsequently framed as a clash of values and feeds into the geopolitical distrust and conflict.
Very simply, the US and its allies want China and Russia to reflect their vision of the world. They want their norms and interests to rule supreme, and this has set the stage for the Biden administration's foreign policy, which the UK has willingly made itself an accomplice to.
Also on rt.com
The cynical hypocrisy of the world's No1 propagandist: US pledges $300mn to fund massive global anti-China media machine
As a result, this meeting is going to focus primarily on the ways "like-minded countries" can come together to try to put the brakes on China's rise in power and prevent it from dominating the system. But this sparks the question, how is this "not" containment, as Blinken states?
Let's look at the facts. The US is seeking to contain Chinese technology companies which suppress US capabilities, as seen by the recent blacklisting of seven super-computer firms. It is also seeking to surround China's periphery and encourage allies to place assets in the South and East China Seas. It wants to ensure that China's vaccines do not dominate South East Asia and sought to position India as an alternative provider. And it plans to spend hundreds of millions of dollars on 'negative news' about the Belt and Road Initiative and programs targeted at articulating unrest in various regions.
If that is not containment, what is, exactly? The very structure of the international system makes it untenable that China could come round to America's will any other way than by force.
So, make no mistake about it: this new G7 meeting will most definitely address how countries can work together to contain China. Of course, the outcome may not be uniform agreement, as not all the participating countries are on the same page when it comes to Beijing. Yet the meeting aims to establish a unity to sustain a vision of the system which ultimately clashes with China's, and that, inevitably, will set out geopolitical competition and confrontation.
Like this story? Share it with a friend!
The statements, views and opinions expressed in this column are solely those of the author and do not necessarily represent those of RT.
You can share this story on social media: