America is deluding itself if it thinks Vietnam will provide it with missile bases, or help it at all, in any conflict with China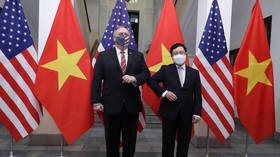 Hanoi may have its differences with Beijing, and be wary of its powerful neighbour, but a high-level meeting this week has demonstrated that it won't ever join the West's anti-China alliance.
Despite their shared ideology, anti-imperialist worldview, and Mao's historical support for North Vietnam in its long struggle against the United States between 1955 and 1975, China and Vietnam aren't allies. In fact, the longstanding enmity between the two countries is huge.
For thousands of years, Vietnam has perceived Beijing as a dominant regional neighbour that has increasingly sought to subjugate them to their rule. From once being a part of the Han dynasty to being a 'tributary state' of the Qing dynasty and to being invaded by China in 1979 as part of Deng Xiaoping's strategy to eliminate the influence of the Soviet Union in South East Asia, Hanoi has many real reasons to feel wary of Beijing.
There have also been tensions between the two countries over the South China Sea, where they have overlapping territorial claims.
With this backdrop, it is no surprise that the United States, aiming to galvanise countries against China and militarily encircle them, has perceived Vietnam (despite the destruction it once wrought on the country) as a potential chess piece in their 'Indo-Pacific' strategy, to the point of believing Hanoi could be persuaded to allow the US to base missiles there.
One former senior US defence adviser told the Military Times last year that Vietnam was a potential key partner in any fight against China because the country, which shares a 1,300-kilometre border with its northern neighbour, "has some wonderful geography. You can have good exterior lines versus the Chinese." He added: "If you're in Vietnam and the Philippines, suddenly you've got the Chinese in the South China Sea pretty badly surrounded."
An elusive recent investigation by the Grayzone sets out in detail the extensive efforts Washington has taken to attempt to bolster ties with Hanoi in order to oppose Beijing. This has included visits by Mike Pompeo (he didn't seem to mind 'these' communists) and an end to a US arms embargo by Barack Obama. US strategists have also pitched it as an alternative to China in supply chains.
But any lingering hopes this might persuade the country to join in America's anti-Chinese push have been all but extinguished this week.
Also on rt.com
The cynical hypocrisy of the world's No1 propagandist: US pledges $300mn to fund massive global anti-China media machine
On Monday, Chinese Defence Minister Wei Fenghe travelled to Vietnam and met with the general secretary of the country's ruling Communist Party Committee, Nguyen Phu Trong, as well as President Nguyen Xuan Phuc, in Hanoi. During his visit, Chinese media outlet Xinhua stated that Phuc commented that Vietnam "will never follow other countries in opposing China."
As the Grayzone article notes, Pentagon officials and its supporting think tanks were living in dreamland in thinking that they could shift the country's non-aligned stance and position US troops and missiles there in an attempt to encircle China.
Vietnam's foreign policy strategy has consistently centred on 'three nos': no military alliances, no aligning with one country against another, and no foreign military bases on Vietnamese soil. But the US has blithely ignored these strictures, hoping that it could exploit the region's territorial disputes to bring it on side.
Despite such disputes, and the obvious inequality of power between China and Vietnam, Hanoi ultimately remains non-aligned and it is very much in its interests to remain that way. Why so? Vietnam does not want to be controlled or dominated by Beijing, but ties with the PRC also remain strategically beneficial and important. The ideological survival and success of the PRC is a safe haven for that of Vietnam's political system as a fellow communist state undergoing a path of economic reform.
In a world without communism in China, Vietnam would be ideologically and strategically vulnerable to the influence of the West, which is presently happy to utilise Hanoi as an ambiguous strategic asset precisely because it is not a formal 'ally' of Beijing, even if it will not team up against them. For the Vietnamese, sitting on the fence is a 'win-win' strategy.
Vietnam is sometimes even touted as a new member of the 'Quad' grouping against Beijing by the US, but the reality is far more nuanced and less promising for Washington. Hanoi is balancing a number of priorities – the survival of its own regime and communist system among them – while also aiming to sustain "strategic independence" from Beijing. It's a very difficult tightrope and inasmuch, Washington shouldn't expect too much, not least the bizarre nature of attempting to transform a country it once utterly destroyed into a military ally.
Hanoi is smarter than to become a 'new Tito' – a small communist state which aligns with the West, only to be carved up as and when the bigger communist foe is defeated. The Vietnamese strategy is all about staying calm, staying quiet, and finding space for itself.
Like this story? Share it with a friend!
The statements, views and opinions expressed in this column are solely those of the author and do not necessarily represent those of RT.
You can share this story on social media: