It doesn't matter how 'apologetic' you are, whitey! Don't you dare touch black poetry, say activists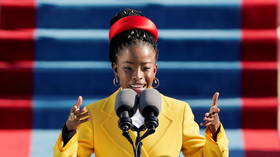 To anti-racism activists, Amanda Gorman's inauguration poem is such a powerful piece of black art that whites shouldn't be allowed to translate it. Only "unapologetic" black people can be involved, but what does that even mean?
Amanda Gorman's 'The Hill We Climb' was the perfect poem for Joe Biden's inauguration. Dripping with metaphors seemingly plucked at random from Barack Obama's 2008 election literature, Gorman's poem talked of a coming "era of just redemption," a "country that is bruised but whole," where dawn "blooms" and "there is always light, if only we're brave enough to see it."
A liberal paean that could have won Gorman first prize at a high school poetry competition, 'The Hill We Climb' instead made the National Youth Poet Laureate a global sensation, and publishers scrambled to translate it for cat-lady readers around the world.
Also on rt.com
Liberals' refusal to address the thorny issues around race has a disastrous effect on efforts to improve the lives of black people
Enter Marieke Lucas Rijneveld, a 29-year-old Dutch writer selected to translate the poem into Nederlands. Gorman personally selected Rijneveld to pen the translation, as the pair had both come to prominence at a young age. All looked good to go, until Dutch journalist and activist Janice Deul kicked up a stink.
To Deul, Rijneveld was simply too white to properly translate Gorman's poem. In an opinion piece in the Volkskrant newspaper last week, Deul pondered why Meulenhof, Rijneveld's publisher, hadn't gone with someone more like Gorman: a "spoken-word artist, young, female and unapologetically Black."
Rijneveld is not "unapologetically black." Rather, she is apologetically white, and caved to Deul's demand. In a post to Twitter last week, Rijneveld announced that she was backing out of the project. "I had happily devoted myself to translating Amanda's work, seeing it as the greatest task to keep her strength, tone and style," she wrote. "However, I realise that I am in a position to think and feel that way, where many are not."
Should white writers translate black literature? Should white actors voice black cartoon characters? Can a white person wear dreadlocks, even virtually? These are all real battles fought by social justice activists in the US and beyond. I'm not going to relitigate these super important and totally sane struggles, but I would like to focus on one line of Deul's argument: What on earth does "unapologetically black" mean?
Also on rt.com
Student shamed as 'disrespectful' for choosing 'racist' Candace Owens as 'black trailblazer' for project, now leaving school
It implies somebody who wears their skin color on their sleeve, who never asks permission to remind the world that they are, in fact, extremely black. James Brown is unapologetically black. Rick James is unapologetically black. Ice Cube was unapologetically black until he hung up the AK and starred in 'Runaway Vacation.' Shaun King is unapologetically black when he really shouldn't be.
The term also implies that there are apologetic black people, who for whatever reason are ashamed of the hue of their skin. Candace Owens and her attempts to ingratiate herself with the Republican Party's country-club establishment comes to mind, but that's not entirely fair. Generally, this term is applied by white liberals to African Americans who stray from Democratic Party orthodoxy. Think Kanye West, Lil Wayne and Terry Crews, all famous black entertainers who either supported Donald Trump or questioned the motives of the 'Black Lives Matter' movement. In the words of President Joe Biden, get with the program, or "you ain't black."
And what of the Caucasian race? Apologizing for one's racial failings has been in vogue long before Rijneveld pulled out of her translation gig. As America tore itself apart over real and imaginary racism last summer, crowds of white liberals literally dropped to their knees to beg forgiveness from their black neighbors. The increasingly popular doctrine of Critical Race Theory demands that white adherents apologize for their inherent racism and "white privilege," then tells them that nothing they do will ever make up for this original sin. "Be less white," the Critical Race Theorists tell their audience, who for some reason pay good money to be racially demeaned.
Also on rt.com
Coca-Cola accused of telling employees to 'be LESS WHITE' in training course by critical race theory peddler DiAngelo
Last we come to the most problematic category: those who are unapologetically white. In an era where supporting Donald Trump is tantamount to "white supremacy," and reading Plato and Aristotle is "inseparable" from white power, expressing pride in one's fair skin is definitely off the table, whether that means refusing to label oneself racist for the alleged crimes of one's ancestors, or literally joining the Ku Klux Klan. To the racism police, they're one and the same.
Even saying "it's okay to be white" is a hate crime, to these lunatics at least.
There's a vast gap between joining the local Klavern and translating the work of a black poet while white, but don't be the unapologetic white who calls out the likes of Deul and her ilk on this. You may as well be burning a cross in her garden.
Think your friends would be interested? Share this story!
The statements, views and opinions expressed in this column are solely those of the author and do not necessarily represent those of RT.
You can share this story on social media: