Following a decade of incidents and hundreds of deaths, how can 'tainted and deluded' Boeing regain the public's trust?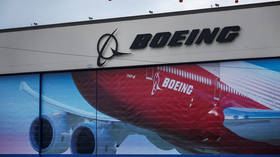 William E. Boeing founded the most famous name in aviation in 1916, but the company's reputation has taken a battering. Now experts say it must return to its founding principle of engineering excellence and stop chasing profits.
Hundreds of terrified passengers saw their lives flash before them last week, as United Airlines Flight 238 shuddered violently while parts began to fly off its right engine. A fire erupted, with the flames captured on cameraphones, via the plane's windows.
Down on the ground, citizens of Broomfield, Colorado described a "warzone" as debris showered them, with one man's car smashed up by falling metal.
On the same day in Dutch town Meerssen, engine debris from a cargo flight also came hurtling from the clouds.
Both airplanes were manufactured by Boeing. While the company doesn't make engines, the fact the incidents involved its aircraft has been a public relations nightmare.
Currently, all Boeing 777 with Pratt & Whitney PW4000 engines are grounded in the US, UK and Japan.
The incidents top off a disastrous decade for Boeing. Its 737 MAX was banned from flying worldwide after two horrifying crashes: Lion Air Flight 610 (189 fatalities) in October 2018 and Ethiopian Airlines Flight 302 (157 fatalities) in March 2019. Both were judged to have been caused by a recurring failure in the Manoeuvring Characteristics Augmentation System (MCAS).
A 737-500 crashed in Indonesia last month, killing 62 people. Last year, the New York Times reported how a 2009 crash landing of a 737 in Amsterdam – which killed nine people – saw the blame pushed onto the pilots unfairly.
And this month, the US Federal Aviation Administration (FAA) published an Airworthiness Directive requiring the inspection of approximately 222 Boeing 787 Dreamliner jets, around concerns over decompression panels.
Boeing is a renowned and respected brand, so what's going on? Why does it keep finding itself in the news for the wrong reasons?
The overriding theme from several sources is that Boeing has sacrificed standards to boost profit. Speaking to RT.com, aviation author Thomas Gardner said, "The Boeing company you see now is not the same as it was 20 or 30 years ago, Boeing was the bellwether, the gold standard in aviation design.
Over the last hundred years, Boeing developed a stellar reputation for conservatism in aircraft design, marketing and construction.
In the 50s or 60s, if you were hired as an engineering student at Boeing, you were introduced into a climate, a philosophy that oozed conservatism and a certain fairness. They valued their defence contractors, but it overflowed into the commercial aviation market.
But because of all these accusations and mergers with other companies, their core beliefs and the way they do things has become tainted and deluded. Once priority number one was the customer and the product, but the bottom line and dividends became more and more important."
Boeing is certainly generous in its dividends and share buybacks. Over the last decade, it paid out a combined $68 billion on them. And last year, Chief Executive Dennis Muilenburg was sacked but still left with a $62.2 million settlement.
Some believe the decline of Boeing can be linked to one key date: July 20 2011. That's when American Airlines decided it needed 460 new planes, the largest order in history at that time. Crucially though, 260 of them were from European manufacturer Airbus, whereas before AA had operated a fleet comprised exclusively of Boeing planes.
The problem with the big order was two-fold. Not only did it help Boeing's only competitor gain a foothold in America, it also meant Boeing had to pursue an aircraft it didn't want. It was asked to supply 200 737s, 100 of which were re-engined. The need to re-engine the 737 was down to Airbus providing the A320neo (new engine option), a very efficient and modern plane which used fly-by-wire (a system that replaces conventional manual flight controls with an electronic interface).
Also on rt.com
UK to ban Boeing B777s with same engines that blew up and shed debris over Netherlands and US – transport secretary
Reports indicate the then president of Boeing Commercial Airplanes, Jim Albaugh, and the then head of the 737 program, Mike Bair, didn't want to compete with the 320 with the 737. They preferred to "clean sheet it," an industry term for designing a completely new aircraft. But the pressure to protect market share drove the company on.
Gardner explained, "At the time Boeing had a roughly 10 percent edge over Airbus in market share for the long-haul, narrow-bodied planes. The A320neo was considered state-of-the-art.
Boeing did not keep their head. They panicked and said 'let's see if we can hang another engine on the 737'. The old timers would have clean sheeted it. Both Albaugh and Bair saw it was like putting lipstick on a pig.
All this comes down to the airlines pressuring them to come up with something. The very character of the company was deluded, the gene pool of ingenuity was slowly eroded by other people coming in from other companies who embraced a totally different type of engineering economic philosophy."
That sent Boeing further down the wrong road resulting in the 737 MAX disaster. Even though it has begun flying again, reports early last year suggested further issues with it, although this has yet to be confirmed.
Aviation expert, Professor Janet Bednarek of the University of Dayton in Ohio, reflected, "Boeing's only competitor is Airbus. Sixty years ago, the US had multiple companies building large commercial aircraft. Now there is one. That market position, and the dependence of the US on airplane exports to help with our balance of trade, has given tremendous power to Boeing.
And I am afraid that without a crisis that would require companies to change practices, almost all private companies are designed to maximize profit and return to investors. It took two crashes to ground the 737 MAX."
Captain Les Riveria has 34 years' experience flying and also runs the Captain Jetson airline industry website. He agrees Boeing has lost its way and said, "I believe that the obsession with profits and preventing Airbus from taking the lead has resulted in decisions where safety has been compromised, perhaps.
Being only a 'Boeing driver,' I would never know what's going on behind closed doors. I can, however, testify to Boeing aircraft being great, safe and reliable workhorses over the years, from the pilot perspective. Problems are just now popping up."
This is unsurprising, as in any global corporation, issues can take decades to surface and it appears Boeing may have reached that point. Perhaps tellingly, several people approached to contribute to this piece – including pilots, aviation journalists and experts – were reluctant to comment.
Bednarek explained, "Generally whistleblowers are not well received in this country. And given the lack of alternative employment opportunities in the aircraft industry, an employee might be very hesitant to speak out."
Not everyone is negative towards Boeing, but even its supporters are beginning to feel some discomfort. Dr. Chris Manno has been a pilot for 42 years, both in the air force and for commercial airlines, plus teaches at Texas Christian University.
He said, "As a 737 pilot, I did feel betrayed by Boeing engineering because they put in the MCAS system that pitched the aircraft nose down – and never told pilots or airlines that the system was installed.
I have no problem flying on any Boeing aircraft, because they're solid and designed well – except for the misguided MCAS – and prefer Boeing over Airbus for durability, comfort, and ease of handling.
I'm concerned about the Boeing design and engineering trends of late. I wonder if the same Boeing I came to rely on for four decades as a pilot still exists. I hope so."
Even though that optimism is widely endorsed, it doesn't erase the trail of accidents and issues involving Boeing. Airbus is free from these complications and currently has a better reputation. Would it not make sense for Boeing to follow the European company's practices?
Gardner said, "I think they should, but whether they do? I don't know. Airbus is a fairly new company. They looked at the old timers and took what had been done and made it better, instead of going the other way.
If you take care of things, have a stellar safety record and are able to control maintenance costs, without getting too greedy, then you're going to develop a good reputation and people will want to fly with you and buy your products. You don't roll the dice."
Ironically, the lockdowns caused by the Covid-19 pandemic may provide a natural break for Boeing to change tack.
Virtually all the people who spoke on the record and to provide background for this piece agreed that the company should develop a brand new aircraft – something that can bring back the glory days and show it can compete in the modern era.
Also on rt.com
US & Japan ground all Boeing 777 jets with P&W4000 engines following fiery emergency landing in Denver
But there is also a wider note of caution. This deterioration in standards isn't unique to Boeing. Last weekend's drama in Denver is thought to be the result of engine fatigue. Juggling the strictest safety protocols and balancing budgets is akin to dancing with the devil. And Gardner provides a personal observation that should worry us all.
He said, "I spoke to a lot of guys who were pilots, commercial and military. The military pilots told me they keep up the maintenance consistently as those aircraft need to be able to fly. They depend on them.
The commercial airlines do not share the same view. They will forgo much needed maintenance to save money. They can save more money, for example, as engines are really high maintenance, and you need to make sure there are no cracks or imperfections.
They want to save money and they put a price on a human life. I can't imagine doing that, but they do. Everything is dollar and cents, so it's not Boeing necessarily at fault here totally.
But they've got to set their pride aside and admit they've screwed up, and haven't made good decisions. Normally I'd be optimistic. But with the people you have running Boeing right now, I don't think they are going to recover, which is a shame."
Think your friends would be interested? Share this story!
The statements, views and opinions expressed in this column are solely those of the author and do not necessarily represent those of RT.
You can share this story on social media: