Why Wales will split from the UK or simply not exist by 2030, according to one of the country's leading independence figures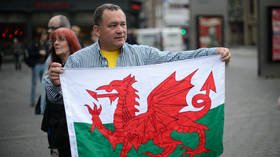 RT spoke exclusively to Siôn Jobbins, chairman of YesCymru, an organisation advocating Welsh independence, who explained why it will be now or never for his country to go it alone if Scotland decides to quit the union.
"I'm not trying to scare people. In 10 years' time, we'll either be part of England or independent." Those are the straight-talking words of Siôn Jobbins.
Both in Britain and further afield, the biggest threat to the future of the UK is perceived to be Scotland's bid for independence. But in Wales, YesCymru has witnessed a 900 percent rise in membership over the past year alone. The umbrella group has two key goals: for Wales to have an independent constitution, and for it obtain international recognition, via a seat at the United Nations.
While most of the coverage of independence movements focuses on the legal aspects, in Wales, there is a powerful cultural argument for the country to go it alone: the country has its own language, which is spoken by 28.5 percent of the population.
But in an ironic twist, Jobbins claims efforts to keep it alive have, in some ways, stunted the argument for becoming a standalone nation. Over hundreds of years, pride in the language has promoted a feeling of identity that has taken precedence over what passport Welsh people should use.
Also on rt.com
Boris Johnson can't stop Scottish independence with a vaccine
He said, "The sort of people who you would say were independence supporters traditionally pushed for the Welsh language and cultural things – not the constitutional argument.
"For many, strengthening the language was more important than independence. There is the example of Ireland, which some see as a mistake. They went independent, but didn't revive their language. So, that was the main driver: 'we haven't been independent for 400 years, so we need to focus on our culture'."
That was also the case with the main political independence party, Plaid Cymru. Jobbins explained: "Since 1970, Plaid Cymru had an issue with the word independence. It felt no one is really independent: all countries are inter-dependent. It's about the state not being all powerful. That went way back to times under the Pope, when no one was really sovereign."
But despite this complicated history and differing opinions over what independence really means, things are changing. Typically, older people resisted the Welsh language, as they felt it would take things backwards and be a threat to the speaking of English. But the younger generations now has a different view.
Jobbins continued, "[Some] people over 65 and even those over-50 don't like independence and may have anti-Welsh attitudes. Younger people, even those who don't speak Welsh, have a warmer attitude to independence.
"The argument was, all these Welsh speakers would come down to our capital city, Cardiff, and take away jobs from English speakers. Now I will ask for a cappuccino in Welsh in Cardiff, but I would never have done that 20 years ago, as you would have been sworn at.
"People born from the 90s onwards, their fear of Welsh is much less. You have a generation in their 30s who are relaxed. They might not speak it fluently, but they will likely understand some basics – and there is no way English is leaving Wales."
Also on rt.com
Boris Johnson doesn't want Northern Ireland, & Brexit is his perfect moment to let it slip away
Children in Wales can speak English or Welsh at school. TV and radio stations also broadcast in both languages. Even the country's footballers also do interviews in Welsh, if they can speak it – a significant step, as, traditionally, football had been seen as an 'English' sport, with rugby viewed as the Welsh game.
Jobbins continued, "Language could have been a divisive issue, but it hasn't been, by and large. A lot of the problems affecting [the] independence [argument] 10 or 20 years ago don't exist now."
Another pressure point has been Brexit.
It has powered the drive for independence, even though a majority of Welsh voters (52.5 percent) opted to leave the European Union.
Jobbins explained, "The people who feel more Welsh than British voted Remain. But, in England, it was the reverse. They voted Leave. Brexit has shaken things up. The people who didn't think much about independence, and those who are proud to be British – but still critical – had the feeling that things could be worse [if we left the EU], so thought, 'let's muddle through'. A lot of Welsh people like [the idea of] muddling through and being part of the union.
"But Brexit has shaken their confidence in that model. They might not be totally turned off by Westminster, but the affinity is gone. It's not been the Brexit vote, but the after-effect that has brought over a chunk of voters to YesCymru."
The economic argument for an independent Wales is also not so well established as Scotland's, which has oil reserves and globally recognised products such as whisky to call on.
But Wales, with a population of 3.1 million, does nonetheless have its own earners, such as 15 percent of Europe's tidal power and the fact it generates twice the amount of electricity it uses. It is also a net exporter of foodstuffs.
Also on rt.com
Boris's Brexit betrayal brings a united Ireland closer – but here's why the South may think twice
Jobbins added: "Southeast England is built on services. We're weak there, but proportionally strong in manufacturing. There are poor people in Wales, but Wales is not a poor country."
Jobbins doesn't view concerns over what currency would be used as an obstacle to independence. He argues that Wales could continue using sterling, adopt the euro or form a new currency.
"I was in Slovakia the year after the break-up [with the Czechs], and it was still using the Czechoslovakian currency. A year later, it made its own currency. It's a non-issue and it would only make sterling stronger if [an independent] Wales kept using it."
Of course, all this only becomes relevant if a referendum is held and the Welsh vote for independence. Recent polls suggest support for a referendum is at around the 30 per cent mark.
Independence supporters are concerned they will have to move quickly, if Scotland does break from the UK. Polling shows record support there for Scottish independence, and the pro-independence SNP is tipped to hold onto power in May's Scottish elections. If it does, it has vowed to demand another referendum, following the failed vote in 2014.
The worry is, if Scotland were to quit the UK, the Westminster parliament would tighten the rules to block Wales leaving. As Jobbins explained, "There is an existential threat to Welsh identity. We are concerned that the logical progression of Brexit is a unified British state, going back to the 1970s and pre-devolution.
"If Scotland goes, then that's a crisis for Wales. We then have to vote within 12 to 18 months. We will have a choice: incorporation or independence. It's worse for us, as we're so close to England.
"Welsh independence could come around much quicker than anyone anticipated. And if it doesn't happen that quickly, maybe it doesn't happen at all."
Also on rt.com
Time to chart Scotland's future as 'independent, European nation': First Minister Sturgeon reacts to UK-EU Brexit accord
While Plaid Cymru is the main political party behind independence, there are other groups pushing to break away too, including Labour for IndyWales, Undod and Gwlad. Across the movement, there's a collective feeling that the drive for it is approaching a critical moment.
Jobbins highlighted the region of Brittany in northern France as an ideal example of what Wales' fate could be if it remains in the UK in the long term. He said: "Their language, Breton, is similar to Welsh. But the French treat them [the speakers] like sh*t – they have no language rights. It's the only language [in France] other than French, apart from small pockets of Basque and Catalan.
"There's an argument in Wales that it was lucky that Scotland joined the union in 1707, as if not, it would have been totally incorporated into England. Then Ireland came, which again helped. Without all of that, we'd be like Brittany. So, if Scotland leaves soon, we're in trouble – and that will be a big motivator for our people."
Elections are also being held Wales on May 6. If Plaid Cymru is successful, it has vowed to push for a referendum. But Jobbins acknowledged it all rests on a knife edge.
He said, "2,000 votes in key parts of Wales could make a difference either way. No one knows what's going to happen, but we've seen, with our huge surge in membership, that people who were what we would call 'indy-curious' have started to ask questions and really come out in the last 12 months."
May 6, then, could give us a good idea of what the future of the United Kingdom may look like.
If you like this story, share it with a friend!
The statements, views and opinions expressed in this column are solely those of the author and do not necessarily represent those of RT.
You can share this story on social media: