In the left's victim culture, Eva Longoria's accused of 'anti-blackness' for calling Latinas the 'real heroines' in beating Trump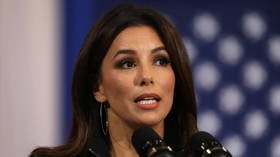 Eva Longoria has apologized to woke critics after being accused of "white supremacy" for praising Latina women as the "real heroines" who defeated Trump. This nonsense in-fighting is why victim culture is destroying the left.
We are still two months away from Joe Biden being sworn into office (unless Trump's lawsuits lead to some major turnaround, of course), and his supporters are already beginning to cannibalize each other. First up on the menu is liberal activist and Desperate Housewives actress Eva Longoria.
Following an MSNBC interview in which she praised Latina women as the "real heroines" in defeating Trump, Longoria was dragged through the ringer on social media, and accused of taking credit away from black women.
"Women of color showed up in big ways," Longoria said. "Of course, you saw in Georgia what Black women have done, but the Latina women are the real heroines here, beating men in turnout in every state, and voting for Biden/Harris at an average rate close to three to one!"
She was clearly comparing Latina women to Latino men, but context is a dirty word when it comes to victim culture, and she found herself swiftly accused of "anti-blackness" and even "white supremacy."
Like any good liberal in 2020, Longoria swiftly apologized for her outlandish statements – an apology some accepted but others gave the cold shoulder.
"Black women have long been the backbone of the Democratic Party," Longoria said in her apology, trying desperately to convince frothing-at-the-mouth woke critics that she was one of them.
The incident with Longoria is symbolic of a larger issue with the modern Democratic Party, and that's a love affair with victim culture. Everything needs to be boiled down to keywords that signify victim status. The more victim statuses you can claim, the greater the importance that will be given to what you say.
This nauseating strategy is exactly why even an activist and Biden loyalist such as Longoria can't escape the cancel-culture lovers looking to bubble-wrap the world. There's no winning for anyone when you need to tie everything you say and do to some vague notion of oppression.
Longoria is no doubt the first of many who'll be looking to quantify Biden's victory based on which minority group did or did not help in the fight. This, in turn, will lead to liberal critics accusing the likes of Longoria of shaming one victim class by praising another. It's an endless cycle of people trying to 'out-victim' each other via their own myopic arguments.
Also on rt.com
Biden's beloved celebrity supporters have already proven his call for 'unity' is a sham as their HATE toward Trump voters rages on
Many of the left's more extreme attacks on people's characters have, for the past four years, been chalked up to Trump Derangement Syndrome. The casual accusations of Nazism, white supremacy, collusion, and so on seemed to stem from an inability to accept a world in which a tweeting television host was president. However, now the left has a victory in their hands and they've apparently defeated Trump, we know this extremism didn't actually stem from him at all.
Even with Trump likely headed out of office, liberals will still find reasons to accuse others of racism over comments that are so intellectually numbing as to be meaningless. And, as the president becomes more and more of a memory, they're only going to increase their attacks on the very people who, ironically, share their world view. Welcome to the chaos of victim culture.
Like this story? Share it with a friend!
The statements, views and opinions expressed in this column are solely those of the author and do not necessarily represent those of RT.
You can share this story on social media: