Biden's beloved celebrity supporters have already proven his call for 'unity' is a sham as their HATE toward Trump voters rages on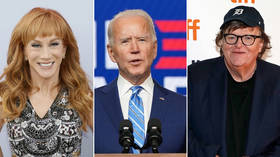 Joe Biden has called for "unity" in a divided America awaiting election results, but celebrity supporters like Michael Moore continue the extreme rhetoric against those they disagree with, showing "unity" is just a sham for them.
On Wednesday, as left and right spat back and forth and argued about voter fraud, Biden addressed the nation and called for people to "unite, to heal, to come together."
Many of the former vice president's most vocal supporters must have not heard that message as they were too busy screaming into their phones, incensed by the very notion that millions of Americans could disagree with them.
"Florida is dead to me!" actor John Leguizamo tweeted as Trump began to take a lead in the state – he eventually won it. "Let the lemmings drive their golf carts into the ocean!"
Leguizamo may be a comedian, but it's difficult to sense any intended comedy in that tweet. It's just pure hatred for anything and everything that stands in Biden's way.
A tweet from the liberal talk series The Daily Show took things a step further, albeit in a more joking manner, by putting out a graphic of Florida simply being blown up.
Could a massively successful comedy show hosted by a conservative get away with such a graphic about, say, California without inspiring mainstream media blowback? Just asking.
The always level-headed comedian Kathy Griffin went straight for hate as well on election night, reposting an image of her holding the fake severed head of Trump. When originally publicly revealed, this 2017 photoshoot earned plenty of controversy, lost gigs for Griffin, and even a tearful apology from her. Griffin's attempt at hate originally failed, but she just felt like right now was the perfect time to bring it back.
Also on rt.com
Kirsty Alley's treatment is yet another reminder that 'liberals' can't cope when women and black voters don't agree with them
That apology, like Biden's call to "unite," was just empty words.
At a Black Lives Matter rally, activist and director Ava Duvernay described the election as a "war," not typically the kind of language you use about people you plan to accept and "unite" with.
On and on the hate has gone with other vocal, campaigning liberals like Michael Moore and John Cusack attacking Trump as a"bigot" and "Nazi rapist," a great start to potential unity.
The very thought of removing Trump from office has only pushed Biden's most ardent supporters to double down on their hate for a large portion of the country. Biden built a campaign around celebrity-filled events and endorsements, yet these are some of his most hateful backers. How can there be an interest in "unity" when you so clearly despise the very people you are being called to unite with?
This hate is unfortunately nothing new. We've seen it for four years as even public figures who choose to talk to the Trump administration about important issues are ridiculed and mocked by the left.
When Biden calls for "unity," they are the words of a man simply putting on a show and distinguishing himself from an opponent he once compared to Fidel Castro and infamous Nazi Joseph Goebbels. Biden has spewed the very hatred his most public supporters seem inclined to keep alive for the foreseeable future.
The statements, views and opinions expressed in this column are solely those of the author and do not necessarily represent those of RT.
You can share this story on social media: