Duda goes to US to ask for MORE American troops in Poland, but I'm deeply uncomfortable with ANY foreign soldiers on European soil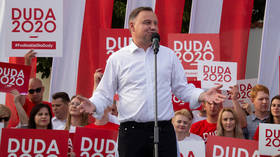 With the Polish presidential election just around the corner, Andrzej Duda's White House visit may seem nothing more than a dog-and-pony show, but there's a lot more going on than a convenient pre-election photo op.
It would be the kiss of death for most principled politicians from Europe to jet over to Washington, abandoning the campaign trail, where they'd been slugging it out in a tightly contested election, to curry favour with Donald Trump.
But the right-wing Polish president, Andrzej Duda, who's expressed both homophobic and Eurosceptic views, is most definitely not like most right-minded Europeans. And, even more unfortunate, he presides over a country where a meeting with the alt-right's idol, Trump, could actually give him a considerable pre-election poll boost, according to political pundits.
"Poland is one of the most pro-American countries in Europe, and one of the few where photos of a meeting with Trump could turn into an electoral advantage," Politico observed.
Sorry, but those same patriotic Polish voters must have a serious inferiority complex if they perceive seeing their president brown-nose one of the most reviled human beings on the entire planet as some kind of prestigious status symbol event for their country.
As someone who once lived in Poland, and even did my MA thesis on Polish politics, I'm dismayed at how the popularity of the far right has spread like a cancer through the country's soul, thanks to the ruling Law and Justice (PiS) party. If Duda gets re-elected, it will feel like an inoperable terminal illness.
So, the dog-and-pony show couldn't be happening at a better time for Duda. He'd appeared home and hosed before the original election was dramatically postponed at the last minute back in May as a result of Covid-19. But he's no longer counting his chickens, because the rescheduling gave the Civic Platform Party the great opportunity to switch horses from their donkey in mid-race, which is giving them a major boost in the polls.
Even before Warsaw's liberal mayor, Rafal Trzaskowski, was parachuted in to replace their original damp squib of a candidate, whose support had dwindled alarmingly to single figures, I'd set out in an RT op-ed how I envisaged that race would be a much tighter one than predicted.
Also on rt.com
US nukes in Poland would not be a deterrent, but a MASSIVE provocation for Russia
As I wrote then, "The real reason the Polish government had been hell-bent on the elections taking place now (in May) was because they feared their candidate, the incumbent Andrzej Duda, could lose his strong lead if it were postponed."
Of course, not everybody is happy with this meeting of minds. The LGBTQI+ community is calling on the US president to retract the invitation because Duda has claimed their "ideology" is worse than communism's! Those seem to me like the words of an out-and-out homophobe – a charge the president brazenly denies.
Congresswoman Marcy Kaptur (D-Ohio) has also voiced her concerns, saying:"As a Polish-American and someone who deeply values the US-Poland relationship, I am troubled by President Trump's inappropriate efforts to insert himself into Polish domestic politics and boost President Duda's reelection with a White House visit."
But Trump, with his mindset of "what's in it for me?", certainly isn't doing this for the good of his health. This photo op for Duda – which will be shown ad nauseam like a glorified infomercial on state-owned Polish TV, and probably on public channels too, seeing as they've been criticized for the bias they've always displayed towards the incumbent – is much more than just a dog-and-pony show.
There's certainly plenty in it for Trump. Duda is going to him, cap in hand, with the objective of sweet-talking the US president into signing off on a defence deal to put even more US troops' boots on Polish soil.
He wants an estimated 2,000 of the staggering 9,500 troops presently in Germany that the US are planning to withdraw from there, to be relocated to Poland. He will also be asking for more American military aircrafts up in Polish airspace too, while he's at it. We shouldn't forget that this 2,000 figure that's now being bandied about is in addition to the 1,000 US service personnel Trump agreed to send to Poland last year.
I'd be surprised if Trump doesn't bite his hand off when his Polish counterpart asks to shake on it. But it begs the question: why is Duda so keen to increase the presence of the US military in his country? It's not as if Germany is going to invade again in a hurry, and I doubt it's crossed Putin's mind to do anything more aggressive than cut off Poland's gas supplies. It very much sounds like he's doing it to piss off the Russians.
Seeing as nobody in their right mind wants to kick-start WWIII in Europe, I'm deeply uncomfortable with any foreign military being allowed to operate at all in Europe, and would argue we should be telling them, "Yankee, go home."
I hope I don't come across like a radical left-wing, tree-hugging hippy chained up during a demonstration to save the planet here. But the truth is, we're nothing more than an enabler for our friends, the American warmongers, who use the EU as a convenient strategic base, like when we helped them blow the smithereens out of Iraq. I ask you, would the US allow a EU force to camp out on its lawn?
As an Irishman, I'd argue even more strongly that even my country, which is supposedly meant to be neutral, has "blood on its hands" by allowing US planes to refuel at Shannon Airport. You wouldn't see Switzerland allowing that type of carry-on in its backyard.
I think the EU would be better served by pumping as many resources as possible into an out-and-out pan-EU army, which I'd imagine would not be welcomed by either the US or Russia. We should be in a position of strength to defend ourselves the next time we face evil, rather than relying on our American big brother, along with the UK, who, between them (and not's let forget the good old USSR's contribution here either) saved the day those last two times Europe was down for the count. There shouldn't be a third time.
The cynic in me is surprised that, seeing as he has an election coming up himself, Trump hasn't become more trigger-happy when it comes to Iran, because there's data out there that shows how "war can be great for a president's popularity." It's what's called a "rally-around-the-flag effect", which was a phrase coined by political scientist John Mueller in the 1970s.
I just hope he doesn't get any funny ideas between now and November, because, thanks to Covid-19 and BLM, the world has seen more than enough drama for one year.
Think your friends would be interested? Share this story!
The statements, views and opinions expressed in this column are solely those of the author and do not necessarily represent those of RT.
You can share this story on social media: