Soft touch UK immigration fails as chaos in Libya turns asylum seeker into alleged terrorist who slaughtered three innocents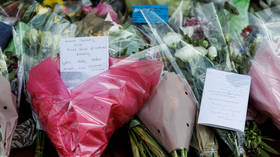 As a Libyan refugee runs amok in a Reading park, maybe Britain should look more closely at asylum seekers from the war-ravaged nation who currently enjoy nearly 100 percent success in applications to UK immigration authorities.
So comfortable are the UK imigration authorities with Libyans seeking refugee status here that 95 percent are granted asylum on initial decision according to Home Office figures.
Maybe it's time to revisit the issue now as Reading knife murder suspect Khairi Saadallah – one such successful asylum seeker – joins the Manchester Arena bombers and the perpetrators of the Lockerbie plane explosion in the ranks of Libyans who have brought terrorism to Britain.
The welcome mat hasn't always been out for citizens of the war-ravaged north African state and back in 2012, when Saadallah was granted asylum, the Home Office stats show only 54 percent of applicants from Libya were successful. In fact, of the 216 applications, a dozen were sent back as enforced returns while 33 went voluntarily.
Strangely, 2012 was something of a turning point for the acceptance of Libyans claiming asylum. In the four years previous, the figures show the acceptance of applications bumped along at an average of around 25 percent.
After that, however, the numbers showed a distinct upward trend peaking in 2018, the most recent year available, with an initial decision rate of 95 percent.
Surprisingly the increase in refugee applications was the year after Colonel Gaddafi was overthrown and murdered by militants, when everyone widely expected things to improve markedly.
Wrong.
READ MORE: Threat of lone wolf attacks 'growing' in UK, Home Secretary Patel warns after Reading stabbing spree
The power vacuum left when the military dictator was toppled has never been successfully filled. And while the United Nations, Russia, Turkey and others are contemporary agents in the country the UK plays a more passive role in trying to restore some sort of order.
Long gone are the years of former PM Tony Blair schmoozing with Gaddafi in a tent in the desert, trying in vain to turn him from despot into benign and internationally acceptable ruler.
The UK plays a more subtle game.
An internal MI5 inquiry in 2017 discovered that it allowed Libyans settled in their newly-adopted country to travel back and forth to Libya to continue the fight against Gaddafi. Some of those given a free pass included people who had been under house arrest in the UK as part of counter-terrorrist measures.
Instead of keeping dangerous terrorist suspects on British soil close where they could be monitored, they were simply left to travel abroad for a spot of murder and mayhem on the Med.
How this was thought to be a good strategy is a real puzzle.
For not only did those travelers become totally disenchanted with the whole mess that confronted them when they arrived in Tripoli, when those Brit-based Libyans returned they introduced a generation of young folk who had been born in the UK to the reality of the civil war and the emerging actors from Islamist extremist groups, like Islamic State (IS, formerly ISIS) and the Libyan Islamic Fighting Group which both the Abedi family (Brothers Hashem and Salman who orchestrated the Manchester Arena attack) and Saadallah, according to newspaper reports, had links with through family members.
But seemingly, links and support for an outfit like the LIFG doesn't exclude you from being accepted as a refugee if it's politically expedient for the UK.
Convince the immigration authorities that you fear the very people you secretly support, claim that your predilection for a glass of whisky puts you in mortal danger in your homeland and dupe your gullible neighbours into thinking that you're a regular sort of guy then you are free to roam at will, stabbing innocent strangers in a park on a summer's evening. Just like Khairi Saadallah allegedly did in Reading on Saturday.
Looks to me like soft-touch Britain has been fooled once again.
Think your friends would be interested? Share this story!
The statements, views and opinions expressed in this column are solely those of the author and do not necessarily represent those of RT.
You can share this story on social media: