Dear British Television News, everyone knows you're biased so can you just admit it and we can all get on with our lives?

Guy Birchall
Guy Birchall, British journalist covering current affairs, politics and free speech issues. Recently published in The Sun and Spiked Online. Follow him on Twitter @guybirchall
Guy Birchall, British journalist covering current affairs, politics and free speech issues. Recently published in The Sun and Spiked Online. Follow him on Twitter @guybirchall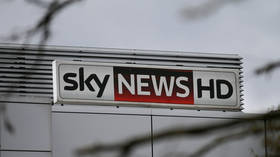 Sky News is the latest broadcaster in the UK to tell its staff not to tweet about politics in an attempt to portray itself as an impartial outlet. It's time UK broadcasting grew up and admitted there is no such thing.
Bias is a fact of life, everyone has prejudices about almost every facet of life. People are biased in favour of countries, sports teams, beer brands, clothing companies, tech, you name it, people have favourites.
These can be irrational, philosophical, instinctive, financial, emotional, familial, political, just to name a few of the factors that cause people to have preferences. Everyone knows this, even children know it, but there seems to be one segment of society that believes it can inoculate itself against bias – British journalists.
Many in this profession think they are capable of being completely fair minded. Unlike the rest of society, they think they have found clear objectivity, they just relay facts and leave it up to those watching or reading to make up their minds. The BBC, Sky, ITN and Channel 4 will all plead till the cows come home that they are impartial, even in the face of mounting evidence to the contrary.
The latest indication of this is Sky News' new guidelines for staff on social media. Such is the extent to which they believe their staff are capable of displaying impartiality, that they have banned all those who do not work in the politics department from tweeting about politics, completely. This even extends to "liking" posts that are "at odds with Sky News' obligations and values".
Rumblings in the newsroom are that staff are not too happy with having tweeting as a recreational activity taken away from them. Speaking from experience, us journos do tend to like a tweet or 2,000, and if politics is off the table, then that virtually makes tweeting impossible as it is an incredibly politicised platform. For example, can you tweet about sports if the players are kneeling during the Star-Spangled Banner, without getting political?
The Sky bosses' motivation for this is obvious: they believe impartiality is a key aspect of their brand appeal. It is a noble aim, but I fear it is impossible to achieve, and attempts to do so lead to worryingly Orwellian edicts such as e-learning re-education and heavily impacting on staff's private lives.
The irony of all this is that it is the on-screen political reporters, who are still allowed to tweet about politics, are the ones most often accused of bias. Sky aren't the only ones taking steps towards managing their staff's social media presence, Channel 4 already have similar restrictions for their staff and the BBC have commissioned a review into their practices.
What this is more of an indication of is the media's unhealthy obsession with social media. The mainstream media is simultaneously reliant, scared and confused by the likes of Twitter and Facebook, which have driven them mad. They rely on these platforms to drive traffic to their sites which in turn helps ad sales, their main revenue stream.
So they have entire teams devoted to optimising their output on social media. It is also why they will pick up on stories that have "gone viral", even when they aren't really news. The tabloid press is more guilty of this than the broadcast media, but it still bleeds over.
How many stories have you seen about identifying a man who may or may not have cheated on his wife on a drunken night out, or a social media mob forming around someone for an off colour tweet. The MSM willingly feed the tweet storm for ratings but live in perpetual fear of ending up at the centre of one.
The first person who fell victim to this was a nobody, Justine Sacco, who posted a not very good joke before boarding a flight to South Africa from New York in 2013. As she got on the plane in December 2013 she tweeted: "Going to Africa. Hope I don't get AIDS. Just kidding. I'm white!" to her 170 followers.
By the time she landed, her life had been ruined. She was world infamous, her company had sacked her, #HasJustineLandedYet had trended number 1 worldwide, and her life was over. Justine had been cancelled, and she hadn't even had the chance to get famous first.
The media enjoyed this immensely but none of them saw the inevitable trend this would spark. Justine was a nobody, the media were somebodies, so it could never happen to them, could it? How wrong they were.
Just last week, the op-ed editor of the New York Times lost his job after publishing an article by sitting US senator Tom Cotton. We've gone from "woman loses job for racist joke" to "editor forced out for publishing opinion piece" in seven years. These people do not understand the beast that they have created.
The future doesn't look much brighter either. Earlier this week the Sunday Times Editor, Emma Tucker, said: "I can run columnists I don't agree with, because I want to offer a diverse range. That's a challenge for some of the younger people... We could find certain generations don't want to come and work for us because of the columnists we employ."
This reflects the general leftward skew of journalists and the even more left-wing bias on Twitter. That makes social media impartiality impossible because social media itself is not impartial. Twitter, in particular, is profoundly left wing in its politics. This means that media outlets are bound to be drawn leftward to appeal to the platform's algorithms. It is inevitable.
The historian Robert Conquest once said: "Any organization not explicitly right-wing sooner or later becomes left-wing." This is observably true and why the notion of unbiased news organisations is a myth. However, British broadcasters wear their imagined impartiality as a badge of honour, they think it is their unique selling point and makes the service they provide even more valuable. This is disingenuous and insulting to the viewers. We know they are not impartial, we can see it: it is literally on camera. A far more adult approach would be to just be honest about the political position of the organisation and the reporter.
American news is often derided in the UK, "Well you wouldn't want Fox News over here would you?", they frequently cry. Why not? Even if you don't agree with the views espoused on the show, you know where they are coming from. Tucker Carlson and Laura Ingram don't stare down the camera expecting people to believe they personally don't have a view on a topic. The same goes for MSNBC, they're honest: they're openly hostile to Trump and the Republicans and everyone knows it. What we have in the UK is the daft situation of everyone knowing Sky, BBC and Channel 4 have a left-wing bias, but everyone pretending they are at least trying to be impartial.
Everyone would be better served if these organisations could just be intellectually honest and Ofcom did away with the requirement for impartiality. Let them be left-wing and then let one, just one would be nice, openly right of centre outlet take to the airwaves.
The Americans and Australians seem to be able to cope with openly biased TV news stations. We Brits already cope with it in print and online, so what is so special about the magic box in the corner of your living room that it can only pump out unbiased information?
Quite why they think this pretence makes them more trustworthy is beyond me, if they're lying to themselves about being impartial why should we believe whatever it is they are saying. Just be honest, for God's sake, and we'll all be better off.
Think your friends would be interested? Share this story!
The statements, views and opinions expressed in this column are solely those of the author and do not necessarily represent those of RT.