If even the BBC's 'bias investigator' is biased, it's time they admitted what they are: A British CNN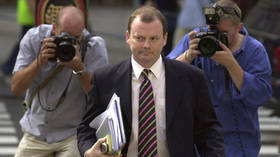 The BBC bringing in Richard Sambrook, an old employee turned university professor, to advise them on impartiality is the broadcasting equivalent of having Roy Keane referee the Manchester derby.
The BBC has managed to get itself into another row over its liberal tendencies, after appointing someone to review allegations of left-wing bias on social media who himself appears to have displayed a left-wing bias on social media. Richard Sambrook has been drafted in to review how the corporation manages impartiality on Twitter, Facebook and the like after recent criticisms that the occupants of New Broadcasting House's personal profiles are broadly to the left of Che Guevara. The review was announced as allegations of anti-Tory and anti-Brexit bias ramped up after 'Newsnight' host Emily Maitlis decided her job was liberal evangelism rather than news reporting.
So, who is this Richard Sambrook chap they've brought in to assess how the BBC should manage left-wing bias on social media? A former Tory MP? An ex-editor of the Telegraph or the Mail? Someone from a right wing thinktank? Or maybe even someone who had worked for another broadcaster, either in the UK or overseas? Of course not. Richard Sambrook is the 'director of journalism' at Cardiff University (the academy is, of course, famously a bastion of right-of-centre thinking) who, before he held that role – wait for it – worked for the BBC. And he was astonishingly well paid for doing so, raking in around £300k a year when he was their director of global news in 2009.
Now, of course it is not a given that someone would have a favourable view of an organisation just because they paid them £300,000 per annum (I'm guessing; I've never been in that position), and obviously we can't just assume Sambrook would be left wing because he works at a university. Fortunately, we don't have to assume that, as some of his social media posts have come to light since his appointment was announced, and they aren't exactly 'Free Kekistan' memes.
Sambrook has not exactly been shy and retiring in expounding his opinion on the issues of Brexit and the government on social media. He has variously described Brexit as "utterly, utterly stupid" and "like a Premier League side wanting to be relegated." Sambrook has also tweeted that he is "strongly remain," and has suggested that Brexit wasn't the will of the British people, as turnout in the referendum was "only 72%." When not banging on about the EU he has also held forth on Boris Johnson, whom he has described as a "liar," a "man of zero integrity" and a "post-truth politician.".
And what does he think about bias at the BBC? Well, before he was appointed to take a look into the problem, he argued that the government was "trying to extend lockdown to independent journalism and critical views." Sambrook has, of course, now protected all his tweets.
The BBC has proven it is chronically incapable of being unbiased. At every level and in every department, it is staffed by bien-pensant metropolitan liberals at best, and outright Marxists at worse. 'Newsnight' has been the best example of this of late; ignoring Emily Maitlis and her continued tirades against wrong-thinking people, current and previous staff include former Labour Party activist Lewis Goodall, professional communist lunatic Paul Mason, failed Change UK MEP candidate Gavin Esler, former Guardian Deputy Editor Ian Katz, and former Guardian Chief Political Reporter Nicholas Watt.
Getting out of their news division and into other areas, it becomes even more obvious that the corporation is brimming with bleeding heart liberals. There is the fanatically anti-Brexit host of 'Match of the Day' Gary Lineker, the 'comedian' Nish Kumar (whose main gag seems to be saying how crap Britain is), and whichever idiot is currently responsible for turning 'Doctor Who', the world's longest running sci-fi show, into identity politics-obsessed bilge that is proving as successful at retaining viewers as a Dalek would be at couples therapy. If there are any right-wing people at the BBC, one can only assume they all either work in the catering department or are Andrew Neil.
The time has come for the BBC to stop pretending it even has an aspiration towards impartiality. It clearly does not; even those sympathetic to the institution admit it has a left-wing bias. At this stage it has become so endemic that it is almost impossible to change, as one can't imagine why a non-woke, non-liberal would even want to work there. Rather than making these pretences at rooting out bias or tempering it, the BBC should just admit that it wants to be a British CNN or MSNBC, because that is effectively what it has become. Therefore, it should do so openly, honestly and – most importantly of all – not at the expense of taxpayers. Abolish the licence fee, let it fully embrace its true nature and let a British Fox News come into existence to counterbalance its lefty narrative. That way, at least everyone will know where they stand.
Think your friends would be interested? Share this story!
The statements, views and opinions expressed in this column are solely those of the author and do not necessarily represent those of RT.
You can share this story on social media: