Latino lives matter, too – just not to 'sell-out' US politicians who use their issues to rake in votes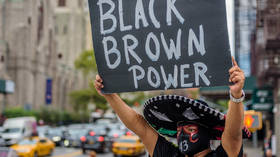 The killing of George Floyd and others has brought justified black outrage onto the streets. The US's Latino population has every reason to be part of the outrage too, rather than directing its anger toward fueling Democrat votes.
Since Floyd's agonizing death under the knee of a Minneapolis police officer, at least 18 people have died in and around the protests that continue to rage across the country.
Sean Monterrosa was one of those killed.
The 22-year-old Latino man was fatally shot by police who were responding to reports of looting at a shopping center in Vallejo, California. Officials acknowledged that Monterrosa was kneeling with his hands raised when a police bullet ended his life.
As with the killing of Floyd, Monterrosa's death at the hands of police is not an isolated incident.
Numerous recent studies into fatal interactions involving police in the US show that 'Latino or Hispanic' people – as they are referred to in the US census – are the second only to black people in terms of demographics most likely to be killed by law enforcement.
An analysis of 5,000 police shootings in the US by the Washington Post, for example, found that black people are killed at a rate of 31 per million, compared to 13 per million for white people. Those of Latin American descent fall in between at 23 per million.
In states like California, however, where Latinos make up 39 percent of the state's residents, they account for nearly half of those killed by police.
The numbers illustrate why hundreds of thousands if not millions in the US and elsewhere have been protesting over the killing of black people at the hands of police. But these statistics also raise questions about why the Latino community, which is subjected to similarly disproportionate police brutality, has not responded as forcefully.
For Ron Gochez, a lot comes down to numbers and political organization.
"In many places in this country where our people are a numerical minority and where advocacy groups aren't as strong, these murders take place without gaining the attention that they deserve," says Gochez, a member of the Union del Barrio, an organization dedicated 'to defending the democratic rights and class interests of la raza.'
Numbers may be a factor in some cases, but they can't entirely explain the lack of visibility of the community on this issue.
According to the 2019 census, "Hispanics and Latino Americans" make up over 18 percent of the US population, compared to 13.4 percent who are counted as being "black and African American."
The Latino community also has a precedent for mass mobilizations, particularly on immigration issues. While these have picked up again in the last few years, the community was at the center of pro-immigrant worker mobilizations that took place in the mid-2000s, long before the Donald Trump presidency and before Democrats were pandering to the community by butchering Spanish.
Them democrats was going at it last night for the minority vote boyyyyy. Look at Bookers face when Beto started speaking Spanish 😂😂😂😂😂 pic.twitter.com/y2qY2eYk1Z

— Ariel St. Patrick (@_hurtsa) June 27, 2019
But neither cases of police violence nor mass incarceration rates have aroused the passion and the level of street mobilization like the issue of immigration across this large and increasingly influential demographic.
Issues of race within the Latino community, which also stems from a history of racism in all countries of the region, is also a factor. Videos like ones of Dominicans chasing protesters out of their New York neighborhoods have only underscored this.
Notwithstanding other issues around identity and terminology, it's evident that some Latinos don't see police violence against dark-skinned people as their issue because they don't think of themselves as fitting that bill.
Nah, I saw a video of a big ass groups of Dominicans chasing down young Black boys just for walking down Dyckman, that's not protecting the neighborhood that's straight up violent anti-blackness. I saw mad videos of Dominicans calling Black protesters rats and animals, fuck that

— mely mels (@Dah_meh_lee) June 3, 2020
But in a previous era when issues of poverty, exploitation and police violence were at least as pervasive if not worse, there was a greater sense of solidarity and action between black and brown people.
"In the '60s and '70's you had strong political organizations in our community and we didn't have the sell-out politician class that we have today," says Gochez, referring to groups like the Young Lords and the Brown Berets.
These leftist outfits worked with similar organizations like the Black Panthers and even white activists to tackle common social problems facing poor and working people. The threat posed by these groups emanated from the fact that they couldn't easily be bought or played against each other, so the combined efforts of police and FBI employed more insidious and violent tactics.
The state has not had to use these same methods against the social movements of the new millenium.
Much like the antiwar movement during these same years, the momentum of the pro-immigration mobilizations of the 2000s was diverted to Barack Obama's presidential campaigns as well as electing Latinos into office.
Not everyone is convinced that the broader Latino community has benefitted from doing politics this way.
"We see ICE raids, mass gentrification, failing schools, police terrorism and an unbelievable increase in homelessness in cities with Hispanic Democratic Party mayors and/or police chiefs or sheriffs," Gochez says. "They serve the purpose of confusing and pacifying the community that would otherwise be more willing to protest or fight against the system."
Gochez and his group are working within their community to build solidarity with other oppressed people around common issues, including police brutality. But they also have to work now against the inevitable push to divert people's focus away from the streets and to October's election, where the Democratic Party candidate has continued to push for symbolism over substance.
They are nonetheless firm on the idea of unity with black people and independent political action as the best and only way to get systemic change.
"If black and brown people united, we could achieve those goals. We just have to make that happen and not allow the movement to be co-opted by foundation money or sell-out politicians of color."
Think your friends would be interested? Share this story!
The statements, views and opinions expressed in this column are solely those of the author and do not necessarily represent those of RT.
You can share this story on social media: