Take that, Trump! Venezuela's oil shipments from Iran show how alliances can help defy US sanctions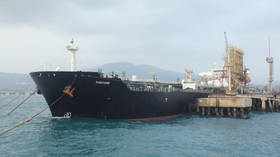 Joint endeavor by two countries vilified by the US illustrates how its claims of dominance can be challenged. But more nations need to play a part in future.
May has been good to Nicolas Maduro. Earlier in the month, Venezuelan armed forces and militias easily repelled a botched invasion from Colombia by former Venezuelan soldiers, police and a small number of US mercenaries with alleged links to Donald Trump's White House.
Now, two of five Iranian tankers carrying fuel have successfully made it into the South American nation's territory, handing the Venezuelan president another political victory. And it couldn't have come at a better time.
Venezuelans have been suffering from a severe but seemingly paradoxical oil shortage, given that the country is one of the world's major producers. A perfect storm of decreased global demand, coupled with the cumulative impact of US sanctions on the country – which have stopped the import of additives as well as access to US refineries – has led to incredibly long queues at the few pumps that have remained open.
Pleas by the United Nations and other international bodies to ease up on the sanctions against Venezuela and other countries to allow them to concentrate efforts on battling the spread of Covid-19 have fallen on deaf ears in Washington. Instead, the White House has intensified its efforts against Venezuela and Iran, arguably the two countries most targeted and vilified by the Trump administration.
US rhetoric and threats
That the two governments have looked to support each other in the face of US rhetoric and threats isn't surprising. Trade between Venezuela and Iran ballooned under Maduro's predecessor, Hugo Chavez, growing from just $1.5 million in the first years of the 21st century to over $20 billion between 2002 and 2007. Beyond trade, the Bolivarian government has looked to Iran as a key geopolitical ally against a common adversary, forging all kinds of agreements and ventures in spite of rebukes from US lawmakers and institutions.
But this latest joint endeavor is certainly the boldest challenge yet by the two countries – in tandem or even individually – to the US.
Iran's missile attack on the US base in Iraq in response to the January assassination of Iranian major general Qasem Soleimani in a US drone strike was more than just symbolic, and undoubtedly more significant than Trump initially wanted to acknowledge.
America's "backyard"
But this trade mission is not only in direct defiance of US sanctions on both countries, it also takes place in Washington's "backyard", as various Trump officials referred to the region in a nod to the imperial Monroe Doctrine.
For its part, Venezuela has attempted to ignore the sanctions, the US warships circling its waters in the largest mission in the area since the invasion of Panama, and the more recent threats levied against it by Trump, when he told right-wing Latin Americans in the US that he had the country "surrounded."
On a call with Hispanic leaders @realDonaldTrump says of #Venezuela: "We've got it surrounded, it's surrounded at a level that nobody even knows but they know. We are watching to see what happens" @UniNoticias

— Janet Rodriguez (@janrodrigueztv) May 20, 2020
In sending military escorts to accompany the Iranian ships, Caracas and Tehran directly challenged the US to a staredown in Caribbean waters. And, this time, it was the US that blinked. Maduro and officials from both countries celebrated the collaboration, while supporters of Venezuela's government took to social media to gloat.
Venezuelan oil minister @TareckPSUV greets captain of Iranian oil tanker Fortune, 1st of 5 Iranian ships delivering crude to Venezuela in face of threats from US warships patrolling the regionThe resistance fights on in time of COVID-19! The world is changing before our eyes pic.twitter.com/qokohw3So8

— Anya Parampil (@anyaparampil) May 25, 2020
But while the docking of Iranian ships in Venezuelan territory is a significant challenge to US power, and a successful subversion of the bellicose business of sanctions, the troubles faced by both countries are far from over.
The next ships are still days away, and US officials are reportedly looking at further measures to punish the countries for their insolence. Secretary of State Mike Pompeo had also called on countries to deny airspace to the Iranian flights that Venezuelan officials said were delivering materials for one of the country's main refineries.
Also on rt.com
US 'will be IN TROUBLE' if it makes 'MISTAKE' of interfering with Venezuela-bound tankers, Rouhani warns
Economies hit by Covid-19
The economies of both Iran and Venezuela, which had already been suffocating under the weight of the sanctions, are also due to be hit hard by the Covid-19 pandemic and the lockdowns that both governments have mandated. Estimates suggest the impact of Covid-19 on Iran could be between 15 and 30 percent of 2020 GDP, while unemployment rates are likely to jump from 20 percent to over 35 percent in a matter of months.
Venezuela, meanwhile, had been experiencing considerable success in containing the virus, only to experience a recent spike due to the thousands of migrants returning to the country via Colombia, after facing xenophobia and deprivation around Latin America. The country and its economy remain virtually shut down and, according to the UN, its GDP will contract between 8 and 10 percentage points for every trimester this continues.
Beyond the effects of the pandemic, Caracas continues to fight for every new body blow, from a US court ruling that would force the sale of its state oil company to the surprise announcement from Direct TV that it was immediately canceling its cable service in the country.
For now, the underdogs can bask in their modest but meaningful victory, which will ease the pressure on the populations that are the primary targets and victims of these vindictive sanctions.
A dose of cooperation and a lot of audacity have proven effective, but those on the wrong side of US imperialism will need to bring in bigger partners in similar efforts to deal decisively with Washington's perverse pretensions.
Think your friends would be interested? Share this story!
The statements, views and opinions expressed in this column are solely those of the author and do not necessarily represent those of RT.
You can share this story on social media: