Does Covid-19 mark the end of Western liberalism, and the triumph of AUTHORITARIAN states?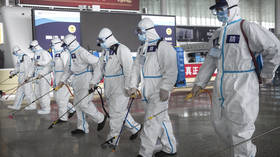 The Covid-19 pandemic has led many to question the fate of liberal democracy vis-à-vis its authoritarian alternatives. China's swift success contrasts with America's debacle and makes one wonder about humanity's political future.
Could the future belong to some blend of China's party-state and Singaporean-style technocracy?
In fact, Covid-19 has neither disproved the continued viability of democracy nor proved the superiority of autocratic models. There are autocratic countries that have screwed up their covid response, and there are democracies that have coped exceptionally well. Most countries, though, fall in the middling category in how they handled the spread of the disease. This group features all sorts of political regimes, including Russia and the majority of European states.
The pandemic did shatter some entrenched notions about democracies and autocracies. One of them is the value of human life. We have always been taught to believe that Western liberal democracies are the ones that care the most about human rights and human lives, whereas autocratic and totalitarian governments consider their subjects expendable in pursuit of the economic or geopolitical objectives of the state. But, what, then, can one make of the stark fact that authoritarian China took dramatic measures to protect its population from the virus, even though Beijing understood it would deal a hard blow to the all-important economic growth? At the same time, quite a few liberal democracies hesitated over the choice between saving human lives and the well-being of the economy. The president of one major Western country reportedly suggested allowing the coronavirus "wash over" the country. The prime minister of another flirted with the idea of "herd immunity." The quintessential liberal democracy Sweden actually chose the normal functioning of the economy over the maximum protection of human life. Curiously, it was joined in this choice by Europe's "last dictatorship" – the Belarus of Alexander Lukashenko.
In 1989 the American political theorist Francis Fukuyama famously pronounced the end of history. The Soviet Union was collapsing and the offspring of the Chinese elite, returning from American colleges, were supposed to turn communist China into a Westernized democracy. Thirty years on, Putin's Russia is allegedly undermining the foundations of the American democratic polity while the very same Fukuyama is darkly warning about the grave threat from a "neo-totalitarian" China.
Also on rt.com
The US is treating China like it's Nazi Germany. This slide towards a 3rd world war needs to end before it's too late
There is no denying that since the late 1980s the number of democracies has increased worldwide. But there are still precious few examples of liberal democracy successfully taking root outside the North Atlantic core where it originated. Let's look at China's neighborhood in Asia, for instance. Even those Asian nations that are held up as success stories of political liberalism may not quite look so upon closer examination. Just ask a gay person from South Korea what life is like for sexual minorities in their country. Strictly authoritarian Vietnam is apparently more advanced in terms of LGBT rights than democratic South Korea. India is, of course, the world's largest democracy, even though it has hardly ever been a liberal one. But under the Hindu nationalistic BJP rule, with Narendra Modi at the helm, the country is seen by many as evolving toward outright authoritarianism. Another major democracy in Asia has for many decades been ruled by one party, called, of all names, the Liberal Democratic Party of Japan. Despite being governed by 'liberals,' Japan has, well, some issues with democracy, including a deepening erosion of press freedom.
Just as purported liberal democracies may not be so liberal after all, authoritarian regimes may in fact be less despotic than they are portrayed. Putin's Russia, in particular, is a hybrid regime that creatively mixes the elements of Western democratic institutions with traditional Russian autocracy. The supposed dictator Putin is known to be extremely sensitive to his public approval ratings, which is probably one indication that people matter in Russia's political system. We have no idea whether Xi Jinping carefully monitors his approval ratings among the Chinese citizenry, but there is no doubt Xi and the Chinese Communist Party are acutely aware that their continued rule depends on the acceptance and approval from the 1.4 billion Chinese. In other words, at least for some non-democratic regimes, popular legitimacy is no less important than for democratic ones – and maybe even more so.
The coronavirus pandemic has again revealed that different political regimes watch each other – and learn from each other. China's experience in defeating the first wave of Covid-19 has been carefully studied and, in some aspects, adopted by liberal democracies. But democracies also influence autocrats' behavior. Vladimir Putin initially seemed reluctant to release massive financial aid to the Russian population. However, a few weeks later he announced more packages of direct payments for households. His new-found generosity may have been partly due to the fact that many Russians started to question why the German government was providing money to the distressed citizens while the Russian government was not.
Just as liberal democracy never achieved global primacy in the wake of the collapse of the Soviet Union, the world is unlikely to shift to autocracy or some kind of semi-authoritarianism as a result of the coronavirus crisis. The world will remain a patchwork of sundry political regimes. Liberal democracy will largely remain confined to its Western cradle, even though Fukuyama is probably right that, apart from nationalism, liberalism will stay as the single most powerful secular ideology. The majority of countries will feature hybrid, authoritarian and semi-authoritarian models of many varieties. Similar to biodiversity, which is fundamental to any natural eco-system, the continued existence of humankind is premised on the diversity of socio-political models that coexist, compete and learn from each other. There are historical precedents: Soviet communism, as both competitor and role model, helped fuel the development of Western social policies during the Cold War.
As Mao Zedong once said, "let a hundred flowers bloom." It would be no good if liberal democracy penetrates every nook and cranny of the world, but it would be equally bad if an autocracy, be it Chinese, Singaporean, or any other variety, dominates the world.
By Artyom Lukin, associate professor of international relations at Far Eastern Federal University in Vladivostok, Russia (@ArtyomLukin), and Yaroslav Shevchenko, graduate student at Renmin University of China (@y_shevchenko27).
Think your friends would be interested? Share this story!
The statements, views and opinions expressed in this column are solely those of the author and do not necessarily represent those of RT.
You can share this story on social media: