It's Mike Tyson v George W. Bush! Which 'comeback' best reveals how a decadent US is in the grip of nostalgia-induced amnesia?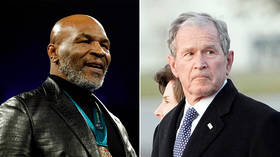 The US is in thrall to its American Dream fairytale. An ageing boxer seeks to delude himself – and his nation – into believing his own hype, while forgetting the reality of his past. Just like ol' Dubya...
In recent weeks, 53-year-old former heavyweight world champion Mike Tyson has released a series of seconds-long boxing videos that show him slimmed-down and throwing crisp punch combinations into the mitts and body protector of his trainer, hinting at a comeback. In a typical over-reaction, some Americans immediately responded by declaring that 'Iron Mike' could win the title again.
The hysteria surrounding Tyson's mini-videos is par for the course in the land of the American Dream, where people live in a diabolically delusional culture that loves manufactured 'reality shows' but is impervious to reality itself.
The fact that Tyson hitting pads for ten seconds is not proof of his ring worthiness should be self-evident since, unlike real boxing opponents, the pads aren't actively trying to avoid getting hit – or, more importantly, hitting back and attempting to render Tyson unconscious. Sadly.
It also takes a willful ignorance of boxing history and biology to ignore the fact that, at the age of 38, Tyson got brutalized in his final fight by a journeyman called Kevin McBride, and he is not going to be a better boxer at 53 than he was at 38. Let alone at 20, his age when he first became a world champion in 1986.
America's magical thinking regarding Tyson is fueled by its pernicious addiction to the narcotic of nostalgia.
The rose-colored glass of the rear-view mirror has distorted American's perception of who Tyson really was as a fighter.
He was, unquestionably, one of the most menacing and dynamic athletes ever to be the heavyweight champ, but the cold, hard truth is that he was never, ever, a great fighter.
Tyson became 'The Baddest Man on the Planet', and the youngest champion in heavyweight history, by intimidating and destroying a series of tomato cans in spectacular fashion. But Iron Mike shrunk and withered whenever he went up against any worthy opponent, like Evander Holyfield or Lennox Lewis, or even just less-talented fighters who weren't afraid of him, like Buster Douglas.
Also on rt.com
'He can only beat Tyson at DRINKING': Russian MMA veteran is ROASTED after calling out Iron Mike
Tyson was a 'Wizard of Oz' fighter: like the Tin Man, he had no heart; like the Lion, he was a coward; and if he does go through with this comeback, he'll score the hat-trick by being as brainless as the Scarecrow.
The current Tyson renaissance reminds me of the recent nostalgia-fueled rehabilitation of George W. Bush by the mainstream media.
Like Tyson and the little gesture of his short videos, all Bush had to do was give candy to Michelle Obama at a public event in December 2018, and he was transformed into a cross between Abraham Lincoln and Mahatma Gandhi, as the media assiduously wiped clean from the US consciousness all of his grievous misdeeds.
The narcotic of nostalgia has forced Americans to forget a plethora of both Tyson's and Bush's failings. Like the fact that Iron Mike didn't take Buster Douglas seriously and got summarily knocked out, just as the lightweight Bush didn't take warnings about Bin Laden seriously, which resulted in the catastrophe of 9/11 and 2,996 dead.
Or that Tyson bit off more than he could chew – including an ear – in his two humiliating defeats in the mid-90s to lion-hearted Evander Holyfield, which was similar to Bush's emotionally fueled imperial fever dreams that killed millions in his egregious Iraq War fiasco.
Or that in 2002 Lennox Lewis badly exposed Tyson's boxing malfeasance in their lopsided match-up, much like 2005's Hurricane Katrina exposed Bush's true governing incompetence at the cost of 1,833 lives.
Or the humiliation of the last days of their careers, when Tyson fell to the forgettable Danny Williams and Kevin McBride, and Bush drove the American economy off the cliff with the 2008 economic crash.
Also on rt.com
'An INSULT to boxing!' Mike Tyson shuts down potential showdown with rugby player Sonny Bill Williams
The power of America's nostalgia-induced amnesia is so great that even the moral and ethical atrocities of Tyson's 1992 rape conviction and Bush's torture and spying programs seem forever lost down the collective memory hole.
Crisis always reveals character, and both Tyson and Bush repeatedly showed their utter lack of it when they needed it most. Meanwhile, intentionally obtuse or cognitively dissonant Americans who deny that reveal their own deranged character.
Tyson fanboys on the internet, and Bush cheerleaders in the media, do nothing but reveal their own sycophancy, depravity and lack of integrity when they give voice to their hallucinations and wax nostalgic about the alleged halcyon days when Iron Mike ruled the ring and Dubya commanded the West Wing.
The truth is that Americans in general, and Tyson and Bush fans in particular, can never – and will never – wake up from the delusional, nostalgia-addled, manufactured reality show that is the current American Dream.
The reality is that the aging Tyson, a rapist and bully who even at his greatest wasn't that great, is the perfect symbol for America, a decadent and decrepit empire in steep decline. A descent that Dubya did much to accelerate. Sadly, this is much too painful a truth for most Americans to confront.
On the bright side, if Tyson does come back to fight a real heavyweight and not some fellow geriatric pugilist, he will get knocked out in short order. So, at least he'll still be able to believe in the contrived fantasy of the US Dream… because as George Carlin once said, "The reason they call it the American Dream is because you got to be asleep to believe it."
Like this story? Share it with a friend!
The statements, views and opinions expressed in this column are solely those of the author and do not necessarily represent those of RT.
You can share this story on social media: