Doom-mongering scientists now warn that climate change will kill thousands. Cutting out fossil fuels will kill MILLIONS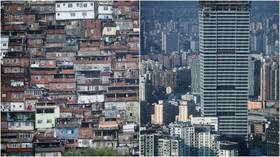 Highlighting how climate change hurts humans is now a key strand of the green ideology. In fact, humanity is thriving – and taking bad advice from a new environmental report is the real risk to the world's population.
UK medical journal The Lancet has just published a familiar, downbeat assessment of the future of climate change and human health. The latest edition of its Countdown on Health and Climate Change, an annual analysis that tracks progress across 41 key indicators, examines the impact on human health if the world either takes action to meet the Paris Agreement targets or continues with 'business as usual'.
The project is a collaboration between 120 experts from 35 institutions including the World Health Organisation (WHO), World Bank, University College London, and Tsinghua University in China.
Infectious disease and air pollution
The 2019 analysis claims that if the world sticks to 'business as usual' policies rather than making concerted efforts to reduce greenhouse-gas emissions to 'net zero' by 2050, the effects on human health could be serious. Infants will be the most vulnerable to malnutrition, rising food prices and infectious diseases, particularly pathogens that cause diarrhea and wound infections, which can affect wide areas as temperatures rise.
According to the report, air pollution contributes to 20,500 deaths per year in the UK alone. The costs of air pollution across Europe could reach €129 billion per year if pollution levels remain high.
Extreme temperatures will become a greater problem, too. In 2018, the number of elderly people exposed to heatwaves rose by 220 million compared with 2000, with older city-dwellers in Europe and the Eastern Mediterranean most vulnerable.
Also on rt.com
Hindu gods given FACE MASKS in Varanasi temple as Indian city coughs and chokes on smog (PHOTOS)
A call to action
In conclusion, the authors argue that urgent action is required to meet the Paris Agreement targets.
"This year, the accelerating impacts of climate change have become clearer than ever. The highest recorded temperatures in Western Europe and wildfires in Siberia, Queensland, and California triggered asthma, respiratory infections and heat stroke. Sea levels are now rising at an ever concerning rate," said Professor Hugh Montgomery, co-chair of The Lancet Countdown and director of the Institute for Human Health and Performance at University College London.
Professor Montgomery sees the school strikes led by Swedish activist Greta Thunberg as an inspiration. "Our children recognise this climate emergency and demand action to protect them. We must listen, and respond."

Reasons to be cheerful
However, before we all sink into depression, some caution is needed. First, the report's idea of "business as usual" seems particularly gloomy, even alarmist, by assuming a rise of global temperatures of between four and seven degrees Celsius by the end of the century, compared to pre-industrial temperatures. Since we've had one degree of warming already, that means at least three degrees more in the next 80 years. However, that would be double the rate of global warming over the past 40 years. While anything is possible, that's a very important and significant assumption.
Moreover, it has been a problem noted for some time that the climate models such forecasts are based on have been "running hot" - that is, they overestimate temperature rises. As a result, the claims about health in this report, based on large temperature rises, are almost certainly excessively gloomy.
Also on rt.com
While Greta Thunberg hitches another top-dollar yacht ride to Europe, plebs will live with 'flight shame'
Health: An improving picture
Indeed, rather than start from what might happen in the future, perhaps it is better to examine what we actually know about - what has happened in the past few decades. Here, the report offers much happier news.
All-cause mortality is falling around the world. In fact, it's the reason why the world's population is growing. We're not having more children, we're all just living longer. As Our World in Data notes, when it comes to health, "the world has made rapid progress. Today most people in the world can expect to live as long as those in the very richest countries in 1950. Today's global average life expectancy of 71 years is higher than that of any country in 1950 with the exception of a handful in Northern Europe."
There has been particular progress in relation to deaths from malaria, a disease that particularly blights Africa. The Lancet report shows that deaths from malaria have fallen very sharply in the twenty-first century. Our World in Data notes World Health Organization figures that suggest that in the first 15 years of this century, "the global death toll has been cut in half: from 839,000 deaths in 2000 to 438,000 in 2015."
A solution that is worse than the problem
The policies promoted by the Lancet report to prevent health risks from climate change mean a rapid cut in the use of fossil fuels. But many of the great improvements in human health in recent decades have been possible thanks to economic development powered by fossil fuels.
Simply phasing out oil, coal and gas without reliable and affordable alternatives will cause more problems than it solves. Rich countries have great difficulty in integrating wind and solar power, for example, which are unreliable or intermittent - or both. How could poorer countries possibly rely on them?
Moreover, some problems mentioned in the report could be dealt with in a way that doesn't demand a cut in greenhouse-gas emissions. For example, we can cut deaths from air pollution by switching from dirty, polluting cars to cleaner, more modern models. We can keep coal-powered electricity generation away from major centres of population, or switch from coal to gas, as many countries have been doing.
Also on rt.com
Saving the planet or 'greenwashing'? Behind the scenes of movie industry trying to go eco-friendly
A warmer world: not all bad
We also need to take note of the potential improvements in health as a result of climate change. Reports like the one by the Lancet have a tendency to focus on costs, but rarely mention benefits. But if we leave out those benefits, we can't produce sensible policies for the future.
For example, if the world is getting warmer, there may be more deaths from heat (though that is not certain), but there may also be fewer deaths from cold. In fact, cold weather is much more likely to be a cause of death than extreme heat. This is another reason to be cautious about cutting the use of fossil fuels: if we make energy more expensive, we could end up costing lives as poorer people fail to heat their homes sufficiently.
In recent years, the Lancet has become more famous for its campaigns than for sober analysis of medical issues. This new report is typical of that attitude. The report's claims and conclusions deserve far greater scrutiny and skepticism than most of the mainstream media will provide.
Like this story? Share it with a friend!
The statements, views and opinions expressed in this column are solely those of the author and do not necessarily represent those of RT.
You can share this story on social media: