In fit of anti-Trump pique, American liberals shamelessly embrace 'deep-state' criminals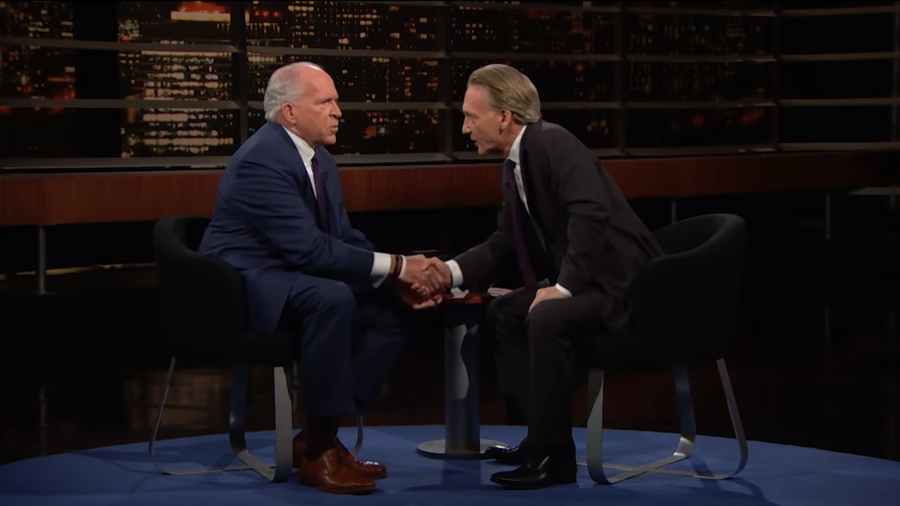 In their blind hatred for Trump, liberals have sunk to an all-time low by unabashedly cheering a war criminal.
On August 24, HBO's Real Time with Bill Maher had former CIA director John Brennan on as an interview guest. Brennan has been in the news lately because he accused Trump of treason or, more precisely, "nothing short of treason," due to the president's weak-kneed, post-summit news conference with Russia's Vladimir Putin.
In retaliation for Brennan's remarks, Trump revoked his security clearance. This has caused uproar from establishment intelligence toadies and, in a case of strange bedfellows, the allegedly liberal anti-Trump movement which has dubbed itself the #Resistance.
On the episode of Real Time, the usually acerbic Maher, or as I am fond of calling him due to his petulant demeanor and intellectual dwarfism, Little Bill, immodestly degraded himself fawning over John Brennan before the former CIA chief ever got on stage by gushing that he was a "true American patriot."
The nadir for the #Resistance occurred shortly thereafter as Brennan rumbled on stage and was greeted by the eruption of a raucous standing ovation by the liberal audience, with Little Bill calling it a "well-deserved standing ovation." Only in the bizarre universe where a silver-spooned, multi-bankrupted, reality television star is president does a former CIA director who has committed crimes and war crimes such as implementing and covering up Bush's rendition and torture regime, spying on the US Senate, and masterminding Obama's deadly drone program, get a delirious ovation from those on the left.
As Little Bill sat across from Brennan, his sycophancy swelled further when, like a pimply faced teenage boy on his first date, he rapturously declared: "I don't say this very often, but it is an honor to meet you and have you here." If this interview were taking place in the back seat of Little Bill's parent's station wagon, the windows would've have been completely fogged by this point.
The interview was one rambling study in confirmation bias, as Brennan bemoaned not having security clearance for the first time in 38 years, and Maher stomped his feet and wailed "everyone with a brain is on your side!" Neither man was self-aware enough to realize the brazen level of entitlement that oozes from their belief that a security clearance for a former government official is a right, not a privilege.
Brennan then blamed Kentucky Senator Rand Paul for starting the whole mess and Maher breathlessly screeched: "Rand Paul is dead to me!" In the throes of his Brennan crush, Maher all but promised to fight Rand in the parking lot after school to defend the former CIA director's honor.
Brennan then waxed poetic about how "national security is one of the most sacred and solemn professions in this government." I wonder which part of his national security work Brennan finds so sacred… was it the torture? The extraordinary rendition? The kill lists? The murdering by drone strike of innocent people, American citizens included? The spying on the Senate in order to scuttle any impartial investigation into the torture program? The teaming with fascists in Ukraine to overthrow a democratically elected government? Or teaming with terrorists in an attempt to overthrow Assad in Syria?
Little Bill, no doubt hoping to get lucky on his dream date, did not ask any of those questions or raise any of these topics, he just pursed his lips and shook his head as he proclaimed his horror that Trump dared to call Brennan, the man who "defended our country after 9/11," a "low life."
Maher's on-screen love affair with Brennan is in-keeping with his erotic profile, as his history shows he is most certainly aroused by high-ranking intelligence agency criminals. Maher has had similarly fawning, to the point of bootlicking, interviews with former head of the NSA and CIA, General Michael Hayden. Little Bill's modus operandi is to never speak ill of such mendacious intelligence officials as Hayden, Brennan and former director of national intelligence James Clapper, all of whom have lied to the American public and committed numerous crimes and moral atrocities such as their culpability in the rendition, torture and surveillance programs, but he instead chooses to speak only in the most overly reverential tones about their bravery and patriotic work keeping America safe.
I find it very curious that both Maher and his fellow liberal HBO comedy comrade John Oliver of Last Week Tonight are so enamored with the intelligence agencies. Oliver too is an unrepentant establishment shill and brownnoser who has routinely ignored intelligence agency misbehavior and parroted the pro-intel line at every opportunity, a perfect example being his softball interview of former NSA chief general Keith Alexander and his aggressive take-down of NSA whistleblower Edward Snowden.
What is even more disheartening than two insipid cable television comedians being so obviously in the pocket of the intelligence agencies, is the total lack of intellectual and moral integrity on the part of the liberals in their audience.
The buffoons in Maher's studio audience who gave Brennan a Pavlovian standing ovation on Real Time are probably the same fools who have donated money to the GoFundMe campaigns for fired FBI officials Andrew McCabe and Peter Strzok to the tune of more than a million dollars between them. Do these liberals not know who the FBI is and what they do? The FBI are the ones who wiretapped Martin Luther King Jr and tried to blackmail him into killing himself. The FBI also infiltrated environmental, anti-war and civil rights movements in a concerted attempt to destroy them. According to Human Rights Watch, the FBI has gone above and beyond in subverting civil rights and due process in post-9/11 America by being "directly involved" in high-profile terrorist plots in the US, where Muslims were entrapped and imprisoned for phony plots proposed or led by FBI agents or informants.
The liberal adoration of FBI flunkies and intelligence big wigs like Brennan, Clapper, Hayden and even the media anointed saint, former director of the FBI and current Special Counsel Robert Mueller, who rounded up Muslims in the wake of 9/11, botched the anthrax investigation, and lied about WMD's in Iraq to the American public, is repugnant and will ultimately be counter productive if not downright self-defeating to any progressive movement.
I understand the liberal anger with the demagogue Trump, what I do not understand is why the left is so intent on embracing the most deplorable of war criminals and police-state apparatchiks who have routinely flouted the constitution and flaunted their power, in order to try and bring down Trump, who progressives claim has flouted the constitution and flaunted his power.
Towards the end of the interview, Brennan received a cacophony of cheers when he described Trump as a man who is "dishonest, unethical, doesn't have principles… or integrity," but Brennan's description of Trump is a case of the former CIA official doth protest too much, methinks. When seen in the light of Brennan's own dishonesty regarding torture, his unethical spying on the Senate and his overall lack of principles and integrity throughout his career, this statement reeks of shameless hypocrisy. Brennan's condemnation of Trump would equally fit Brennan or any of his other media darling intelligence agency cohorts, along with the liberal lemmings who send them money, give them standing ovations and take their word for gospel.
In closing, Brennan postulated that things will "get worse before they get better" and reminded viewers that this country "fought hard for the freedoms and liberties we have right now." I wholeheartedly agree with that assessment, which is why the #Resistance must jettison from their ranks all criminals like Brennan, Clapper and Hayden who have dedicated their careers to usurping the "hard fought freedoms and liberties we have right now."
The pied pipers in the media, including court jesters like Bill Maher and John Oliver, are leading liberals down a road to perdition by holding insidious intelligence officials and agencies up as paragons of nobility and truth. Brennan, Clapper, Hayden and their ilk are professional liars whose main priority is not to uphold and defend the constitution but rather to uphold and defend the corrupt establishment and the military industrial complex.
In 2016, liberals lost the election, but since that time, as evidenced by their deification of Brennan and his intel cohorts, they have proceeded to lose not only their minds, but their souls as well. In the face of the Trump demon, liberals have conjoined themselves to truly despicable people who have perpetrated great evil at home and across the globe. In the long run, the #Resistance is going to learn the hard way that with friends like Brennan, Clapper and Hayden, who needs enemies?
Michael McCaffrey, for RT
Michael McCaffrey is a freelance writer, film critic and cultural commentator. He currently resides in Los Angeles where he runs his acting coaching and media consulting business. mpmacting.com/blog/
Like this story? Share it with a friend!
The statements, views and opinions expressed in this column are solely those of the author and do not necessarily represent those of RT.
You can share this story on social media: