Idlib to become Syria's final battle with terrorists… if the West stays out of it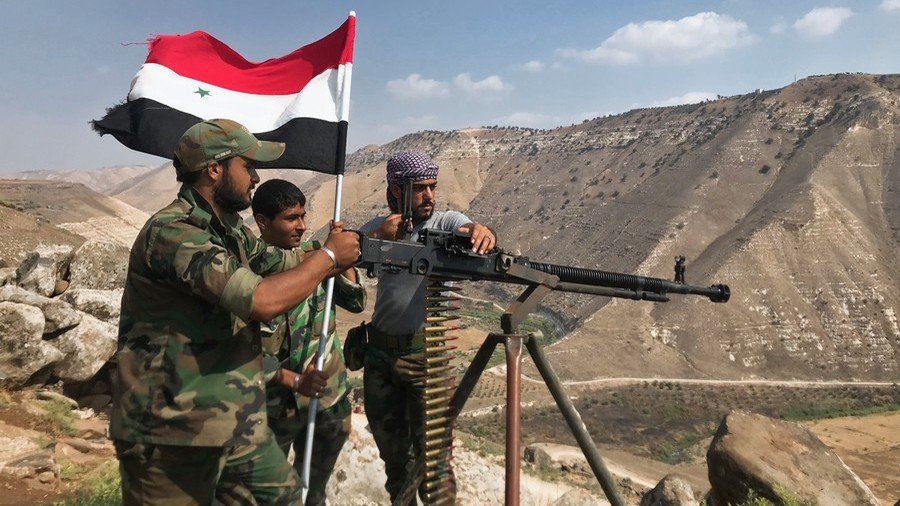 Syrian forces are gearing up to take the last terrorist stronghold, the US is boosting its military presence, and Russia is warning of a false-flag chemical attack. RT looks at the aligning of forces ahead of the battle for Idlib.
American warships, cruise missile delivery systems, strategic bombers and other hardware has arrived to the Mediterranean and the Persian Gulf earlier this week. Washington is denying that any buildup is taking place, but Moscow says the assets are being gathered for a massive strike against the Syrian government.
A provocation with chemical weapons, staged by the jihadists, will be used as a pretext for the attack, and Damascus will again be groundlessly accused of poisoning its own people, Russia said. In April, a massive bombardment of Syria by the US, UK and France was triggered by what Russia says was a similarly staged false-flag operation.
Jabhat al-Nusra and other militants in Idlib stand no chance against the Syrian military, backed by Russia and Iran, but Western interference may give them a fighting chance. The US and its allies are making every effort to preserve jihadist forces and use them to remove Syrian president Bashar Assad from power, Russian Foreign Minister Sergey Lavrov recently said .
READ MORE: Planned chemical weapon provocation in Idlib aimed to prevent removal of terrorists – Lavrov
And if the violence escalates in Idlib, the two million strong population of the northern province will be put in grave danger as the terrorists basically hold the people hostage and use them as a human shield.
The Russian Reconciliation Center continues talks to achieve a peaceful resolution of the Idlib standoff. However, the militants seem reluctant to lay down their arms, which makes the coming days crucial for the fate of Idlib and the whole of Syria.
Think your friends would be interested? Share this story!
You can share this story on social media: