Is Duterte really threatening war with China? The opposite may be true...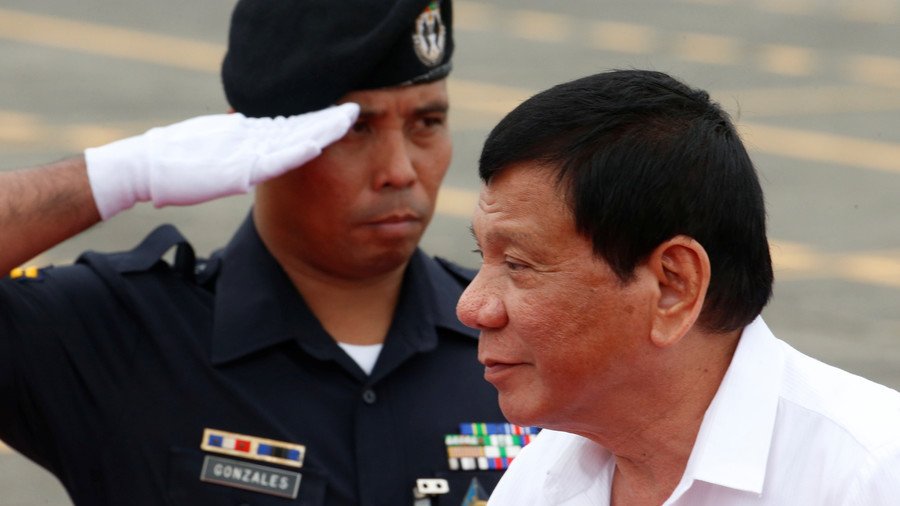 The media wants you to believe that the Philippines is headed towards war with China. The truth may in fact be the opposite.
If you followed international headlines this week, you may have been alarmed to see the shocking revelation that, despite wanting a closer relationship with China, Philippines' President Rodrigo Duterte was now ready to risk war with Beijing to 'protect the territorial integrity of his country'.
"Philippines' Duterte threatens war in South China sea if troops are harmed," Newsweek warns. "Philippines draw three hard lines on China," Asia Times outlines. "Philippine President Rodrigo Duterte will go to war with China if it crosses 'red lines' and claims disputed resources, foreign ministry warns," the South China Morning Post (SCMP) explains. "Duterte will 'go to war' over South China Sea resources, minister says," according to CNN.
Those are indeed some shocking headlines as the last thing anyone in their right mind wants is a regional conflict, not least one that involves a rising nuclear power with the capabilities that China has.
So what did President Duterte actually say, and how close to a regional standoff are we at this current juncture?
Well, according to the reports, Duterte didn't actually say anything. The majority of these warnings came directly from Foreign Secretary Alan Peter Cayetano, the country's top diplomat. While claiming to speak for Duterte, Cayetano drew up three major red lines that could allegedly lead the Philippines' President to war with China. The first red line that supposedly won't be tolerated is any Chinese move to reclaim or build on the Philippine-claimed Scarborough Shoal, which lies just over 100 nautical miles from Philippine shores. The second red line is any coercive Chinese move against the Philippine marine detachment guarding the Second Thomas Shoal. The third red line is any unilateral Chinese drilling for natural resources, mostly oil and gas, within the Philippines' exclusive economic zone.
"Another red line is that nobody will get natural resources there on their own," Cayetano said. "The President has said that: If anyone gets the natural resources in the West Philippine Sea, he will go to war."
"If we lost a single island during Duterte's time, I will pack my bags, go home," he also added.
Hmmm. It is starting to sound a bit like Cayetano's red lines; more so than the President's red lines.
Then not long after, another headline which read "Philippines could go to war over South China Sea: Duterte aide" may have also caught your eye. Again, this involved National Security Adviser Hermogenes Esperon making the stunning revelation that "just the other night, the president said if my troops are hurt there, that could be my red line."
Note that in none of these instances is Duterte himself doing any of the talking. When one digs a little bit deeper, this is when it becomes all the more interesting. In actuality, it was just over a week ago that the Philippines' President was saying the complete opposite.
Even after the Chinese military landed long-range bombers at an airport on Woody Island in the South China Sea – reportedly placing the Philippines within strike range of Chinese bombers – Duterte's response was to state that "you know they have the planes, not stationed in Spratly but near the provinces facing – Chinese provinces facing the Spratly and the China Sea. And with their hypersonic, they can reach Manila within seven to 10 minutes."
The President also allegedly added: "What will we arm ourselves with if there's a war? Will we resort to slapping each other? I couldn't even buy myself a rifle. It was given to me. So how will we even fight with the Chinese?"
To the rest of us paying attention, Duterte's comments appeared to indicate that he was ruling out the possibility of any war with China involving the Philippines. He even suggested that he doubts the Philippines could rely on the US in such a scenario. In other words, under Duterte's leadership, the Philippines would not go to war with China as he is convinced that there is nothing the Philippines can do to confront China without suffering an immeasurable loss.
But don't take my word for it.
"I cannot afford at this time to go to war. I cannot go into a battle which I cannot win and would only result in destruction for our armed forces. I really want to do something to assert. But you know, when I assumed the presidency, there was already this ruckus in the West Philippine Sea," Duterte said during a speech at the Philippine Navy's 120th anniversary in Manila.
"So will we be able to win that war? If my troops are massacred, after the war, the soldiers and police will come after me next. Our troops will really be finished off there," the President also stated at the time.
So what is Duterte's proposal to deal with the stand-off, bearing in mind that there are many Filipinos who do not see eye to eye with Duterte?
"We don't have to fight. We can divide this in a joint development, joint exploration. And then we'll give you [China] a bigger share rather than fight. It's only America who's worried because they lost a territory. You're the ones who came first. I was just new and then you adapted the rascal's propaganda," Duterte proposed less than two weeks ago.
While the media continues to mislead the public on Duterte's alleged new push to confront China in the South China Sea, it also failed to note that at around the same time Duterte was supposedly making these threats of war towards China, he had just appointed a special envoy to China with the specific intention of fostering closer relations with Beijing.
Of course, it could be the case that Duterte has changed his stance this week in a complete nonsensical 180 degree U-turn and will indeed confront China if he feels it is in the best interests of his country. However, it is curious to say the least, that as one of the world's most vocal leaders (he once admitted killing suspected criminals while serving as Governor) he has not been the one to directly voice this U-turn himself, the statements having come from other subordinates from within his administration.
We also have to bear in mind that Duterte is a man who believes his presidency is protected by Chinese President Xi Jinping, acknowledging that he needs China "more than anybody else at this time of our national life." He also once said to Beijing that if they wanted to, "just make [the Philippines] a province." It doesn't seem too likely that Duterte is all of a sudden prepared to give this dependency up, in light of his consistently pro-Chinese stance.
The other development to keep an eye on is the recent war-drills at the beginning of May this year involving US forces and Philippines' forces which were the largest military exercises held in the Philippines since Duterte became president. Even then, these drills appeared to focus more on the domestic threat of terrorism inside the country and were not officially aimed at confronting China's expanding influence.
For ease of reference, a month-long firefight between Islamist militants with allegiances to Islamic State (IS, formerly ISIS) and government forces left 1,100 people dead just under a year ago. In that context, it is not completely unusual that the President may have given the go-ahead for these drills to take place. (That being said, Duterte personally admitted he did not expressly authorize the US military's involvement in its counter-terrorism efforts last year, suggesting that there may be other forces at play which may or may not be beyond his control). This also may be the case with the development that the Philippines has begun repairing a runway and upgrading facilities on Thitu Island, a major point of dispute between Chinese and Philippine vessels last year.
No matter how badly the media want Duterte to reject and confront China, the cold hard truth is that China is an "indispensable geographical reality," as Richard Javad Heydarian in the National Interest recently put it. There is little that Duterte can do to confront China even if he really wanted to, as he is predicting a future in which Washington becomes increasingly irrelevant in the Asia-Pacific region all the while China begins to exert more and more influence in the area. Rather than butting heads with China, Duterte's plan is exactly as he says - develop and explore the area jointly with China while coming to an arrangement, which does the complete opposite of what the media wants you to believe he will do, to avoid a war with China at all costs.
Think your friends would be interested? Share this story!
The statements, views and opinions expressed in this column are solely those of the author and do not necessarily represent those of RT.
You can share this story on social media: