Duterte will 'go to war' if China crosses 'red lines,' Philippine FM claims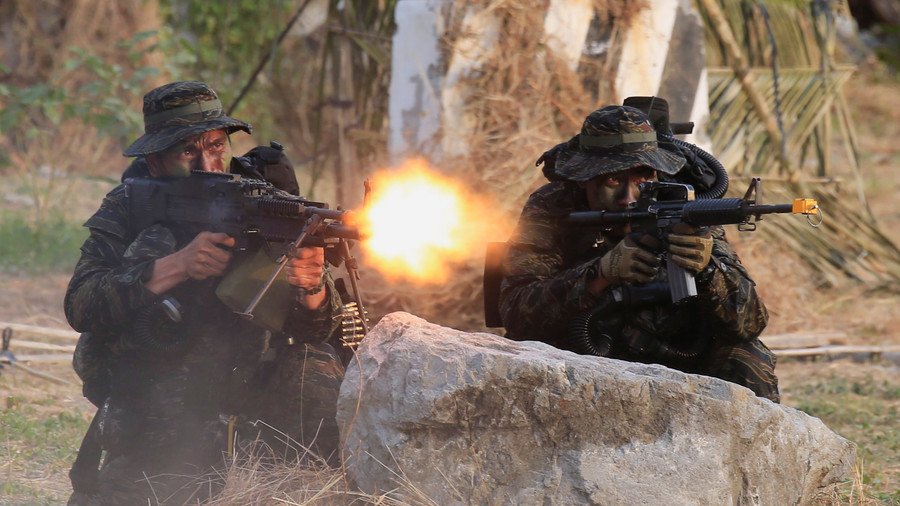 Philippines President Rodrigo Duterte is ready to go to war with Beijing if it crosses 'red lines' and unilaterally claims natural resources in the disputed South China Sea, the country's foreign minister has warned.
The Philippines will go to war to protect its rights in the South China Sea, Philippine Foreign Affairs Secretary Alan Peter Cayetano noted, somewhat contradicting President Rodrigo Duterte's policy of avoiding any confrontation with their neighbor.
"If anyone gets the natural resources in the West Philippine Sea, he [Duterte] will go to war," Cayetano said on Monday.
"He said, 'Bahala na.' (meaning come what may) [But] he will go to war," Cayetano repeated, outlining 'red lines' amid a simmering territorial dispute with Beijing, which continues to ignore the 2016 international arbitration ruling that said "there was no legal basis" for China to claim historic rights in the South China Sea.
Manila's red lines include any Chinese construction at the Scarborough Shoal or any effort to remove a dilapidated Philippine warship, the BRP Sierra Madre, from Second Thomas Shoal in the disputed Spratly Islands. "Another red line is that nobody will get natural resources there on their own," Cayetano added.
"Our soldiers should not be harassed when they deliver supplies or when they repair the runways" on Spratly's Thitu Island, the largest of the Philippine-administered territories in the disputed region, he added. Last year, the island became the scene of a stand-off between Chinese and Philippine vessels when a Chinese fleet blocked a Philippine Bureau of Fisheries and Aquatic Resources ship from approaching the area.
At the same time, the chief diplomat challenged all critics of the government's allegedly weak policy to provide a single example of when the Philippines lost sovereignty over even a single inch of its territory to China. "If we lost a single island during Duterte's time, I will pack my bags, go home," Cayetano stated.
After becoming president nearly two years ago, President Rodrigo Duterte has made every effort to seek rapprochement and cooperation with China, and he has refused to firmly enforce the 2016 Hague tribunal ruling, despite strong domestic criticism over the country's South China Sea policy. On a number of occasions, Duterte has openly explained that a military conflict with China would be suicidal for his country.
'Chinese province of the Philippines?' Duterte says Beijing's military bases only threaten the US
"If we go to a full-blown war, where would the Philippines end up? Why would I give away the lives of my soldiers and policemen in a battle which I cannot win?" Duterte said earlier this month.
Instead of a confrontation, Duterte advocates a joint exploration of the natural resources with the Chinese. "China and the Philippines should continue to properly address the South China Sea issue and explore cooperation in joint exploitation and development at an appropriate time, making the South China Sea a sea of cooperation and friendship," the Chinese Foreign Ministry stated last month after Duterte met with Xi Jinping in Beijing.
If you like this story, share it with a friend!
You can share this story on social media: