Here's why the Philippines may become ISIS' next caliphate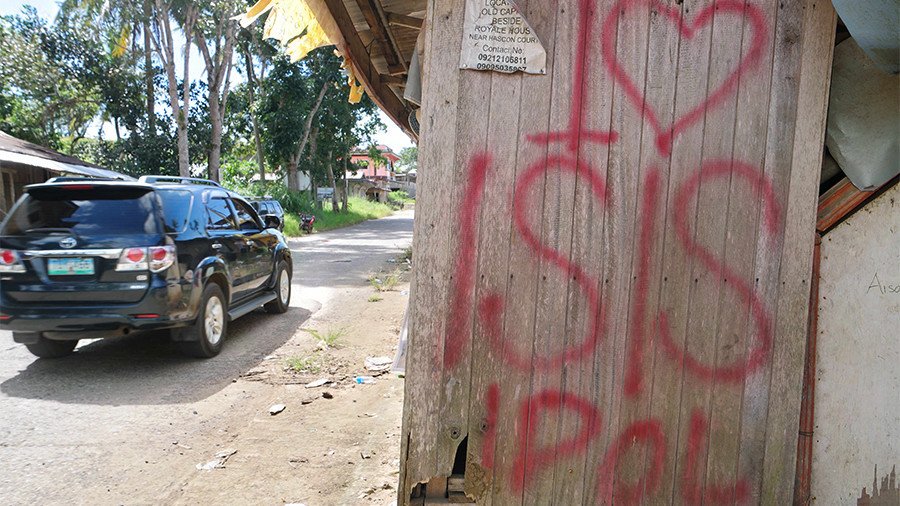 There are many indications that ISIS, or ISIS-inspired entities, are looking to renew their armed insurgency in the Philippines. As is typically the case, wherever ISIS goes, the US military is not too far behind.
Not many people will be aware that aside from the fact that peace-prize-laureate Barack Obama was bombing at least seven predominantly Muslim countries in the Middle East at any given time during his presidency, he was also secretly drone-bombing the Philippines, as well. Obama's drone campaign, of course, was widely regarded as one of the most effective recruitment tool for groups like ISIS (incidentally, a group now growing from strength to strength in the Philippines).
In fact, Operation Enduring Freedom Philippines, launched not long after the September 11 attacks rocked the United States in 2001 (and ending in 2014), is considered the largest US counterterrorism effort in the Pacific theater.
When an ISIS-inspired insurgency in the Philippines made headlines last year, the US military assisted the country's authorities in its crackdown not long after. Shockingly enough, Philippines President Rodrigo Duterte did not actually expressly authorize America's renewed involvement in its country, having long signaled a greater desire to turn away from the United States and focus more on rebuilding relationships with rising giants Russia and China.
This paradigm which sees Duterte saying one thing while the Philippines' military continues to do another can be seen even to the present day. Not too long ago, the US gifted six Boeing Insitu ScanEagle drones to the Philippines (for free), approved via a US grant of over $13 million. At around the same time, Duterte was making announcements of his own, independent of these transactions, stating that he would not allow Filipino troops to be dragged into any more US-led wars unless there is a direct threat against the Philippines. He even stated that his country had received nothing from "all these years of sacrifice" on behalf of the United States other than "brutality and agony."
It appears that Duterte would prefer any means of battling extremism in his country other than relying on the US military. He even suggested arming civilians with "high-powered guns" – a strategy far too wild for even someone like Donald Trump.
US-Philippines Relationship Endures
From America's point of view, however, the US-Philippines relationship continues unabated, and is growing stronger as time goes on.
"The Philippines and United States governments remain steadfast in their alliance and are committed to countering radicalization and violent extremism in the Philippines and Southeast Asia," Marine Lt. Pentagon spokesman Col. Christopher Logan stated at the end of last year, according to the Military Times. "To support these efforts, and at the request of the government of the Philippines, we have enhanced our comprehensive counterterrorism cooperation that supports the Philippine Security Forces."
Over the past eight years, the US has allegedly spent over $1 billion in foreign assistance to the Philippines, including over $85 million in counterterrorism related equipment, training and support to local forces.
Conveniently for the US, always itching to intervene in countries that maintain undeniable geopolitical significance, ISIS and other ISIS-inspired groups are beginning to regather their momentum in the country, which in turn will require a response of its own.
Not only are there now reportedly 23 armed groups inside the country operating under the banner of "ISIS Philippines," but the US State Department also added ISIS Philippines and six other Islamist extremist groups to the US list of designated terrorists in February this year.
Not to mention that in mid-March, fighting broke out between the Armed Forces of the Philippines (AFP) and the Bangsamoro Islamic Freedom Fighters (BIFF), reportedly killing at least 44 militants in the process. This group has also pledged its allegiance to ISIS, and if the media and the military are to be believed, this group did not actually engage the military in this particular scenario but were in fact pounced upon by the AFP on the southern island of Mindanao.
As ISIS is driven out of its caliphate in Iraq and Syria, reports have already emerged that these foreign fighters are arriving in the Philippines with the intent of recruiting and attacking Filipino towns. At the end of February this year, Philippines military officials warned that ISIS had gathered a small force of approximately 200 fighters in Mindanao with the aim of establishing its new caliphate, which would then be used as a launch pad for further attacks inside the country.
How on earth did ISIS establish itself in the Philippines?
There are two answers to this important question. The first one involves a much-needed historical review of the Philippines and its long endured battle against different colonial powers.
Last year, the main entity battling Philippines' forces was not actually ISIS, but was a group known as the Maute. The Maute is composed of former Moro Islamic Liberation Front (MILF) guerrillas as well as foreign fighters. The MILF movement actually evolved out of a separatist movement with the intention of establishing an independent Islamic state for the Filipino Muslim minority, who has endured centuries of clashes with the Spanish, American, and Philippines governments that have done nothing but oppress and marginalize them. According to one Muslim separatist, if the Philippines does not allow Muslim areas greater autonomy, the fighting is likely to continue to rock the Philippines for some time.
The second answer involves the wider geopolitical struggle taking place inside the Middle East. There are at least 1,200 Southeast Asians that have joined ISIS' ranks in the wider Middle East region, including at least 200 Filipinos.
One WikiLeaks cable described how, already known to the authorities, the Philippines has what is regarded as "lax" border control, particularly in Mindanao's southern backdoor, enabling "criminals and terrorist financiers to come and go with impunity."
Another WikiLeaks cable details how Philippines officials were concerned about Saudi-origin terrorist financing coming into the Philippines. One other WikiLeaks cable affirmed Saudi businessmen were involved in concealing the transfer of Al-Qaeda funding to the infamous Abu Sayyaf Group, which is responsible for the largest terrorist attack on Philippines soil in recent history.
Of course, we already know that Saudi Arabia has for years spent billions of dollars"investing heavily in building mosques, madrasas, schools, and Sunni cultural centers across the Muslim world," according to The Week. One separatist explained how in the Philippines, these madrasas are then used to teach young Muslims an extremist interpretation of the Koran.
We also know from Hillary Clinton's leaked emails that Saudi Arabia is one of ISIS' prime sponsors. Not to mention that Saudi Crown Prince Mohammed bin Salman just publicly admitted that Saudi Arabia did indeed knowingly spread Wahhabism – the same strain of Islam that ISIS uses to hold the entire Middle East, North Africa, and Southeast Asia to ransom with – but what we did not know was that this was done at the request of Saudi Arabia's Western allies in order to counter the Soviet Union during the Cold War.
A Hidden Agenda?
ISIS has a long history of travelling to places the US is vying to bomb. In Syria, the Obama administration used the pretext of ISIS' rise to power as a means of gaining backdoor access to bomb Syrian territory, having previously been denied this opportunity in 2013. Within Iraq and Syria, the US allowed ISIS to move from place to place freely, up until it decided the jihadists had landed at a location the US was happy to reclaim for themselves. For those of you who don't believe this, consider that the US granted safe passageway to thousands of ISIS fighters fleeing Raqqa so that they could travel on to Deir ez-Zor, Syria's most oil rich region. The US military is now refusing to leave Deir ez-Zor, even bombing pro-government forces that get too close to comfort (the territory after all belongs to Syria, not the US and its allies on the ground).
If the US has ulterior motives, or has any hand in allowing ISIS to regain and regroup inside the Philippines as has been the case in Iraq and Syria, we can be sure that the real issue lies with the Philippines' growing fondness for Russia and China; as well as Duterte's defiant attitude towards Washington, who even invited the CIA to assassinate him at one point. For example, in October last year, three Russian warships, including two anti-submarine vessels arrived in Manila to unload weaponry and military vehicles also donated to the Philippines from Russia.
These types of developments are a deal-breaker for the United States, who wants a unipolar world in which it can rely on its allies to contain and counter both Russia and China (in turn, these allies are to rely on the US for military support only). As the world moves on and becomes more and more sick and tired of American foreign policy, even the United States' more traditional allies are finding a soft spot of their own for the growing prowess of the Eastern bloc, as America's influence continues to diminish.
Darius Shahtahmasebi for RT
Darius Shahtahmasebi is a New Zealand based legal and political analyst. Follow him on Twitter @TVsLeaking
The statements, views and opinions expressed in this column are solely those of the author and do not necessarily represent those of RT.
You can share this story on social media: