Trump's approval of lethal arms to Ukraine is a sideways move to nowhere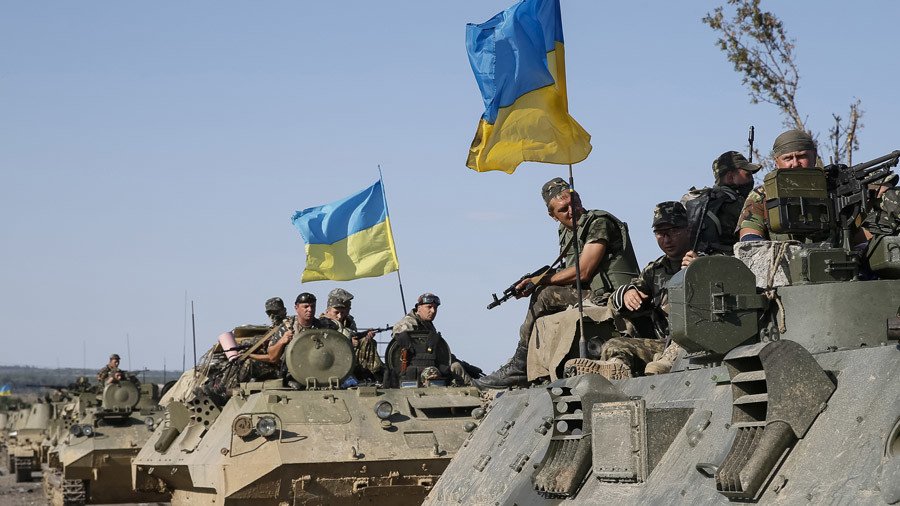 The Washington Post reports President Donald Trump has approved providing lethal weapons to Ukraine's armed forces.
Specifically, according to the report, the decision opens the door for delivery of items like Model M107A1 sniper systems and ammunition, plus associated parts and equipment, with a value of $41.5 million. At the same time, presidential approval is reportedly still being withheld from providing Javelin man-held anti-tank missiles, which Kiev also wants.
The decision to provide lethal "defensive" weapons comports with repeated Congressional authorizations, passed with overwhelming bipartisan support since 2014. While former President Barack Obama declined to act on those authorities, President Trump evidently has now done so.
With regard to the domestic political purposes of the decision, it seems to be another Trump effort to appear wisely Solomonic by "splitting the baby": look "strong" by making a muscular judgment but don't go all the way. It's the same ploy he used in recognizing Jerusalem as Israel's capital (but not yet moving the US embassy, which he could easily do by switching the plaques of the US Consulate General in West Jerusalem with the current embassy in Tel Aviv) and by "de-certifying" the Iran deal (but not pulling the US out of it, yet).
For arming Ukraine, we can be sure Trump will be heaped with praise from the same domestic sectors that for more than a year have been denouncing him as "Putin's puppet." While there will be objections from antiwar dissidents – whose opinions don't count – the only point of criticism from the establishment will be that he hasn't yet gone far enough (the Javelins).
This has already begun, with Michael Carpenter, Barack Obama's former Deputy Assistant Secretary of Defense for Russia, Ukraine, Eurasia, the Balkans, and conventional arms control, tweeting his approval of Secretary of Defense James Mattis for his role in the decision:
Kudos to Secretary Mattis for arming Ukraine. The rifles approved for commercial sale are not the Javelin missiles everyone expected, but at least the artificial "lethal" Rubicon is crossed and hopefully Javelins will follow (perhaps unannounced?). https://t.co/8VMu48dRcu

— Michael Carpenter (@mikercarpenter) December 20, 2017
It's reminiscent of the plaudits Trump received in April following his order to hit a Syrian airbase with cruise missiles in retaliation for a chemical attack that almost certainly was not committed by Syrian government forces. For example, at that time, CNN's Fareed Zakaria, up to then uniformly a harsh critic who had derided Mr. Trump's "rocking horse presidency" as a "circus," intoned the next day: "I think Donald Trump became President of the United States last night." Expect more of such hosannas in the coming days.
Carpenter's mention of Mattis is significant. According to the Post report, Trump approved sending the arms to Ukraine by signing off on a decision memorandum presented by Mattis and Secretary of State Rex Tillerson. (It is certain that National Security Adviser H.R. McMaster also concurred, or the memo would not have been given to the President.) As Carpenter would know (and as I would know, having had a hand in drafting State Department decision memoranda), the principal almost always signs off on the decision option preferred by the subordinates who drafted the memo. While Trump no doubt understands the gravity of the decision, his grasp of the details would be no more than what his underlings wanted him to know to point him to their favored outcome.
The Ukraine decision comes two days after the release of a US National Security Strategy (NSS) that could be best called confused. Pillar I (defense of American borders and tightening immigration controls to keep dangerous people out) and Pillar II (ending unfair trade practices and restoring America's industrial base) are solid "America First" principles from Trump's campaign and a repudiation of the Democratic and Republican establishments.
But Pillar III could have been drafted by any group of George W. Bush retreads – and no doubt was – or for that matter by Obama holdovers. It is little more than a rehash of the usual litany of "threats" from China, Russia, North Korea, Iran, etc. Still, in his speech unveiling the NSS Trump made a point of acknowledging Russian President Vladimir Putin's thank you call for reportedly providing intelligence information from the CIA to thwart a terrorist attack on St. Petersburg's Kazan Cathedral. (One can't help but wonder if the whole story was intended as a cover for some backroom effort to improve Washington-Moscow ties. After all, since the American side would never abide "thanking the Russians" for anything, having the Russians thank the US for something would be a sensible approach.)
In short, as with his Jerusalem and Iran nuclear moves, Trump's Ukraine decision was mainly calculated for domestic political effect in the United States. Read most optimistically, it could be intended as political "protection" for some kind of positive move concerning Russia. But in the meantime, it could have consequences. How serious they might be remains to be seen.
First, the very notion of "defensive" weapons is a myth. Weapons kill. The units approved for sale to Ukraine are designed for use as anti-materiel rifles, but they can also be used as anti-personnel weapons. Their very nature is offensive, though their tactical use can be either offensive or defensive. Trump's decision to supply the sniper systems to Kiev will not have any impact on the strategic situation on the ground in eastern Ukraine. Its only likely consequence is that more people will die, as Ukrainian forces use their new equipment to probe for vulnerabilities on the line of control. Forces of the Donetsk and Lugansk republics will respond in kind.
Second, the decision will have no positive influence on the political stalemate over the Donbas. With no effort from Kiev to implement the political aspects of the Minsk 2 agreement and with sporadic killing continuing – and now possibly being stepped up – along the front line, a political solution will be farther away as ever. Instability in Kiev, fed by the antics of the clownish former Georgian President Mikhail Saakashvili in his effort to topple the unpopular President Petro Poroshenko, makes serious political engagement all but impossible. Inside Ukraine, the only direct political consequence of Trump's action will be to convince the Donbas even more – if that is possible – that no rapprochement with Kiev is possible.
Jim Jatras for RT.
Jim Jatras is a former US diplomat (with service in the Office of Soviet Union Affairs during the Reagan administration) and was for many years a senior foreign policy adviser to the US Senate Republican leadership.
The statements, views and opinions expressed in this column are solely those of the author and do not necessarily represent those of RT.
You can share this story on social media: