The $47mn question of Trump's friendly words to Putin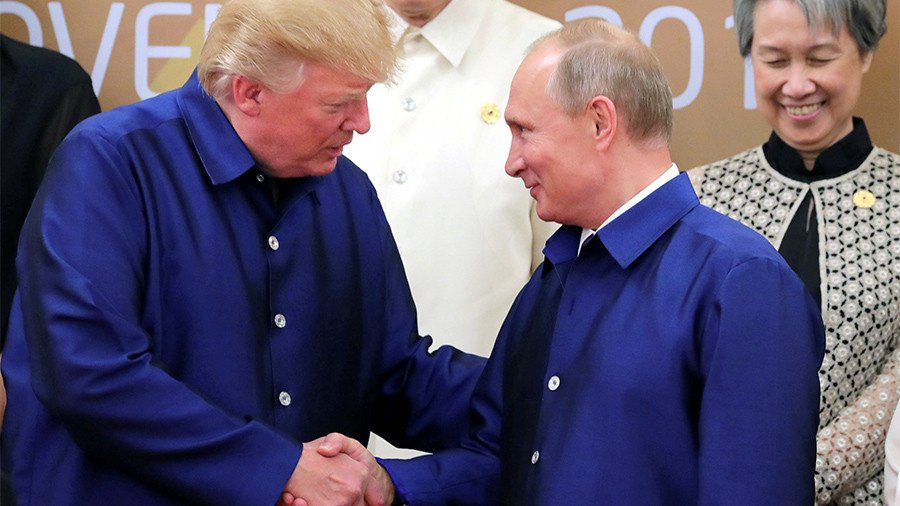 Each time US President Donald Trump meets Russia's Vladimir Putin, the talk is cordial and committed to establishing friendly relations between the two countries. Moreover, "partnership" is in fact the expressly-stated intention.
This week while Putin was hosting a major conference in Sochi to kick start the peace process in war-torn Syria, the Russian leader also had an hour-long telephone conversation with Trump, calling from the White House.
According to reports, Trump gave his backing to the Russian-led peace efforts going forward for Syria. The US president later described the phone call with Putin as "great."
Notably, the White House said the two leaders discussed ways to "ensure the stability of a unified Syria free of malign intervention." In a wide-ranging conversation, Trump and Putin also talked about how to "implement a lasting peace in Ukraine."
This all sounds well and good, but how much importance or substance can be imputed to Trump's friendly words?
When President Trump held his first face-to-face meeting with Putin in July during the G20 summit in Berlin, the two men seemed to share an upbeat rapport; both leaders expressed interest in the US and Russia working together to combat terrorism in Syria and to find peace in Ukraine, among other issues.
Again, when the two leaders met on the sidelines of the APEC conference in Vietnam earlier this month, they also registered a friendly encounter and later issued a joint statement declaring partnership in combating extremist violence in Syria.
The question is though: what value is there in Putin seeming to have Trump's support on these and other foreign policy matters?
Does Trump even have control or knowledge of what his military and intelligence agencies are doing in Syria and elsewhere?
Embarrassing reports have emerged of his National Security advisor General HR McMaster deriding President Trump as a "dope" on international relations – a put-down which echoes earlier reported comments by Secretary of State Rex Tillerson calling Trump a "moron." Of course, denials have subsequently been issued, but the doubts remain.
Moreover, there's plenty of evidence US forces have been colluding with Islamic State (IS, formerly ISIS) terrorists in Syria, giving the militants safe passage or air cover from advancing units of the Syrian Arab Army backed by Russia, Iran, and Hezbollah. The Russian ministry of defense has been one of the sources providing evidence of collusion between the US military and terror groups in Syria.
The Pentagon denies it is working covertly with proscribed terror networks in Syria, asserting that it only supports vetted "moderate" insurgents like the Kurdish Syrian Democratic Forces. The Pentagon's claims are hardly credible, given the abundant evidence of links to terror groups like IS and Hayat Tahrir al-Shams (formerly Al-Nusra). The covert war and US dirty dealings are all part of Washington's overt aim of regime change in Syria.
Therefore, what does it mean when Trump vows to work with Russia to "combat terrorism" in Syria or anywhere else? The contradiction with what is known about covert US military practice in Syria suggests that either Trump is clueless or disingenuous.
In his latest phone call with Putin regarding Syria, the White House said Trump wanted to "ensure the stability of a unified Syria free of malign intervention."
However, that aspiration is confounded by other reports of a military buildup in Syria by US forces, including the operation of major airbases in the northern part of the country. So much for Trump's stated desire to Putin of maintaining "a unified Syria free of malign intervention."
Russia's foreign ministry has denounced the US military presence in Syria as "an illegal occupation." It also signals the intended break up of Syrian territorial integrity with the establishment of US-backed Kurdish enclaves.
The Washington Post this week reported: "US moves toward open-ended presence [sic] in Syria after Islamic State is routed."
It added: "US officials say they are hoping to use the ongoing presence of American troops in northern Syria, in support of Kurdish-dominated Syrian Democratic Forces (SDF) to pressure Assad to make concessions at United Nations-brokered peace talks in Geneva."
That rationale sounds a lot more consistent with Washington's real and illicit objective of forcing regime change in Syria, not the advertised supposedly noble pretext of "fighting terrorism."
If that's the reality, then Trump's words are worthless. He may have some vague notion of sincerity in saying those words, but in practice, the putative Commander-in-Chief is nothing more than a talking head being fed with a dud script.
In all this confusion and mixed messaging, it may be difficult to discern what the real policy in Washington is, and who's setting it. But here is one specific test to dispel the fog. President Trump was last week presented with a proposal from his National Security team for the US to officially begin sending lethal arms to the Ukrainian Armed Forces under the control of official Kiev.
The $47 million arms package centers on the supply of Javelin missiles also referred to as "the American military's anti-tank killers." It will be up to President Trump to sign off or not on this lethal arms plan to equip the UAF against rebels in the self-declared breakaway republics of Donetsk and Lugansk in eastern Ukraine.
The US has already sent $750 million worth of military equipment to the Kiev regime since it seized power in February 2014, according to reported remarks by Secretary of Defense James Mattis.
However, up to now, the military equipment has officially been labeled as "defensive" and "non-lethal," such as armored vehicles, communications, night-vision goggles, and so on.
There are also credible reports that the US has already been supplying lethal weapons to Ukraine. Those weapons include Precision Shoulder-fired Rocket Launchers (PSRLs) and Barrett sniper rifles with a range of two kilometers. One of the private US arms companies, AirTronic USA, told US government-run Voice of America that the State Department has "closely coordinated" on the shipments.
The big difference is we now have pending on President Trump's desk in the Oval Office an official request for $47 million worth of lethal Javelin missiles to be sent by the Pentagon to the Kiev regime.
The Russian government has repeatedly warned against such a move. The Kremlin says that supplying lethal weaponry will unleash large-scale conflict in eastern Ukraine where a shaky ceasefire has been in place for the past two years under the Minsk agreement brokered by Russia, Germany, and France.
Thus, watching what President Trump does in the coming weeks with regard to the supply of weapons to Ukraine will be a key test. If Trump signs off on the lethal arms shipment, then that would tend to answer the question about whether the American president is someone whose words of peace and partnership with Russia can be counted on.
Already US military involvement in Syria points to an unreliable American leader. The go-ahead from the White House for lethal arms to the Ukraine would be a definitive answer.
The statements, views and opinions expressed in this column are solely those of the author and do not necessarily represent those of RT.
You can share this story on social media: