Anticipated Putin-Trump meeting realized with handshake in Vietnamese attire (VIDEO)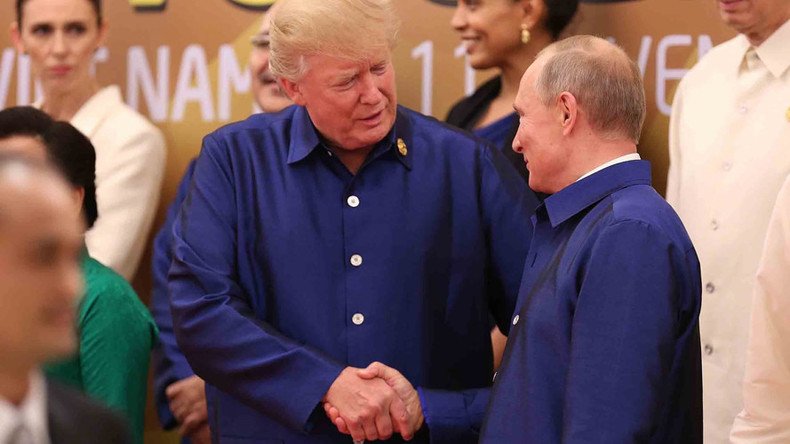 Hopes of a bilateral Putin-Trump meeting on the sidelines of the APEC summit have waned with the White House citing "scheduling conflicts," but at least the two were all smiles while shaking hands during the photo call.
Preparing for the traditional leaders' photo at the Asia Pacific Economic Cooperation (APEC) summit – held this year in Da Nang, Vietnam – Putin had already taken his spot when Trump approached him, extending his hand. In the manner which has become famous, the US president then held onto Putin's hand for several seconds, patting his counterpart on the back.
The leaders were dressed in Vietnamese national attire, in accordance with the informal APEC tradition. Both Putin and Trump put on blue shirts, while some of the other participants chose to wear white ones.
Ahead of the international summit, the Russian Foreign Ministry said the president was ready to hold a separate meeting with his US counterpart in Vietnam. Trump also expressed an apparent readiness for the encounter, saying the two leaders needed to discuss a number of issues, including North Korea, Syria and Ukraine.
READ MORE: Nothing 'substantive' to talk about? Tillerson questions grounds for Putin-Trump meeting
The Russian and US presidents' respective offices had reportedly been engaged in organizing bilateral talks during the two-day event, trying to choose an appropriate timing and format. However, just hours ahead of the summit the White House said that a formal meeting would not happen, citing scheduling conflicts. In an earlier comment that has raised eyebrows, US Secretary of State Rex Tillerson questioned whether the two leaders have anything "sufficiently substantive to talk about" at the moment.
You can share this story on social media: